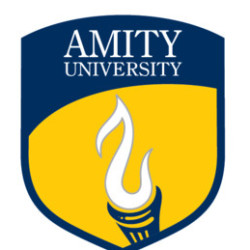 Amity JEE 2021 Sample Paper: Choosing the best college is one of the biggest challenges in India. As College plays a vital role in everyone Career, it's become so important to choose a college wisely. If you have researched everything about Amity University and want to get Admission in Amity then the very first thing you have to do is to check these Amity Jee Sample paper. In this article, we will get the Sample Papers for Amity JEE entrance exam.
Every year Amity University conducts its own entrance test for admission to B. Tech programs called the Amity Joint Entrance Examination or Amity JEE. It is a Computer Based Test with options to attempt papers in either Physics, Chemistry, Mathematics and English (PCME) or Physics, Chemistry, Biology, and English (PCBE). These sample papers are the best way to check your level of preparation for Amity JEE.
Subscribe to get Latest Update by entering your details below
 Download Hand Written Notes for Amity JEE 2021 Examination Click Here
Amity JEE 2021 Useful Resources
Here we are mentioned some Useful Resources of AMITY JEE 2021. That will help you.
Quick Facts
The Quick Fact of AMITY JEE 2021 gives detailed information about the duration of the exam. The number of questions asked, the medium of question paper and more. By checking the AMITY JEE Exam Pattern 2021, the candidate will process the information and prepare well beforehand. The detailed information about the Exam pattern of AMITY JEE is listed below:
| | |
| --- | --- |
| Features | Specification |
| Full Exam Name | Amity Joint Entrance Examination |
| Short Exam Name | Amity JEE |
| Conducting Body | Amity University |
| Frequency of Conduct | Once a year |
| Exam Level | University Level Exam |
| Languages | English |
| Mode of Application | Online |
| Application Fee (General) | 1100 Rs [Online] |
| Mode of Exam | Online |
| Participating Colleges | 5 |
| Exam Duration | 2 Hours |
Get Admission in Top Engineering Colleges in India (Call Now):- +91-9873056333
Important Date
Here, We have mentioned the AMITY JEE 2021 Exam date, admit card, Counselling, application form date to be announced.
| AMITY JEE 2021 | Date (Tentative) |
| --- | --- |
| Availability of Application Form | 16 November 2020 |
| Last date to apply | 1 March 2021 |
| Release of the admit card | 30 March 2021 |
| Amity JEE Exam Dates | 5 April 2021 to May 2021 |
| Result | 7 May 2021 |
| Admission Process start | June 2021 |
| Counselling | to be notified |
Read Also: List of Top 100 Engineering College in India: NIRF Ranking 2021 Released by MHRD
Sample Paper
Here we have provided Amity JEE 2021 Sample Papers that will definitely help you to crack Amity JEE 2021 examination.
Physics Sample Papers
Chemistry Sample Papers
Mathematics Sample Papers
Want to score's 320+marks in Amity JEE 2021? Try these Topper's Notes & Study Material-
Read Also: List of Top IIT Colleges in India: Rankings, Score & Much More!
Sample Papers for Amity JEE Entrance Exam
These Sample Papers for Amity Entrance Exam will help you to get updated with the latest syllabus and Expected questions to be asked in Amity JEE. It will help you to score well in Amity JEE 2021 Entrance Examination. Here is the Subject wise divided list for Amity JEE Sample Paper.
Amity JEE Sample Paper (Set 1)
Amity JEE Sample Paper (Set 2)
Sample Paper for Amity JEE (Set 3)
Read more: Top 10 Engineering College in Uttar Pradesh 2021-22: Admission, Courses & More!
Amity JEE Study Materials
To prepare for Amity JEE one should need a detailed idea about the subject material and exam pattern. Admission Seekers can prepare with these Amity JEE 2021 Study Materials to score great in the exam.
Read more: List of Top Engineering College in India 2021-22: Admission, Course, Fee & More!
Previous year Paper Guide
Apart from the above-mentioned study materials, a student is also advised to have a look over these years wise solved questions asked in JEE Main to have more grip over Amity JEE.
| | | |
| --- | --- | --- |
| Book Name | Author | Buy Here |
| JEE Main 2021 Resource Book (Solved 2002 – 2020 Papers + 24 Part Tests + 10 Mock Tests) | Disha Expert | Click Here |
| Wiley's 18 Years' Solved JEE Main Papers (2002-2019) | Wiley's Editorial | Click Here |
Get Admission in Top Engineering Colleges in India (Call Now):- +91-9873056333
Contact Details
Details
Contact
Head Office
Block – J2, Gate No: 3,
Amity University Campus
Sector-125, Noida – 201313 (UP)
E-mail
admissions@amity.edu
Contact Number
0120-2445252 / 4713600
Website
Click Here
Guideline
Click Here
Frequently Asked Questions (FAQ)
Q1. How can we prepare for the Amity JEE entrance exam?
A: Amity JEE exam question paper will be close enough to mains questions paper! The candidates must go through the Amity JEE syllabus thoroughly and figure out the topics that require more time for preparation. Also, candidates should make notes while studying as that will help them at the time of the revision, which is the key to ace Amity JEE 2019.
Q2. Will I get admission to Amity even if I have not cleared the Amity JEE?
Answer: Yes, you can apply for the Amity JEE. Amity University has a separate entrance test for admissions. This will give you admission in ASET (Amity School of Engineering and Technology). With the valid JEE Mains score, you can get admission in ASE (Amity School of Engineering).
Q3. What are some tips for clearing the Amity entrance test and interview?
Answer: Just prepare with the basics of the related subject along with sound knowledge of English (Especially comprehension, essay writing on current topics and grammar portion).
For the interview, your communication and interpersonal skills will be checked.
Q4. What is Amity JEE?
Answer: Amity JEE (Amity Joint Entrance Examination) is an entrance exam conducted by Amity University for admissions to B.Tech programmes offered by Amity University. By giving this test you can apply for 8 different Amity campuses in India like NOIDA, GREATER NOIDA, LUCKNOW, JAIPUR, etc.
Q5. How much 12th %is required to get admission in Amity b.tech through Amity JEE?
Answer: Being simple and sorted, Eligible percentage for getting admission in Btech (any stream) in Amity is an aggregate score of a minimum of 60% in PCM + English.
List of Top Colleges in India
Success Mantra:
Never let yourself down
Keep Working Hard.
Believe in yourself.
Do you have any College-related Query? Ask Here for Quick Answer
Best of Luck…!!!
Related Posts