Government College of Pharmacy, Rohru was established in 2005. It is located near Vpo Bilaspur, Near Jagadhri, Distt. Yamuna Nagar. The College campus is beautiful. It is a pollution-free environment for students for better concentration on their academics. It is a non-profitable institute that promotes higher education skills in many professional courses i.e. Engineering, civil and Mechanical. GCP, Himachal Pradesh provides an excellent education to their students for their bright future.
Why Choose Government College of Pharmacy, Rohru
Government College of Pharmacy, Rohru is dedicated to the pharmacy Courses. It offers various courses such as Bachelors of Pharmacy, Masters in Pharmacy, Diploma in Pharmacy, and Ph.D. courses. GCP, Himachal Pradesh college is the best pharmacy colleges and anyone can get admission here if any person or student wants to make a successful career in the field of pharmacy.
College Review
Affiliations, Recognition, and Achievement
Affiliated With: H.P.T.U Hamirpur
Aid Status: Private
Approved by: AICTE
Facilities Available
Knowledgable professors and faculty
Well-built infrastructure
Well-equipped laboratories
Research facilities
Microbiology Lab
Medicinal Plants Garden
Library
Medical Facilities
Canteen
Hostel
Courses Offered
| | | | |
| --- | --- | --- | --- |
| S. No. | Course | Intake | Duration |
| 1. | D. Pharmacy Course | 60 | 2 years |
| 2. | B. Pharmacy Course | 60 | 4 years |
Faculty & Staff
The college provides a good ratio of well trained and highly educated faculty members equipped with all the modern technology. It also provides sufficient numbers of non-technical staff to provide an ambiance of self-learning to the students. The college is committed to uplift the Legal education and output delivery system for the people of the country.
Admission Process
Following are the certain steps candidates have to follow for the admission process.
1) First, candidates have to appear for a state-level polytechnic entrance examination.
2) After the announcement of results, candidates who have passed the examination by clearing the cutoff will be called for counseling procedure as per their rank.
3) The counseling process will take place in serval rounds. After each round seats are allotted to the respective candidates.
4) Now, Selected candidates have to appear for document verification and fee payment in their allotted institutes.
Get Updated Fee, Cutoff, Seat Matrix of this Pharmacy College
Eligibility Criteria
Candidates who have completed 10+2 certifications.
The certification can be either in medical or non-medical fields for seeking admission in Bachelors of Pharmacy (B.Pharm) course.
For seeking admission in Masters of Pharmacy (M.Pharm) courses, the candidate must have a degree in B.Pharm to be eligible.
Documents Required
Documents are an important part of the admission process. It provides information or evidence of a candidate's profile. The following are the list of documents that required for the admission process.

Admit Card/Result Card of Entrance Exam
Marksheet of (10+2) or Equivalent Exam
School Leaving Certificate
Domicile/ Affidavit/ Resident Certificate
Caste Certificate (OBC/SC/ST)
Government Identity Proof (Aadhar Card/ Driving License/Passport)
Medical Certificate
Passport Size Photograph
Scholarship
Government College of Pharmacy, Rohru proudly offers several scholarships to deserving students every year. Scholarships are awarded based on academic achievement, financial need, leadership, community service, special talents, or other criteria. All the enrolling students are highly encouraged to probe all the applicable scholarship opportunities. College may offer a scholarship to a deserving candidate under the following categories.
College / University Merit Scholarships.
Students belonging to the economically weaker sections may ask for fee concession (*depends on the college administrations).
Merit cum means based scholarships are also awarded by the college to deserving students.
Merit & National Scholarships for brilliant students under Central & State Govt.
Fee Structure
| | | | |
| --- | --- | --- | --- |
| S. No. | Course | Mode | Annual Fees |
| 1 | Bachelor of Pharmacy(B.Pharm) | Regular, Full Time | 1.54 Lakhs |
| 2 | Diploma of Pharmacy(D.Pharm) | Regular, Full Time | NA |
Top Recruiting Companies
Cadila Healthcare Ltd
Bajaj Consumer Care
Ranbaxy Laboratories Ltd
Matrix Laboratories Ltd
Neuland Laboratories Ltd
Indoco Remedies Ltd
Intas Pharmaceuticals Ltd
Ind-Swift Laboratories Ltd
Blue Cross Laboratories Ltd
Ranking & Reputation
| | |
| --- | --- |
| Name of Institute | Government College of Pharmacy, Rohru |
| Rating | 4.1/5 |
| Reputation | Average |
| Education | Good |
| Faculty | Average |
| Infrastructure | Good |
Contact Address
Government College of Pharmacy, Rohru
Address: Vpo Bilaspur, Near Jagadhri Distt. Yamuna Nagar- 135102 (Hry)
Telephone No.: 018002742300
Website: https://www.ganpatiinstitutions.com/
At a Glance
Why Pharmacy?
Right now, most of the medical students choose pharmacy as their career option. It becomes a prominent career option for medical students. But why pharmacy? Before jump into this question, let's first understand the definition of pharmacy. Pharmacy is a medical science that deals with the discovery, production, control, disposal, and efficient use of drugs. Now, let's discuss various aspects to answer this question "Why Pharmacy?"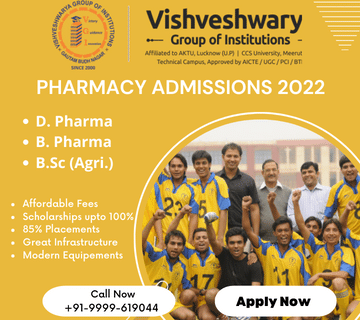 1) Career Opportunity
Pharmacists have a wide range of career opportunities after completing their bachelor's or master's degrees in Pharmacy. Also, the pharmaceutical sector is one of the fastest-growing sectors all across the world. If we talk about the current COVID-19 condition, the only sector that is working in the pharmaceutical sector. We will discuss various career opportunities for pharmacist later in this article.
2) Roles & Responsibility
The pharmacist plays an important role in helping patients and cures them as quickly as possible. Their responsibilities are as follows:
Availability of drugs
Provide prescribed drugs to the patient
Working as a doctor and provide medicines to poor people
Check patient is taking the right dose or not
Helping others in their difficult time by taking care of them is the most valuable thing to do as a human being. That's what pharmacists do.
3) Knowledge of Various Subjects
The best thing about studying pharmacy is that you have to study various subjects across different areas. It will enhance your knowledge significantly. You can get the opportunity to study the basics of biology, chemistry, and physics. Also, you can take subjects like Pharmaceutics, Medical Chemistry, Biochemistry to enhance your knowledge in specific fields.
To sum up all aspects, I want to say that pharmacy is a great career option and it always makes you proud because you can get an opportunity to serve society and mankind.
"Somewhere along the way, we must learn that there is nothing greater than to do something for others"
Courses in Pharmacy
1) Diploma in Pharmacy (D.Pharm)
It is a 2-year diploma course in Pharmacy. The admission process to take admission into D.Pharm is differ from State to State but the basic eligibility criteria are 10th with Physics, Chemistry & Maths/Biology as a mandatory subject.
Diploma Graduates can take admission into 2nd year of Bachelor of Pharmacy program (Lateral Entry).
2) Bachelor of Pharmacy (B.Pharm)
It is a 4-year undergraduate course in Pharmacy. The basic eligibility criteria are 10+2 with Physics, Chemistry & Maths/Biology as a mandatory subject. After Successful completion of B.Pharm, graduates have various career opportunities in the government sector as well as the private sector.
B.Pharm graduates can take admission into M.Pharm for their further studies in Pharmacy.
3) Master of Pharmacy (M.Pharm)
It is a 2-year postgraduate course in Pharmacy. The basic eligibility criteria for M.Pharm is, candidates must have completed their B.Pharm from a recognized university. Candidates can pursue their M.Pharm in various fields like:
Pharmaceutics
Pharmacognosy
Pharmacology
Pharmaceutical Chemistry
Pharmaceutical Quality Assurance
Pharmaceutical Analysis
Pharmaceutical Biotechnology
Future Career Opportunities
As I mentioned earlier, the Pharmaceutical sector is one of the fastest-growing sectors across the world. It will give a vast range of opportunities to the pharmacy graduates. Following are the future career opportunities:
1) Sales & Marketing
The highest number of pharmacy graduates enter in this field after their graduation. The reason is that plenty of jobs available in this sector. The average salary is also good but the best thing is they can get a good incentive as well.
In this job, you have to travel a lot across India and sometimes abroad. If you are really good at marketing and love to travel, this role is definitely for you.
2) Research & Development
If you love to study core subjects of pharmacy like pharmaceutics, pharmacology and these subjects are your strength then you could consider your career in this field. Also, you can do M.Pharm in these subjects to get in-depth knowledge of it.
The average salary is quite decent in this job. Also, you will get numerous opportunities to increase your knowledge day by day. If you want to be a core pharmacist, this job is for you.
3) Quality Control/Quality Assurance
If you are not that good with core subjects but still want to work in this domain you can opt for these job roles. There are plenty of jobs available in this sector. Also, quality control is the most important part of manufacturing. If there is a mistake of 0.1mg, the whole batch of medicines becomes garbage.
The average salary is quite less compared to other fields. But you can earn well after spending 3-4 years in this field.
4) Medical Shop
This is one of the best career options after completing your graduation. In India, pharmacy graduates can get an official license from PCI to open their own medical shops. We know that it's a booming sector in the world right now. So, if you are financially good, this is the best option for you.
If your medical store is nearby any famous doctor, you can easily earn 1 lakh per month.
5) Teaching
Most of the M.Pharm Graduates have to take lectures during their degree. You can also work in the research department while pursuing your master's. After B.Pharm you can also get lecturer jobs in D.Pharm colleges.
The average salary is around 10k to 20k. Also, this job is quite relaxing compared to others in pharmacy. If you are good at subjects and love to teach others, this job is for you.