Admission Notification 2020
JEE Main 2020 Counselling: JoSAA (Joint Seat Allocation Authority) is a collaboration between Central Seat Allocation Board (CSAB) and Joint Admission Board (JAB). The Joint Seat Allocation Authority (JoSAA) 2020 has been set up by the Ministry of Human Resources Development (MHRD) to manage and regulate the joint seat allocation for admissions in more than 100 institutes for the academic year 2020-21.
Read Also: JEE Main Important Chapters 2020: Topics, Chapters, Weightage & More!!
The JOSAA has the authority of seat allotment for all the qualified and eligible candidates. It provides a single platform to the participants of JEE Main and JEE Advanced who are applying for NITs (National Institute of Technology), IITs (Indian Institute of Technology) and other GFTIs (Government Funded Technical Institutes). Let us explore various parameters associated with JOSAA and JEE Main Counselling 2020.
Read Also: Top 3 Things To Know While Preparing JEE Main & JEE Advanced 2020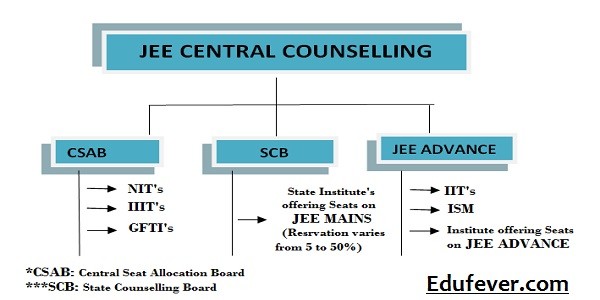 इस आलेख को हिंदी में में पढ़े: क्लिक करें
👉 Download Hand Written Notes for JEE Main 2020 Examination Click Here
Useful Resources
---
Here we have mentioned some useful resources of JEE Main 2020, that will help you.
Quick Facts
The JEE Main 2020 entrance exam will be conducted in Online mode (Computer- Based Test). The duration of this entrance exam is 3 hours in the examination. The multiple-choice questions asked will be asked in the examination of JEE Main 2020 exam.
| | |
| --- | --- |
| Exam Name | Joint Entrance Exam |
| Exam Frequency | Twice a year |
| Exam Mode | Online |
| Exam Duration | 3 hours |
| Test Takers | 11,47,125 |
| Accepting Colleges | 1649 colleges |
| Official Website | https://jeemain.nta.nic.in |
Exam Dates
Below we have provided all the official JEE Main Dates for various events taking place in the January session (over) and April session:
April Session:
| | |
| --- | --- |
| Events | Dates 2020 (Will be updated soon) |
| Release of Online Application | 7th February 2020 |
| Last date to submit an application | 12th March 2020 |
| Last date of fee submission & image uploading | 12th March 2020 |
| Application form re-open | 19th – 24th May 2020 (Re-open) |
| Application correction window | 25th – 31st May 2020  |
| Downloading of Admit card | – |
| JEE Mains 2020 Exam | 18th – 23rd July 2020 (Announced) |
| Announcement of Result | – |
January Session:
| | |
| --- | --- |
| Events | Dates 2020(Will be updated soon) |
| Notification release | August 2019 |
| Release of Application Form | 3rd September 2019 |
| Image correction started | 13th September 2019 |
| Last date to submit the application form | 10th October 2019 (Extended) |
| Last date of fee submission & image uploading | 11th October 2019 |
| Application correction window | 14th – 20th October 2019 |
| Availability of Admit card | 6th December 2019 (Released) |
| JEE Main 2020 Exam | 6th – 9th January 2020 |
| Release of answer key & responses | 13th January 2020 |
| Last date to submit an objection | 15th January 2020 |
| Final answer key release | 17th January 2020 |
| Declaration of Results | 17th January 2020 |
Sample Paper
Here we have provided JEE Main 2020 Sample Papers that will definitely help you to crack JEE Main 2020 examination.
Physics Sample Papers
Chemistry Sample Papers
Mathematics Sample Papers
Counselling
Few things about JoSAA (Joint Seat Allocation Authority)
---
Candidates are advised to read these important points on JEE Main counselling process 2020 carefully before going for Central counselling.
The entire counselling process is ONLINE.
Right from filling up forms to choosing and locking up your preferences, you need to proceed ONLINE.
However, in the case of reporting, you need to present in person at the allocated institute for the purpose of verification.
Allotment of the seat is done purely on the basis of merit. Higher the ranking. Greater the chances to secure admission in the desired counselling round.
In order to participate in counselling, clearing JEE Main is a prerequisite.
Once you reject the seat allotment, you shall not qualify to participate in the further rounds of counselling.
---
Read Also: What after JEE Main Result? Do's & Don't 's after JEE Main
---
Eligibility Criteria
---
The 1st round counselling process for JEE Main 2020 will be started from March 2020(January session) and 3rd Week of June 2020(April Session). only JEE Main entrance exam qualified candidates can participate and called for the counselling process. For IIT and ISM – Dhanbad, admission shall be granted to JEE-advanced qualifier with the following conditions:
Read Also: List of Top IIT Colleges in India: Rankings, Score & Much More!
Minimum acceptable marks must have been secured in JEE Advanced 2020.
An aggregate of 75% (70% for ST, SC or PwD) in qualifying exam or a position among top 20 percentile successful toppers is required to be obtained.
The aggregate marks in Chemistry, Physics, Mathematics and Language (in whichever candidate secured higher marks) shall be considered. And if any of these subjects has not been evaluated in the final year, then the marks of such subject shall be considered for the purpose of evaluation of aggregate marks to check the percentage and percentile.
Failure in one or more subjects in the qualifying examination, the candidate has to appear and qualify in 2020.
In case if only letter grades are awarded, then a letter is required to obtain from the board stating the aggregate marks. In the case of failure, Joint Implementation Committee of JEE (Advanced) 2020 shall be authorised to make a decision.
The marks for XII shall be considered as the qualifying examination.
Read Also: JEE Main Toppers 2019, 2020: know their Ranks and Percentile
***Above criteria are valid for all the candidates including foreign nationals.
---
Read Also: TOP NIT PARTICIPATING IN JEE MAIN 2019 (With Opening and Closing Rank)
---
Counselling Procedure
---
Step-1: Online Registration: To participate in JEE Main 2020 counselling procedure aspirants will have to register to JoSAA in online mode by entering roll number and password.
Step-2: Choice Filling & Locking: Fill and lock the choices in order of the preference of colleges and B.Tech programmes. Based on the choices filled seat allotment will be done.
Step-3: Seat Allotment: the seat allotment process Based on the availability of seats, merit and preference entered, candidates, will be allotted seats. However, before the actual seat allotment, mock allotment will be done in two rounds. It will help the aspirants to know the seat allotment process and also enable them to know and choose better preferences for themselves in the final rounds.
Step-4: Payment of Fee & Seat Acceptance: Once the seat is allotted, candidates will have to choose any one of the following options :
Freeze– If an aspirant is satisfied with the seat allotted to them and do not wish to participate in further rounds, they will have to choose this option.
Float– In case, candidates need to keep the seat allotted and also wish to upgrade their seat, they must follow this option.
Slide– If an aspirant accepts the seat allotted and wish to upgrade the course in the same institute, they will have to stick to this option.
Withdraw– If any aspirants have already accepted the seat, they can withdraw the seat by reporting at the institute allotted before the last round of seat allotment.
Step-5: Seat Allocation Fee Payment: To confirm the seat, candidates will have to pay the fees through SBI Net Banking or e-Challan.
The seat acceptance fee (SAF) for all the aspirants except SC/ ST/ SC-PwD/ ST-PWD/ GEN-PwD/ OBC-NCL-PwD is Rs 45,000.
Aspirants who belong to SC/ ST/ SC-PwD/ ST-PwD/ GEN-PwD/ OBC-NCL-PwD categories will have to pay Rs. 20,000 as SAF.
Step-6: Verification of Documents: After that, the aspirants will have to go through the document verification process at the help centres.
Step-7: Reporting at the Allotted college/Institute: After the document verification is done, aspirants will have to report at the allotted institute/College and pay the balance fees in the institute, and then confirm the admission.
Read Also: JEE Main Percentile vs Ranks: Difference you must know
Documents required
Recent Passport Size Photographs
Category Certificate (If Applicable)
Character Certificate
One copy of The Confirmation Page
Admit Card – JEE Main 2020
Class X & XII Certificate
Rank Card – JEE Main 2020
Migration Certificate
Read Also: List of IIIT Institute in India: Admission Procedure, Cutoff, & Much More!!
Spot Seat Allotment
---
When the seats are vacant from the usual rounds of counselling, Spot round of seat allotment is possible.
For an already registered candidate, no fresh registration is required.
If a candidate is registering afresh, he has to fill the choices, pay the fee and lock choices for the purpose of allotment.
Six round of seat allotments is expected under JoSAA counselling 2020.
---
Read Also: List of all  IIT with previous years opening and closing rank (updated)
---
Important highlights related to JEE Main Counselling:
There are 3 counselling processes in JEE Main – JoSAA, CSAB NEUT and CSAB SFTI.
JoSAA is the combined counselling for JEE Main and JEE Advanced qualified candidates.
CSAB NEUT is conducted for supernumerary seats in the North East and Union Territories.
CSAB SFTI is separate counselling procedure conducted by Central Seat Allocation Board for 17 SFTIs.
Read Also: JEE Main Guideline: JEE Main Exam day Guideline 2020
Top Participating institutions
---
This year more than 11 Lakh aspirants had applied for JEE Main in which only top 2,20,000 (including all categories) will proceed to Jee Advanced 2020. Remaining candidates who scored great in JEE Main will have an option to opt for various NITs, IIITs and GFTIs set up by the Government to promote Technical Education in India. Here are some quick facts related to the number of Candidates applied for JEE Main 2020 and  Top Institutes Participating in JEE Main 2020.
Read Also: How to calculate JEE Main Exam Marks and rank
Read Also: JEE Main Result 2020: January and April Session & More!!
The JoSAA authority will declare the final list of participating institutions around June in 2020 on its official website
Read Also: Top 100 Engineering Colleges in India by NIRF 2020 (Updated)
Frequently Asked Questions:
Q. How many times is the JEE-Main exam held in a year?
A. 2 Time in a Year(January & April)
Q. How Many Times We Can Attempt JEE Main Exam?
A. No Attempt Limit
Q. What is the minimum age limit to appear in the JEE Main?
A. No age limit
Q. At what time will the forms be available on jee main official website?
A. For April- 07 April 2020(Started)
Q. What is the fee of JEE-Main Application form?
A. Boys: Rs. 650, Girls: Rs. 325/-
Q. What are the changes in JEE-Main 2020?
A. Exam Pattern: Click Here
Q. What are the Marks to qualify the Jee-Main Exam?
A. Approx 75 to 103 /360
Q. Who will conduct the Jee-Main?
Q. Which test series is best for JEE 2020?
Q. How to get below 1000 in 2020 jee main?
A. Min. 270+ Marks(Approx)
Q. Is JEE Main 2020 Online or offline?
A. Online but drawing paper held in offline mode
Q. Result date of JEE Main?
A. January Session-31 January 2020
April Session:-Paper-1: By 30th April 2020
Paper-2: By 15th May 2020
Read Also: JEE Main Answer Key 2020 (Released): Shift 1 and 2 & Much More!!
List of Top Colleges in India
Read Also: JEE Main Reservation 2020 | JEE Main 2020 GFTIs CutOff
Success Mantra:
👉🏻😊😊 Never let yourself down☹️…
👉🏻 Keep working Hard✍️
👉🏻 Believe yourself 😇 🙌🙌
Don't worry, we are always with you for any admission related queries you can comment on the box mentioned below. Our top expert will serve with the best possible solution.
Best of Luck…!!! 👍👍👍
Disclaimer:
Our Ad Policies are designed to promote a good experience for end-users. Edufever does not hold responsible for anything inappropriate or wrong information given by the advertiser. If you have found any inappropriate or wrong information/data on the site, inform us by email for rectification/deletion/updating of the same.
UPES Dehradun 2020 Application Closing Soon Apply Now