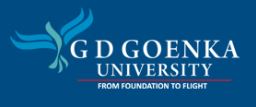 School Of Law, GD Goenka University, Gurgaon was established in the year 2012. It is affiliated with G.D. Goenka University, Gurgaon.
School Of Law, GD Goenka University, Gurgaon is one of the best Law colleges of Haryana. The college is providing education and training to become a fully qualified Lawyer. The nature of Law education and Law qualifications varies considerably across the world.
School Of Law, GD Goenka University, Gurgaon
College Summary
Before we go to complete college review, let us have a look at the major details of School Of Law, GD Goenka University, Gurgaon.
| | |
| --- | --- |
| Name of Institute | School Of Law, GD Goenka University, Gurgaon |
| Popular Name | – |
| Location | Haryana |
| Year of Establishment | 2012 |
| Institution Type | Private |
| Affiliated with | G.D. Goenka University, Gurgaon |
| Approved by | Bar Council of India |
| Courses Offered | LLB, BA.LLB, BBA.LLB, LLM |
| College Rating | 3.8 |
| Official Website | School of Law |
| Category | Law College in Haryana |
Affiliations, Recognition, and Achievement
Affiliated with: G.D. Goenka University, Gurgaon
Aid Status: Private
Approved by: Bar Council of India
Facilities
Library
Banking
Canteen
Internship
Computer labs
Web access centre
Girls Common Room
Boys Common Room
Course Offered
School Of Law, GD Goenka University, Gurgaon provides some of these qualities programs under one roof.
| | | |
| --- | --- | --- |
| Course | Intake | Duration |
| LL.B | 60 | 3 year |
| BA LL.B | 60 | 5 year |
| BBA LL.B | 60 | 5 year |
| BCOM LL.B | 60 | 5 year |
| LL.M | 60 | 5 year |
Note: The intake may subject to change.
Faculty & Staff
The college provides a good ratio of well trained and highly educated faculty members equipped with all the modern technology. It also provides sufficient numbers of non-technical staffs to provide an ambience of self-learning to the students. The college is committed to uplift the Legal education and output delivery system for the people of the country.
Admission Procedure
Admission will be done on the basis of CLAT Score Card and Counselling Process
Admission Seekers must full fill all the required eligibility criteria made under the admission Guidelines.
Admission through the National level exam CLAT UG and CLAT PG programme or also through Haryana State Entrance Test.
Eligibility Criteria
| | |
| --- | --- |
| Age | There is no age limit for taking admission in this course. |
| Qualifying Examination | A Candidate seeking admission from a recognized school and after completing Graduation in any discipline. Minimum 45% marks in graduation for general and 40% marks for reserved categories. |
| Basic of Selection | The selection of the candidates for admission to LLB and LLB integrated Courses will be made on the basis of the merit have to appear for the Entrance Exam. |
| LLB Entrance Test | CLAT, LSAT, AILET, LAWCET |
Fees Structure
| | |
| --- | --- |
| Course | Fees (Semester) |
| LL.B | 1,12,500/- |
| BA LL.B | 1,12,500/- |
| BBA LL.B | 1,12,500/- |
| BCOM LL.B | 1,12,500/- |
| LL.M | 60,000/- |
Scholarship
The scholarships recognise merit and talent of students. Students may apply for the Scholarships at the beginning of the academic year. College may offer a scholarship to a deserving candidate under the following categories.
College / University Merit Scholarships.
Students belonging to the economically weaker sections may ask for fee concession (*depends on the college administrations).
Merit cum means based scholarships are also awarded by the college to deserving students.
Merit & National Scholarships for brilliant students under Central & State Govt.
Important Note: The amount of scholarship to be given or the decision of scholarship to be grant is solely under the consideration of college administration.
CLAT UG 2020 Counselling Process
Step-1: Step 1: Publication of 1st indicative list
The merit list to shortlist candidates for the final admissions has been released on the official website of CLAT 2019 based on the merit-cum-preference basis.
Step 2: Counselling fee payment and option available to exercise by provisionally selected candidates
The requisite counselling fee of INR 50,000 must be deposited by provisionally selected candidates. In case candidates fail to deposit the fee within a specified time frame, they will lose their right to consideration for admission under CLAT. Apart from this, their names will also be dropped from the merit list. After payment of fee, candidates have to exercise any one of the options listed below:
Lock: In this option, the candidates will have to lock their seats. If a candidate opts for this option, he/she will not be considered for the next rounds of counselling.
Upward Shifting: this option is applicable only for those candidates who have participated in the first round and not yet locked their seats. Here, the seats are offered to the candidates automatically against any vacancy arising in the preferred NLU through his/ her choice via subsequent allotment list.
Withdrawal – There is an option to withdraw the fee as well in two ways.
Option 1 – Failing to deposit the requisite fee
Option 2 – Choosing the option of withdrawal before final seat allotment list i.e. during the fourth round of CLAT Counselling.
Step 3: Publication of 2nd list having the names of finalized candidates after payment of counselling fee and additional waitlisted candidates
The Second allotment list will be made only for those candidates who have paid counselling fee and reserved seat on participating NLUs. In the second list, CLAT will also release a waitlist of candidates selected provisionally against dropped out candidates, if any. the candidates will have to submit the counselling fee of INR 50,000. From the deposited counselling fee, there will be a deduction of a nominal amount of INR 10,000. The fee amount will be forfeited in case of any withdrawal after a stipulated period.
Step 4: Publication of 3rd list allotting seats to candidates
The third allotment list will be published only for those candidates who have paid their counselling fee against the first and second indicative list. With the third allotment list, A list of waitlisted candidates, who are provisionally selected against dropped out candidates, will also be released.
Step 5: Completion of admission formalities at the allotted NLUs
Candidates will have to visit the allotted NLU to deposit the balance amount towards admission and other fees. Candidates are advised to carry relevant certificates/documents in an original issue along with them. No admission in participating NLUS will be allowed to candidates failing to produce required certificates/documents in original or meet the eligibility requirements. After the publication of CLAT merit list, counselling fee of INR 50,000 is forfeited to candidates who fail to report at the allotted NLU.
Cutoff
The School Of Law, GD Goenka University, Gurgaon is the minimum marks prescribed by the selection board for the admission of students. Merit list will be designed on these Cutoff scores. Aspirants who apply for the Institute needs to clear the Cutoff for various courses. The Cutoff will be based on various parameters like numbers of applying candidates, total numbers of seats and last year admission record.
Determining Factors
The cutoff percentile/marks depend on various factors. Some of the factors determining cutoff are mentioned below:
Difficulty level of exam
Number of test-takers
Number of candidates qualifying for the next rounds
Number of seats
Institute repute or ranking
CLAT 2020 Cutoff (Expected Subject-wise)
| Section | Cutoff | Total Marks |
| --- | --- | --- |
| English including Comprehension | 30 | 40 |
| General Knowledge and Current Affairs | 30-35 | 50 |
| Elementary Mathematics (Numerical Ability) | 10-15 | 20 |
| Legal Aptitude | 35-40 | 50 |
| Logical Reasoning | 30-32 | 40 |
Ranking and Reputation
| | |
| --- | --- |
| Name Of Institute | School Of Law, GD Goenka University, Gurgaon |
| Rating | 3.8/5 |
| Reputation | Excellent |
| Education | 4/5 |
| Faculty | Good |
| Infrastructure | Excellent |
We would like to give this college 3.8 out of 5 stars on Edufever Law Best Colleges in Gurgaon.
Contact Details
School Of Law, GD Goenka University, Gurgaon
Address: Sohna Gurgaon RoadSohna, Haryana, India
Phone: +91-9643557567
Email Id:
Website: www.gdgoenkauniversity.com
Frequently Asked Questions (FAQ)
Question-1: When will be the Common Law Admission Test – 2020 held?
Answer: The expected date of the Common Law Admission Test (CLAT 2020) is 8th May 2020.
Question-2: When will be the first Admission Notification of CLAT-2020 be issued?
Answer: Admission Notification of CLAT 2020 will be issued in December 2019.
Question-3: How can the Foreign Nationals take admission in various NLUs?
Answer: Foreign Nationals need not take the CLAT 2020 for admission in various NLUs. They can contact/visit the website of respective NLUs of interest to know the procedure of admission.
Question-4: How much fees shall be remitted for filling-up of CLAT-2020 Application Form?
Answer: The fees to be remitted while submitting the Application Form of CLAT 2020 shall be as per the following:
a) For General/OBC/PWD and other category candidates: 4000/-,
b) For SC/ST category candidates: 3500/-.
Question-5: Which will be the various modes of submission of application forms for CLAT-2020 by prospective applicants?
Answer: There will be only one mode of submission of Application Forms i.e. online.
Question-6: Is there any sectional cutoff in CLAT?
Answer: No, there is not sectional or subjective cutoff in CLAT 2019 exam, only you have to score overall marks in all subjects.
Question-7: Is there any negative marking in the examination?
Answer: Yes, 0.25 marks will be deducted for each wrong answer.
Question-8: Is there any minimum cut-off CLAT score prescribed for admission.
Answer: No. There is no minimum cut-off score prescribed. Candidature of every candidate shall be considered in their respective category, in order of merit.
Question-9: What is the procedure of allotment of Law School for admission?Answer: During the online counselling session, the candidates will be required to fill up all the available choices of NLU for the UG/PG course in order of their preference. Seats shall be allotted taking into consideration the candidate's choice and merit.
Question-10: Can the candidate change his/her choice subsequently
Answer: No, Choice once indicated and submitted shall be treated as final.
List of Top Colleges in India
Success Mantra:
👉🏻😊😊 Never let yourself down…
👉🏻 Keep working Hard✍️
👉🏻 Believe yourself 😇 🙌🙌
Don't worry, we are always with you for any admission related queries you can comment on the box mentioned below. Our top expert will serve with the best possible solution.
Best of Luck…!!! 👍👍👍
Disclaimer: If you have found any inappropriate or wrong information/data on the site, inform us by emailing at mail[@]edufever.com for rectification/deletion/updating of the same.
Do You Have Any Questions?? Ask Here for Quick Answer, Note: Write question with complete details for better answers