Which University is Best? VIT or SRM: Many students will complete their Higher Secondary (10+2) this year. As their Board Exams get over, they wander off to their dream college. Generally, these changes bring mixed thoughts due to a lack of career guidance and proper research. While Speaking about choosing the Best University for Higher Studies in India, what first comes to our mind is to choose between VIT and SRM.
The dilemma of choosing a college from the vast array of available colleges makes everyone confused. It is one of the most stressful and daunting tasks in someone's life, so choosing Wisely college becomes a prime concern. The following article will help you get over all those basic parameters to define the best College for you. Read the complete article to know which University is better for you, VIT UNIVERSITY or SRM UNIVERSITY.
VIT OR SRM
Let's quickly move to the various parameters that define the universities' overall reviews. SRM is ranked 36 among universities under the MHRD NIRF ranking, and VIT is ranked top 18.
| Parameter | VIT | SRM |
| --- | --- | --- |
| Area of Campus | 372 | 250 |
| Highest Package | 75 LPA | 35 LPA |
| Programmes | 143 | 143 |
| Faculty | 1400 | 3200+ |
| Students | 212,000 (according to 2018) | 50000+ |
Brand Value
The College Brand is an essential factor that matters the most when choosing a great college. Furthermore, The College History, Affiliation, Academic Excellence, Status of a particular Course(stream), Placement and Fees are the significant factors that differentiate a good and the best college. Here is an overview of the Brand value of these colleges, which may help you decide between VIT OR SRM.
Subscribe Us to get Latest Updates from India's Top Universities.
Why Choose VIT

?
The University has been re-accredited with an 'A' grade by 'NAAC'.
The Ministry approves VIT University of HRD, Govt. of India in Category 'A'.
The institution offers a wide range of career options to choose from. Currently, the college offers 64 Undergraduate, 35 Postgraduate, 16 Integrated, 2 Research programmes and 2 M.Tech Industrial Programmes.
VIT University offers a mixed cosmopolitan ambience spread across 372 acres of Eco-friendly campus with over 192.13 Acres of built-up space at Vellore and about 170 acres of Eco-friendly campus at Chennai.
The University signed Different MOUs with institutions all across the globe for students and faculty exchange programs. As a result, the University has Over 508 national and international faculty and almost 137 staff to provide the students with the best possible outcome.
VIT has almost 100% Placement assistance. The university has accreditation with TCS, Wipro, and Cognizant for academic collaboration and placements.
These are very few reasons to choose VIT. To know more about the university, read VIT Vellore University.
Why Choose SRM?
SRM University was ranked number 1 by the Times of India Engineering Institutes Ranking in 2016.
NAAC accredited the University with an 'A' Grade in 2021.
The Ministry approves SRM University of HRD, Govt. of India in Category 'A'.
The University has 50000+ Students and about 950+ International Students studying in different fields of Engineering and a wide array of subjects offered by SRM.
The University has constantly upgraded its Knowledge sharing Platforms and mutual exchanges of Thoughts with over 170+MOUs signed with different universities and companies all across the globe.
SRM University has almost 30+ patents from their Highly qualified faculty and students. University also has more than 130+ crore in external funding.
Almost 6000+ On Campus Placement and Over 150 students sponsored by 35 foreign universities like MIT, Carnegie Mellon, UC Davis, Warwick and Western Australia in 2008-09.
These are very few reasons to choose SRM. To learn more about the university, read SRM University.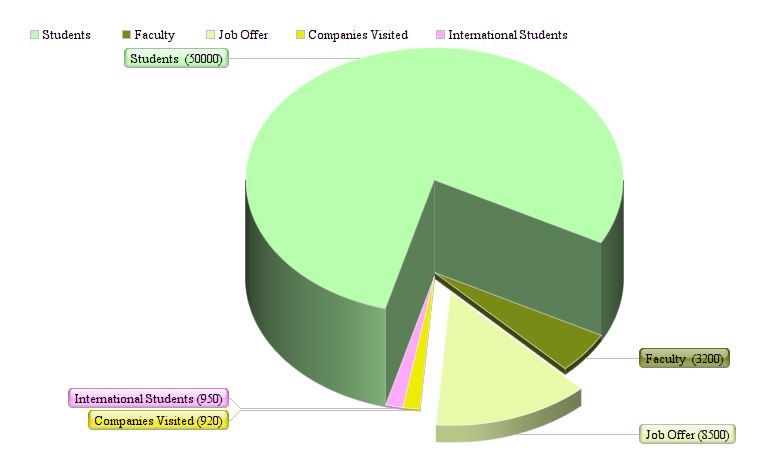 Infrastructure & Facilities
Both Universities are among the best in business when we talk about Infrastructure and Facilities. SRM University has three campuses in which. The main one is in Kattankulathur(Tamilnadu). The campus is spread over 400 acres, divided into 42 blocks with ultra-modern Facilities. SRM Is a family of more than 50,000 students and more than 3200 faculty across all the campuses, offering a wide range of undergraduate, postgraduate and doctoral programs.
VIT University has three primary campuses; the Vellore campus is the main one. The VIT Campus is spread across 360 acres of Eco-friendly campus with over 50.83 lakh sq. ft. built-up space at Vellore and about 170 acres of Eco-friendly campus at Chennai. The University has over 1400 national and international faculty and almost 1400 staff to provide the students with the best possible outcome.
Culture & Ambience of the College
The culture & Ambience of the College holds a substantial effect on someone's career. What matters is how much you are industry-ready and employable at the end of your study, and for that, you need a more significant industry connection and a good reputation. The Campus life of both SRM and VIT is super cool compared to other Universities in India. Both Universities organise different Student Learning activities around the year.
Both Universities host a list of Student and Faculty programs to encourage students to Research and Innovation. As a result of Culture and ambience, students from both universities have successfully made their mark on the National and Internation stages with their research and innovative projects.
Faculties & Staff
Faculty & Staff should be the most critical factor in deciding on a college. Extra consideration is given to a College whose faculty members are still actively engaged with employers in a given field. This attitude can open doors to internships, research opportunities, jobs, etc.
Looking at the number of research/ patents and faculties Engagement programs, VIT University stands far ahead of SRM University. Both the University continuously upgrades the knowledge and skills of the faculty members using various Faculty Development Programmes. The international Collaborations and different Induction Programs help Faculties build a strong global education network.
Placements
Everyone looks for campus placement records as one of the essential parameters in selecting a college. Campus placement is the most critical aspect expected from a college. We all love to prefer Government institutions to private ones because somehow it guarantees a promising future.
In this regard, VIT has a slight advantage over SRM. VIT University has consistently set records and broken them over several years. The latest was nearly 8000 job offers made to VIT students by Accenture, Wipro, TCS and Infosys. Once SRM University broke all the records, 6064 students were placed on Day-one by Major IT Companies, making the PRM out of the Box. If we ignore the minute details and the highest salary offered, then the Placements of both Universities are similar.
SRM University Placement Offered
The following is the SRM University Placement Offered:
| | |
| --- | --- |
| Particulars | Description |
| Highest Package Offered | Rs 32 Lakh/ Annum (CSE Student) |
| Average Package Offered | Rs 5 Lakh/Annum |
SRM University Kattankulathur Placement Statistics
VIT Vellore Salary Package
The following is the VIT Vellore Salary Package:
| | |
| --- | --- |
| Particular | CTC (in Lacs) |
| Highest Package | 45 Lacs |
| Average Package | 7.05 Lacs |
Overview
Relying on College reputation and Brand Value is a good thing, but just because a college has a "highly-ranked" or "prestigious" history doesn't mean it's the right College for you. Remember that one person's dream college could be another's nightmare. Also, only looking at the website or relying on a college's advertising is a mistake because they tend to idealise college life. Students get unrealistic expectations of what campus is like. It's always better to visit and experience college.
Frequently Asked Questions (FAQs)
Which is more strict, SRM or VIT?
VIT wins in almost 95% of them. The only area where VIT loses to SRM is 'Students' freedom' as VIT rules are strict, especially for girls.
Which is best for CSE, SRM or VIT?
Hi, both universities are good. SRM for the CSE branch is one of the best, as there are 100 % placements yearly. Students can sit for orders in dream companies like Amazon, Microsoft and many more, providing dream packages.
Is SRM Chennai better than VIT?
SRM is ranked 36 among universities under the MHRD NIRF ranking, and VIT is ranked top 18.
Which is the best VIT campus?
VITEEE main campus VIT Vellore is best.
Can I change campus in VIT?
NO. You cannot change your stream or campus in VIT once you have already been admitted to a particular campus with a specific stream.
How are placements at VIT Vellore?
The 81 students from the Vellore Institute of Technology (VIT) got placements with a pay package of Rs 25 lakh per annum and above in the initial phase of the placement season.
Read Also: