NTA NEET Final Answer Key 2022: On September 8, the National Testing Agency published the official NEET answer key 2022 at neet.nta.nic.in. On September 7, the NTA announced the NEET 2022 result on the official website. Here is a direct link to the 2022 NEET final answer key download.
Aspirants should use the NEET UG marking scheme 2022 to determine the pass marks using the NTA NEET UG answer key. All NEET question paper codes' correct answers will be included in the NEET UG 2022 answer key. Read the post to learn more about the NTA NEET answer key 2022, download instructions, challenge procedure, NEET answer key and more.
Steps to download NEET UG 2022 final answer key
Step 1. Visit the official website neet.nta.nic.in
Step 2. Click on "Final Answer Keys of NEET (UG) – 2022"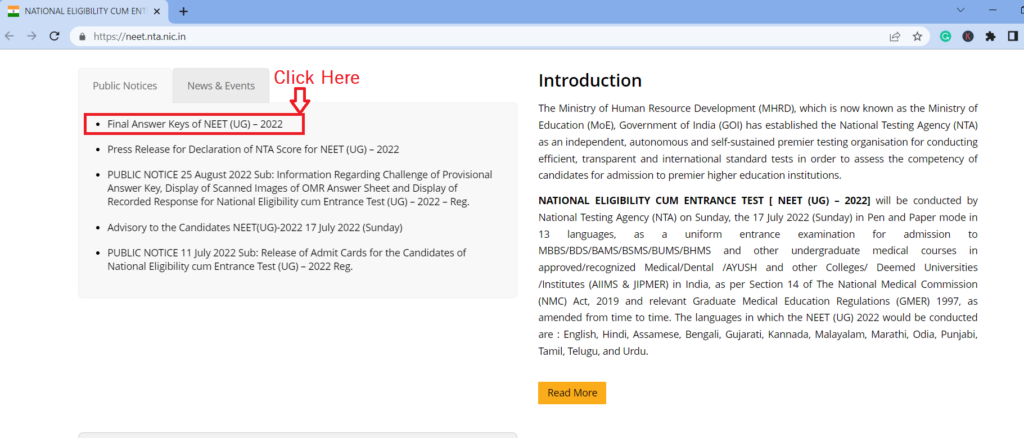 Step 3. The NEET Final Answer key will appear on the screen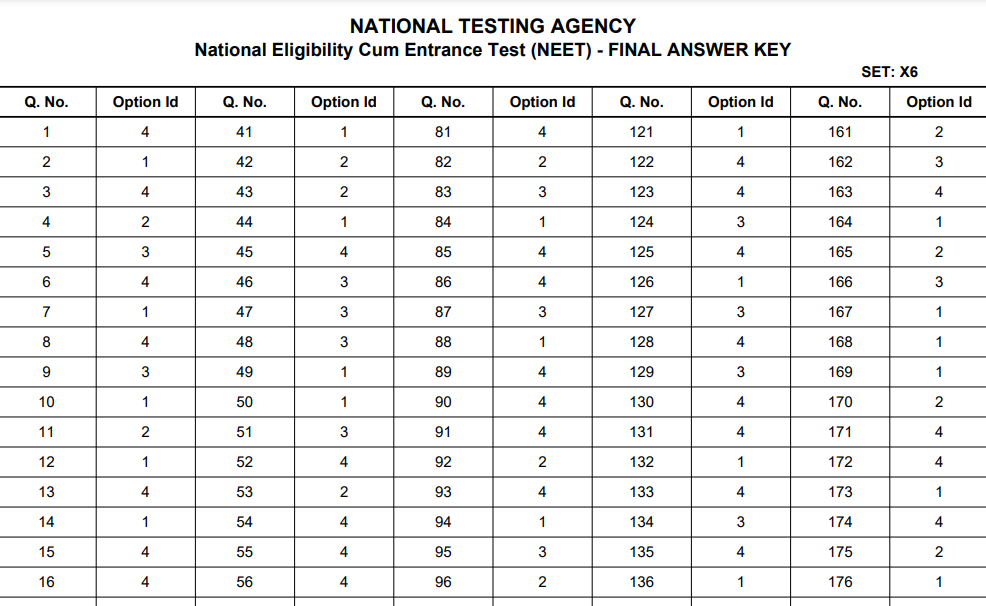 To download the complete NEET final answer key click here
NTA released the NEET 2022 results on their official website yesterday. More than 16 lakh students sat the NEET exam this year, which was held on July 17. Candidates must achieve the minimum needed NEET 2022 cutoff and percentile in order to be considered for the test. In India's top medical and dental universities, admission to the MBBS, BDS, AYUSH, and BSc nursing programmes will be based on NEET 2022 scores. And as of today, September 8, 2022, NTA has made available its Official Final answer key.
NEET 2022 Official Provisional Answer Key
Various NEET aspirants are searching for a lot of information about the NTA official NEET Answer Key 2022; In this section, we are providing the NEET UG 2022 Answer key, all code in PDF; let's have a look.
NEET 2022 marking scheme
| | |
| --- | --- |
| Answer Type | Score |
| Correct Response/Answer | +4 Marks |
| Incorrect Response/Answer | -1 Mark |
| Unanswered | 0 |
| More than one response | 0 |
How to calculate a score using NEET 2022 answer key?
Candidates have to use the below-mentioned formula for calculating their scores:
NEET 2022 score = [4*(Number of Correct Responses)] – [1*(Number of Incorrect Responses)]
NEET UG Useful Resources
Follow us on the latest NEET news and Google news for regular updates on medical colleges and universities in India, admission, courses, exams, schools, web stories, podcasts, etc.