Career in Dental Assistant Course: The dental assistant's role is much more than supporting the dental operator by passing clinical instruments during the treatment procedure. They help patients with oral hygiene skills, sterilising the instruments, preparing the patient for their treatment, assisting during general anaesthetic dental procedures, providing suction devices, taking dental impressions, exposing dental radiographs, recording patient roles and administration roles like scheduling appointments. However, the role of a dental assistant is ever-changing and ever-expanding.
इस आर्टिकल को हिंदी में पढ़े: डेंटल असिस्टेंट कोर्स में करियर
The Dental Assistant course will teach topics related to dental anatomy, various dental treatments, the instruments used for such purposes, and how to interact with patients and remain calm in emergency situations. Through this article, the readers will gain in-depth knowledge about the Dental Assistant course, college, job, scope, salary and recruiting companies.
Quick Facts
A quick brush-up about the dental assistant course along with the necessary information about the course is below:
Subscribe Us to get Latest Updates from India's Top Universities.
| Particulars | Description |
| --- | --- |
| Duration of the Course | 2 years or 6 to 12 Months |
| Examination Type | Semester |
| Eligibility | 12th Pass-Out |
| Admission Process | Entrance and merit-based |
| Average Course Fee | INR 1.5 lacs to 3 lacs |
| Average Starting Salary | INR 2 to 12 Lacs |
Who is a Dental Assistant?
A Dental assistant is a professional who works closely with and acts upon a dentist's orders. Work in unison while performing certain dental procedures. They are professionals who play a great role in delivering quality oral healthcare services to dental patients. They should have both administrative and clinical skills, as there might be situations where they are forced to work in any of these fields.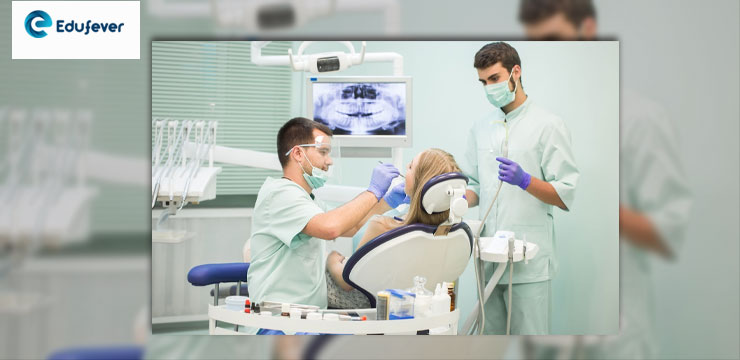 What does Dental Assistant do
?
Some tasks performed by a Dental Assistant are listed below:
Taking and analyzing dental radiographs
Accompanying the patients inside of a clinic and helping them feel better
Sterilizing the equipment and instruments to prevent infections
Performing office management tasks
Scheduling appointments and contacting suppliers
Treatment procedures
Preparing the patient for an examination by providing oral instructions, checking the patient's medical history and taking the blood pressure
Top Dental Assistant courses in India
To work as a Dental Assistant, one can earn a degree by following the courses listed below :
| Dental Assistant Course | Duration |
| --- | --- |
| Diploma in Dental Assistant | 2 years |
| Certificate courses in Dental Assistant | 6 to 12 months |
How to get admission to Dental Assistant Course?
Aspiring candidates should have passed from 10+2 with a minimum of 50% aggregate marks in the science stream (PCB) to be eligible for the dental assistant course.
For diploma courses, admission is done through entrance and merit-based.
For certificate courses, admission is done through entrance and merit-based.
Eligibility Criteria
Certification in Dental Assistant course is a 3 months & 6 months year Certification program. The minimum eligibility is 12th. Admission depends based on Merit. It is completely based on marks scored by candidates in class 12th, and/or the marks of the entrance exam are taken into consideration.
Eligibility Criteria for Diploma course
| Particulars | Description |
| --- | --- |
| Age Limits | The minimum age should be 17 years. |
| Qualification | Candidates should have passed 10+2 in Physics, Chemistry, Biology, and English. |
| Qualifying Marks | They must secure 45-55% marks in aggregate. |
Top Dental Assistant Colleges in India
Listed below are some of the top dental assistant colleges in India, along with their fees structure:
College Name
Location
Average Fees
(Approx.)
Manipal College of Dental Sciences
Mangalore
INR 5,16,000
A.B. Shetty Memorial Institute of Dental Sciences
Mangalore
INR 506,500
Jamia Millia Islamia University
New Delhi
INR 31,000
Manav Rachna Dental College
New Delhi
INR 9,50,000
Sathyabama University Dental College and Hospital
Chennai
INR 23,00,000
Government Dental College and Hospital
Mumbai
INR 3,78,000
Government Dental College and Hospital
Ahmedabad
INR 1,00,020
Nair Hospital Dental College
Mumbai
INR 70,500
The Oxford Dental College and Hospital
Bangalore
INR 6,20,716
KGMU Lucknow- King George's Medical University
Lucknow
INR 300,300
Career Opportunities
Dental Assistant is a promising career as the whole healthcare industry is growing, and serious oral healthcare issues are invented yearly. And can also work in an insurance company to process dental insurance claims.
Job Profiles after Dental Assistant Course
Dentist Assistant
Dentist Hygienist
Surgical Technologist
Medical Assistant
Pharmacy Technician
Employment Sector after Dental Assistant Course
Government Hospital
Private Hospital
Solo Dental Clinic
Government Dental Clinic
Private Dental Clinic
Roles of a Dental Assistant
Preparing operating rooms for surgery by sterilizing equipment, preparing instruments, and setting up equipment
Examining patients to determine their dental health needs and developing treatment plans
Administering local anaesthetics and sedatives as needed during dental procedures
Cleaning teeth and removing stains using tools such as ultrasonic cleaners or air abrasion devices
Performing surgery on gums, jaws, and other parts of the mouth to treat disease or injury
Determining the need for extractions or surgical removal of teeth
Diagnosing and treating periodontal (gum) disease by performing biopsies and charting progress
Administering local anaesthetics, performing extractions, and replacing missing teeth with implants and dentures
Recommending ways to improve oral hygiene at home to prevent tooth loss and disease from recurring
Skills of a Dental Assistant
The following are the skills of a dental assistant:
| | |
| --- | --- |
| Good judgment | Organization |
| Critical thinking skills | Professionalism |
| Negotiation skills | Networking skills |
| Manual dexterity | Maintain continuing education requirements |
| Empathy | Teamwork |
Average Salary After Dental Assistant Course
Different factors will affect a dental hygienist's annual compensation. Due to a shortage of dental experts, there is a strong potential for career advancement in India. Several criteria will also be used to establish the Dental Assistant's annual salary.
| Job Profile | Average Salary |
| --- | --- |
| Dentist Assistant | Rs 80,000 – Rs 1,00,000 |
| Dentist Hygienist | Rs 96,000 – Rs 1,10,000 |
| Surgical Technologist | Rs 90,000 – Rs 1,00,000 |
| Medical Assistant | Rs 80,000 – Rs 96,000 |
| Pharmacy Technician | Rs 85,000 – Rs 1,00,000 |
Top Recruiting Companies for Dental Assistants
HCL Healthcare Clinic Noida
Fortis
Max Healthcare
Best care dental clinic
Katara Dental Private Limited
Dentsply India
Corona Dental Lab
Best Care Dental Clinic & Shorey Health Clinic
Septodont Healthcare India Private Limited
Dental Lab Expo-India
Shah Dental
Frequently Asked Questions (FAQs)
Q. Is Dental Assisting a career?
A. Dental assistants perform tasks from patient care to office & laboratory duties. It can also advance to other careers, such as office manager, research associate, educator, dental sales representative, dental hygienist, dental laboratory technologist and dentist.
Q. Are dental assistants in high demand?
A. The developing population and continuing research linking general health will continue to expand the demand for preventive dental services. Employment of dental assistants projects to grow 11% from 2018 to 2028, much quicker than the average for all professions.
Q. How to become a dental assistant?
A. Some states want dental assistants to graduate from an accredited program and pass an exam. Most programs are offered by community colleges, although they also may be awarded by vocational or technical schools.
Q. Does a dental assistant clean teeth?
A. Dental assistants cannot clean teeth. That's a dental hygienist's job which requires specific oral health training, nor can they do anything that would want the use of a dental pick or a drill.
Q. Can I get a job with a dental assistant certificate?
A. Some dental assistants get started with on-the-job training; you can also prefer to obtain formal education to become a CDA.
What is Dental Assistant called?
A dental Assistant is known as Dental Hygienist. They perform various tasks related to patient care and administrative and clinical work.
What 5 qualities make a good Dental Assistant?
The following are the qualities that make a good dental assistant
>Good judgment
>Organization
>Critical thinking skills
>Professionalism
>Negotiation skills
>Networking skills
>Manual dexterity
>Maintain continuing education requirements
>Empathy
>Teamwork
Which field is best for science students with Biology (PCB)?
Can I apply for dental assistant course without science?
No, candidates should have passed 10+2 in Physics, Chemistry, Biology, and English and secure at least 45-55% marks in aggregate.
What are the types of Dental Assistant?
Following are the types of Dental Assistant:
>Dentist Assistant
>Dentist Hygienist
>Surgical Technologist
>Medical Assistant
>Pharmacy Technician
Read Also: