MBBS in Bangladesh is becoming a trend among Indian students who wish to study MBBS abroad. With a range of top Medical Universities and recognised among a few of the world's prominent organisations like WHO and NMC, Bangladesh's Medical Universities provide some of the most significant advantages for Indian students who want to study MBBS abroad and are considered one of the best countries for Indian students for MBBS. So, even if you do not understand their local language, Bengali, do not fret about the entire English syllabus.
Stay tuned throughout the article; we will examine various aspects of MBBS in the Bangladesh 2023 winter season and its pros and cons.
Country Summary
Bangladesh is a country in South Asia. Bangladesh is the 92nd-largest sovereign state globally and is among the most densely populated countries in the world. It shares borders with India and Myanmar.
Wants to Study MBBS Abroad from a top Country with low tution Fees? Subscribe Now!
Particular
Description
Population
16.47 crores
Area
148,560 km2 (57,360 sq mi)
Capital City
Dhaka
Other largest cities: Chittagong, Khulna, Sylhet, Rajshahi etc.
Language
Bengali
Other Languages: Hindi, Assamese, Oraon Sadri, and Bihari
Climate
Cool continental climate and Maximum temperatures in July (about 18 °C)
Literacy Rate
75.4% (Estimated)
Time Zone
UTC+6 (BST)
Currency
Bangladeshi Taka
Religion
Islam (Official), Hinduism, Buddhism, Christianity etc.
Quick facts
Before reading the complete information about MBBS in Bangladesh, let's look at Quick facts about studying MBBS in Bangladesh.
| | |
| --- | --- |
| Course Offered | Bachelor of Medicine and Bachelor of Surgery(MBBS) |
| Course Duration | 5 Years |
| Basic Eligibility | 10+2 (PCB) with 50% |
| Medium of Teaching | English language |
| Universities Recognition | NMC & WHO |
| Cost of Living in Bangladesh | Rs.15-20 Thousand/Year |
| Minimum Course Fee | $ 6600 Per Year |
| NEET Entrance Exam | NEET Qualified (Only) |
| MBBS Bangladesh at 10 Lakh | Enquire Now |
| Talk to our Abroad Counsellor | Call Now > +91-9999709233 |
Recognition of Bangladesh Medical College
Checking the affiliation, recognition, and other affiliating parameters is crucial in deciding good and the best medical college. Medical colleges in Bangladesh are affiliated with these authorities.
Ministry of Education, Bangladesh.
ECFMG (Educational Commission for Foreign Medical Graduates)
FAIMER (The Foundation for Advancement of International Medical Education and Research)
Eligibility Criteria
Bangladesh has always been one of the most preferred destinations for international students to pursue their Medical Degree Courses. If you, too, want to study MBBS in Bangladesh, check the eligibility below.
Particular
Description
Age
Your age should be at least 17 years old on or before 31st December of the admission year.
Qualification
Class 12th in Science, with PCB and English subjects from a board recognized by the authorities in India.
Minimum Qualifying (%)
50% in 10+2 (UR)
45% (SC/OBC/ST)
Qualifying Entrance
NEET
IELTS or TOEFL
IELTS & TOEFL scores are not required
Low Budget Abroad MBBS College
Enquire Now
Graphical Representation of Eligibility Criteria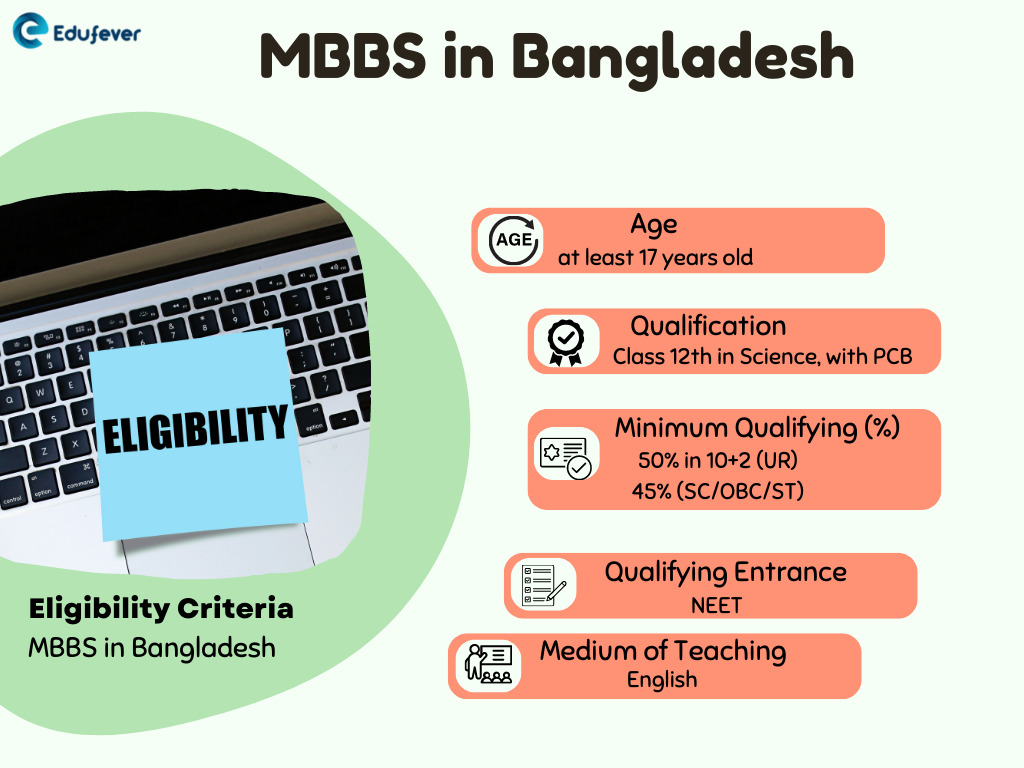 Admission Procedure
If you want to be Admission to Bangladesh, you must qualify for the National Eligibility Entrance Exam (NEET). One must remember that you only have to be eligible for the exam. Here are the valuable resources for NEET Exam that will help you boost your preparation for the NEET exam.
Documents Required
Before taking admission to Medical Colleges in Bangladesh, do not forget to carry all these related documents with you.
Passport (Minimum 18 months validity).
Class 10th Passing Certificate & Mark sheet.
Class 12th Passing Certificate & Mark sheet.
Birth Certificate.
10 passport-size Photographs
Official Invitation letter from the Medical University of Bangladesh.
Authorization of all documents from the Ministry of External Affairs, New Delhi.
Legalization of all documents from the Bangladesh Embassy.
Visa fees.
Bank receipt of University 1st year Tuition fee (required for some Universities).
MBBS Syllabus in Bangladesh
Before applying for the Bangladesh University of Professionals, please compare the MBBS Syllabus of some of Bangladesh's top-ranked, NMC-approved medical universities. The structure and the pattern of MBBS in Bangladesh are as follow:
| Phase | Duration | Subject Covered |
| --- | --- | --- |
| 1st Phase | 11⁄2 year | Anatomy, Physiology, Biochemistry |
| 2nd Phase | 1 year | Community Medicine, Forensic Medicine |
Top MBBS Colleges in Bangladesh with Fees Structure
The Medical Council officially updated 2023-24 of all Medical or MBBS Colleges in Bangladesh. To know detailed info about MBBS in Bangladesh Fees Structure, Course offered, Admission Procedure, Placement Stats, Cut-off, Facilities available and complete college review, click the college link or Read more link will provide the list of best medical colleges.
| University Name | Country Ranking | World Ranking |
| --- | --- | --- |
| University of Dhaka | 2 | 2736 |
| Rajshahi University | 6 | 3517 |
| University of Chittagong | 15 | 5983 |
| Shahjalal University of Science & Technology | 10 | 5085 |
| Bangladesh University of Professionals | 26 | 7833 |
| Gono Bishwabiddyalay (Gono University) | 76 | 11105 |
| Dhaka National Medical College | 49 | 20,918 |
Here in this section, we provide information about the Top MBBS in Bangladesh with the Fees Structure of the MBBS program. Let's have a look.
| S.No. | Name of the Universities | College Fee | Hostel Fee |
| --- | --- | --- | --- |
| 1 | University of Dhaka | Rs.31,50,000 | Rs.6,04,800 |
| 2 | Rajshahi University | Rs.30,17,000 | Rs.5,04,000 |
| 3 | University of Chittagong | Rs.25,20,000 | Rs.6,04,800 |
| 4 | Shahjalal University of Science & Technology | Rs.26,60,000 | Rs.6,55,200 |
| 5 | Bangladesh University of Professionals | Rs.30,17,000 | Rs.5,04,000 |
| 6 | Gono Bishwabiddyalay (Gono University) | Rs.22,40,000 | Rs.5,60,000 |
| 7. | Dhaka National Medical College | $ 3,250/- (USD)/Year | N/A |
NOTE: Mentioned fee is approximate in nature, and it will be subject to change.
Top MBBS Colleges in Bangladesh with Fees Structure(Graphical Representation)
This section provides information about the Top MBBS in Bangladesh with the Fees Structure (Graphical Representation). Let's have a look.
Future Career Opportunity After MBBS in Bangladesh
Students can do Post Graduation after completing MBBS if they clear their respective county's medical licence examination.
Full assistance for the preparation of USMLE is available in colleges.
Clinical rotation programs are conducted in any country.
Indian students can return to India after passing the NEXT exam.
Practise at any public hospital
Medical practice in a hospital
Practice as private surgical treatment
As a professor can conduct lectures in Indian medical colleges and hospitals.
Join government health organisations to help plan for the nation's health challenges.
government positions as health officers
Disadvantages and Advantages of Studying MBBS in Bangladesh
Do you know education in Bangladesh is overseen by Bangladesh's Ministry of Education? Hundreds of colleges are affiliated with the more prominent universities, such as the University of Dhaka and Rajshahi. Several medical colleges and an institute of postgraduate medicine in Dhaka provide medical education. Each college or institute has a full-fledged hospital attached to it. There are a lot of Advantages and Disadvanatages of studying in Bangladesh, here are just a few advantages and disadvantages. Why is MBBS Study in Bangladesh Best for Indian students:
Advantages of Studying MBBS in Bangladesh
The MBBS degree is recognized by the WHO and UNESCO and accepted worldwide.
The Indian students seeking admission are admitted to those recognized by the medical council of India for screening tests conducted by NMC.
Students studying in Bangladesh get the opportunity to complete their internship program at world-class medical colleges and hospitals in the world.
The tuition fee is quite low and affordable.
Hostel accommodations are comfortable and up to the mark for a student's comfort.
Disadvantages of Studying MBBS in Bangladesh
The Recognition of universities is also a major issue. Apart from NMC recognition, Candidates need to be careful that it has the approval of the Ministry of Health and Family Welfare, Dhaka, and The Medical and Dental Council of Bangladesh, Dhaka.
As Bengali is the local language in Bangladesh, students might feel the language barrier (outside the university campus).
The Private Medical Colleges in Bangladesh do not give admission to students with more than two years gap after the 12th.
Indian students will need to get a 'No objection Certificate from NMC.
Graphical Representation Pros. & cons. of MBBS in Bangladesh
Read also: Which is the Best Country for MBBS for Indian Students
Frequently Asked Questions (FAQs)
Is the Internship also included in the duration of the MBBS course?
Yes, the MBBS course duration in Bangladesh is 6 years, along with an internship. The degree awarded after completion of the course is a Doctor of Medicine.
Is the NEET Examination Mandatory for applying for MBBS in Bangladesh?
It is necessary to clear the NEET entrance test for pursuing MBBS in Bangladesh. It is important for the screening test conducted by the NMC.
Is a student visa mandatory in Bangladesh?
YES, you can't be admitted to MBBS colleges in Bangladesh without a student visa.
Can a student get an education loan for a medical program in Bangladesh?
YES. You can apply to various loan-providing platforms for education loans.
Q. Is Bangladesh safe for international Students?
Yes, absolutely. Bangladesh has become one of the highly prioritized centres for Medical students. Bangladesh authorities invented definite rules and regulations to accommodate safety for international students.
Is the Bangladesh Medical Course acceptable in other countries?  
Yes. WHO authorizes the Bangladesh medical colleges.
How much time does it take to get a Bangladesh Visa?
If your documentation is clear, it takes hardly 2 to 4 weeks to get an Invitation letter from Bangladesh Universities.
Are there any work opportunities for International Students in Bangladesh?
Yes, international students must have a work permit or residence permit to work in Bangladesh. The average salary ranges from 200 to 250 USD per month working in Bangladesh.
What is the MBBS in Bangladesh fees?
The average fee for the MBBS degree in Bangladesh varies from INR 30 Lakhs to INR 45 Lakhs.
Can I do an internship in India after doing my MBBS in Bangladesh?
After completing 5 years MBBS program in Bangladesh, You can apply for your internship or clerkship in India or continue in Bangladesh.
Is MBBS abroad for Indian students a good choice?
The answer depends upon the candidate. However, choosing to study MBBS abroad can be a beneficial thing for a candidate's career.