Chittagong University Bangladesh[1] was founded in 1966. It is one of the recognized universities to pursue an MBBS in Bangladesh. It is a public University. It was situated in the Hathazari Upazila, Chittagong District, Bangladesh. Chittagong University Bangladesh has the largest campus among Bangladeshi universities. Medical courses are offered in the university department. Chittagong University Bangladesh invests a lot in the development and upholding of education and the programs it offers. The university has competent teachers and doctors on board.
University of Chittagong
The Chittagong University is situated on 1,754 acres of beautiful hilly land in Mauja Fatehpur under Hathazari Upazila, 22 km north of Chittagong. Chittagong University is spread over the 2110-acre hilly landmass in the Fatehpur Union of Hathazari Upazila; it can cover more than 24,000 students for medical education. The College is accredited by the University Grants Commission (UGC) and Affiliations by Commonwealth Universities. It was opened on 18 November 1966. In 1962, Mr Mohammad Ferdaus Khan, Deputy Director of Public Instruction of East Pakistan, prepared a preliminary draft plan for Chittagong University.
College Summary
Before we go through the detailed information of the University of Chittagong Bangladesh, let's look at the college's essential details.
Wants to Study MBBS Abroad from a top Country with low tution Fees? Subscribe Now!
Name of Institute
Chittagong University Bangladesh
Popular Name
University of Chittagong Bangladesh, Chittagong University
Location
Chittagong District[2], Bangladesh
Year of Establishment
1966
Institute Type
Public
Affiliated by
Association of Commonwealth Universities[3]
Accredited by
University Grants Commission (UGC)[4]
Courses offered
MBBS
No. of Faculty
10
Hostel Facilities
Yes
Chittagong university Ranking
Country Rank: 15
World Rank: 6769
MBBS Abroad at 10 Lakh
Enquire Now
Official Website
https://www.cu.ac.bd/
Talk to our Abroad Counsellor

Call Now > +91-9999709233

Category
Medical Colleges in Bangladesh
Affiliation, Recognition and Achievement
Accredited by:- University Grants Commission
Aid Status: Public
Affiliation: Association of Commonwealth Universities.
Student Support
| | |
| --- | --- |
| Anti Ragging | Counselling Services |
| Healthcare Services | Hostel |
| Report | Query |
| Local Language Learning Classes | NMC Screening Test Help Centre |
Facilities
Chittagong University Bangladesh provides various facilities, including those listed below.
| | |
| --- | --- |
| Medical | Library |
| Auditorium | Hostel |
| Computer labs | Sports |
| Cafeteria | Laboratory |
Courses Offered
The Faculty of Medicine, University of Chittagong Bangladesh, offers quality medical programs under the supervision of highly qualified faculty and state-of-the-art infrastructure. The College is famous for its undergraduate medical programs (MBBS).
Undergraduate Courses
| | |
| --- | --- |
| Department | Duration |
| MBBS | 6 Years (English Medium) |
Faculty & Staff
Chittagong University Bangladesh comprises ten faculties and trains well-educated specialists for most sectors of the Bangladesh national economy. Chittagong University Bangladesh provides a good ratio of well-trained and highly educated faculty members equipped with modern technology. It also provides sufficient numbers of non-technical staff to provide an ambience of self-learning to the students. The college is committed to uplifting the country's people's health care education and output delivery system.
Admission Procedure
Entry Requirements for Indian Students: If you want to take Admission to Bangladesh, you must qualify for the National Eligibility Entrance Exam (NEET). One must remember that you only have to be eligible for the exam. Here are the valuable resources for NEET Exam that will help you boost preparing the NEET exam
Eligibility Criteria
Bangladesh has been one of the top preferred destinations for international students to pursue their Medical Degree Courses. Check the eligibility below to study MBBS in the Faculty of Medicine, University of Chittagong Bangladesh.
Age
It would be best to be at least 17 years old on or before 31st December of the admission year.
*No Upper Age Limit.
Qualification
Class 12th in Science, with PCB and English subjects from a board recognized by the authorities in India.
Minimum Qualifying (%)
50% in 10+2 (UR)
45% (SC/OBC/ST)
Qualifying Entrance
NEET
Medium of Teaching
English
Duration of Course
6 Years (English Medium)
Low Budget MBBS Abroad College
Enquire Now
Graphical Representation of Eligibility Criteria
Documents Required
Before taking admission to the Faculty of Medicine, University of Chittagong Bangladesh, please do not forget to carry all these related documents.
Passport (Minimum 18 months validity).
10th Certificate & Mark sheet.
12th Certificate & Mark sheet.
Birth Certificate.
Ten passport-size Photographs
Official Invitation letter from the Medical University of Bangladesh.
Authorization of all documents from the Ministry of External Affairs, New Delhi.
Legalization of all documents from the Bangladeshi Embassy.
Visa fees.
Bank receipt of University 1st year Tuition fee.
HIV test documents.
Fee Structure
Chittagong University fee structure for the undergraduate medical course is mentioned below.
| Particular | Year 1 to 6 Years |
| --- | --- |
| Tuition Fee | $34000 |
NOTE: Mentioned fee is approximate in nature, and it will be subject to change.
MBBS Syllabus in Bangladesh
Before applying for the University of Dhaka, please compare the MBBS Syllabus of some of the Top-ranked, NMC-approved medical universities in Bangladesh. You can see MBBS Syllabus in Bangladesh PDF.
Ranking & Reputation
Name of Institute
Chittagong University Bangladesh
World Ranking
Country Rank: 15
World Rank: 6769
Reputation
Good
Education
Good
Faculty
Good
Infrastructure
Excellent
Graphical Representation of the University of Chittagong Ranking
About Bangladesh
Bangladesh is a country in South Asia. It shares borders with India and Myanmar. Bangladesh is the 92nd-largest sovereign state in the world. It is one of the most densely populated countries globally, and its people are predominantly Muslim. Bangladesh forms the most prominent and eastern part of the Bengal region.
Population
16.47 crores
Area
147,570 km2(56,980 sq mi)
Capital City
Dhaka[6]
Other largest cities: Chittagong, Khulna, Sylhet, Rajshahi etc.
Language
Bengali
Other Languages: Hindi, Assamese, Oraon Sadri, and Bihari
Climate
Cool continental climate and Maximum temperatures in July (about 18 °C)
Literacy Rate
75.4% (Estimated)
Time Zone
UTC+6 (BST)
Currency
Bangladeshi Taka[7]
Religion
Islam (Official), Hinduism, Buddhism, Christianity etc.
About Chattogram City
Chittagong is a large port city on the southeastern coast of Bangladesh.
Chittagong is the major seaport and second largest city in Bangladesh.
The Greater Chittagong Area had a population of more than 5.2 million in 2023.
Temperature
Rainfall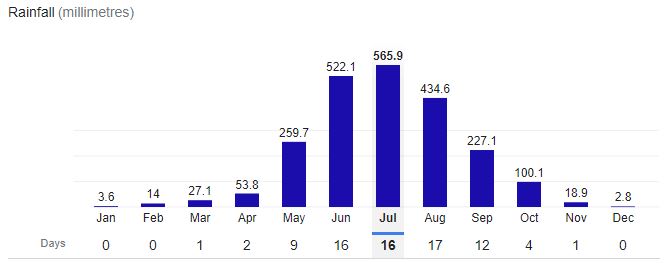 Daylight

Contact Details
University of Chittagong Bangladesh
Address: Chittagong University Rd, 4331, Bangladesh
Phone: +91-9999709233 (For Indian Students)
Frequently Asked Questions (FAQ)
What is the duration of the MBBS course at the University of Chittagong Bangladesh?
The MBBS course at the University of Chittagong Bangladesh is 6 Years.
Is Dhaka University an English medium?
English is the medium of instruction at the University of Chittagong Bangladesh for all international students.
Is the University of Chittagong Bangladesh approved by the NMC?
Yes, the university has accreditation from the NMC.
Reference