List of BAMS Colleges in India: Since a BAMS Surgery and affiliated stream career is gaining popularity daily, students are paying more attention to these courses. They want to get admitted into Top BAMS Colleges in India but don't know how to choose the best one.
Ayush NEET 2024: Updates
Get Latest Ayush NEET UG & State Wise Ayush NEET UG Counselling News via Edufever News
As the college brand is the most important factor when choosing a college, we made a fair list of all the Ayurvedic Medical Colleges in India. The idea is to provide detailed information about different top-level Government and Private Top BAMS Colleges in India.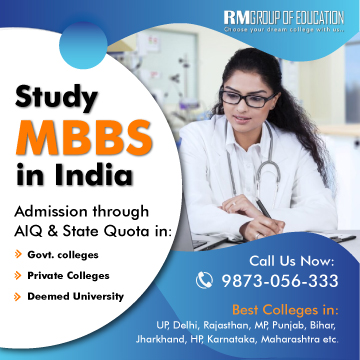 Ayurveda combines the words Ayu and Veda, meaning the knowledge of life. It is a comprehensive natural holistic healthcare, which is 5000 years old and is commonly adopted in India, especially rural India, where 70% of the population lives. It includes all aspects of life and the environment through mind consciousness. It works by tridosha (Vata, Pitta, Kapha), which has been validated with 90% certainty in a biostatistical study.
Get Latest Updated Notice, Fee, Cutoff, & Seat (Ayush Courses) Subscribe Now!
Ayurvedic Medical Colleges in India 2022
Ayurveda is one of the ancient medical systems of the world. Ayurveda originated from a Sanskrit word, 'Ayur' meaning Life and 'Veda' meaning Knowledge. Ayurveda remains one of the world's most sophisticated and powerful mind-body health systems. Nowadays, Ayurveda Courses in India has become very popular among tourists, especially foreigners. Patients from all over the globe are coming to India for Ayurveda treatment. With the system's popularity, the demand for Ayurvedic doctors is on the rise.
Course Overview
| | | |
| --- | --- | --- |
| Particular | Undergraduate | Postgraduate |
| Course Name | Ayurveda (BAMS) | MD/MS (Ayurveda) |
| Course Level | Undergraduate (UG) | Postgraduate (PG) |
| Duration | 5.5 Years | 3 Years |
| Stream | Ayurveda | Ayurveda |
| Examination Type | Semester System | Year System |
| Eligibility | 10+2 with PCB as main subjects | Ayurveda from a recognized University |
The course of BAMS is divided into four professional years. The following is the syllabus of BAMS:
1st year syllabus
The following is the 1st professional year BAMS syllabus:
Padartha Vigyan and Ayurved Itihas (Philosophy and History of Ayurveda)
Sanskrit
Kriya Sharir (Physiology)
Rachana Sharir (Anatomy)
Maulik Siddhant Avum Astang Hridya (Basic Principles and Ashtang Hridaya- An ancient text of Ayurveda)
NOTE: Want more detailed information about BAMS Course Syllabus in India? Follow this link.
BAMS Colleges in India (State-wise)
Here in this article, we are providing an updated list of State-wise BAMS Colleges in India. To view Top BAMS colleges in a particular state click on the link of that state & you can get detailed info about Fees Structure, Courses offered, Admission Procedure, Placement Stats, Cut-off, Facilities available and complete college review. Enjoy Reading..!!
BAMS Colleges in India (Union Territory-wise)
NEET 2022 Cutoff
National Eligibility Cum Entrance Test (NEET 2022) had been conducted by National Testing Agency (NTA). NEET exam is the only gateway for admissions into different medical & dental UG courses offered by various government and private medical colleges. Candidate can submit their NEET Form only through online mode.
Aspirants must obtain minimum qualifying marks in the NEET 2022 entrance examination to qualify for further admission.
Candidates who belong to SC/ ST/ OBC must obtain marks equivalent to at least the 40th percentile to be considered for AIQ and state counselling processes.
Aspirants in the UR category must score equivalent to at least the 50th percentile.
NEET UG Cutoff 2022 (Announced)
Category
NEET 2022 cutoff
NEET cut-off marks
Number of Candidates
UR/EWS
50th percentile
715-117
881402
OBC
40th Percentile
116-93
74458
SC
40th Percentile
116-93
26087
ST
40th Percentile
116-93
10565
UR / EWS &
PH
45th Percentile
116-105
328
OBC & PH
40th Percentile
104-93
160
SC & PH
40th Percentile
104-93
56
ST & PH
40th Percentile
104-93
13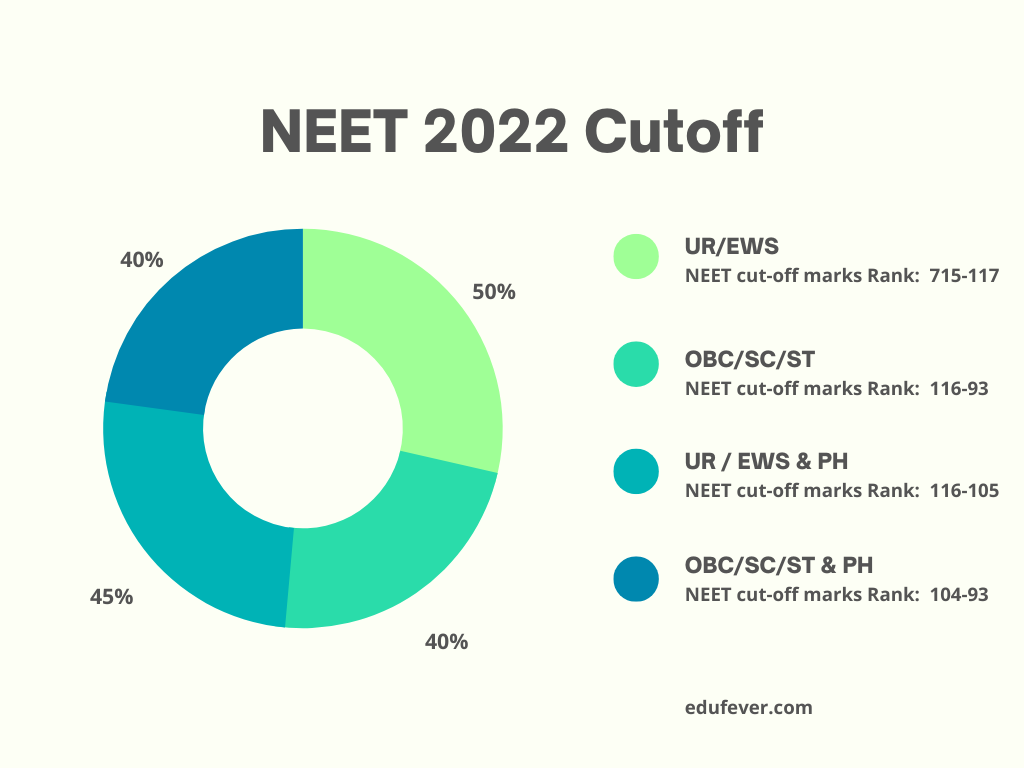 Important Link
Ayush NEET 2022 Admission Support
Frequently Asked Questions (FAQ)
Which is the best state for BAMS in India?
Maharashtra is also home to some of the finest Ayurvedic Colleges in the country like Govt. Ayurvedic College, Vazirabad, Nanded and Dr D.Y. Patil College of Ayurved and Research Centre, Pune etc. These Top BAMS Colleges in Maharashtra is ranked among the top Ayurvedic colleges in India.
How many BAMS Govt colleges are in India?
Famous for its rich culture and heritage, there are a total of 273 BAMS colleges in India, Out of which, 223 BAMS colleges in India are private and the rest 53 are government-owned.
Q. What are the other courses provided under AYUSH in India?
A. The other courses provided under AYUSH in India are BAMS, BHMS, BUMS, BNYS and BSMS.
Is BAMS good for the future?
Medical transcription, medical tourism, medical event management, medical journalism, medical photography and documentation are also fields with a bright future. BAMS graduates can complete LLB and work as legal medical advisors.
Is BAMS hard to study?
The candidate having the BAMS degree is eligible to be called a doctor and eligible to do private practice in the field of Ayurveda. It is very tough to pursue the BAMS course. This course is now in demand by the students after the 12th.