BAMS course in India: Day by day, the scope of Ayurveda overlaps with other medical systems in India and the world. In many cases, people have taken the experience for the trustfulness of the Ayurvedic system and medicines treating chronic and non-healable diseases. When the allopathic system often fails with a particular disease and surrenders, Ayurvedic medicine does an enchanting effect to rejuvenate the illness or the patient.
Ayush NEET 2023: Updates
Get Latest Ayush NEET UG & State Wise Ayush NEET UG Counselling News via Edufever News
Bharat B Aggarwal cited in his essay 'From traditional Ayurvedic medicine to modern medicine' Several population-based studies indicate that people in Southeast Asian countries have a much lower risk of developing colon, gastrointestinal, prostate, breast and other cancers compared to their Western counterparts. Likely, dietary constituents such as garlic, ginger, soya, curcumin, onion, tomatoes, cruciferous vegetables, chillies and green tea play an essential role in protection from these cancers. Indicating that where allopathy medicine fails to cure a disease, ayurvedic medicine not only cures it but also prevents it from reoccurring. Through this article, you can gain in-depth knowledge about the BAMS course.
Quick Facts
The following is a short summary of the BAMS course: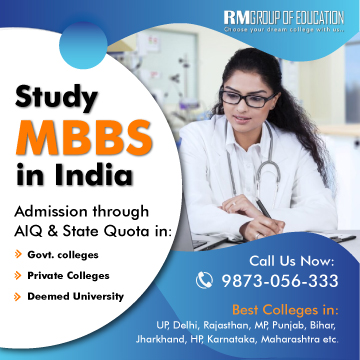 Particulars
Description
Course Name
Bachelor of Ayurvedic Medicine and Surgery (BAMS)
BAMS Course Duration
5.5 Years
Eligibility
10+2 with 50% marks
Average Fees
INR 22.37K
Average Salary
INR 3.1 LPA
Career Opportunities
Medical Representative, Product Manager, Pharmacist, Resident Medical Officer
Recruiting Companies
Patanjali Ayurved Limited
Dabur
The Himalaya Drug Company
Zandu Pharmaceuticals Works Limited
Surya Herbal Limited
What is BAMS?
BAMS stands for Bachelor of Ayurvedic, Medicine and Surgery and is a degree program at an undergraduate level that train aspiring candidates in Ayurveda and Ayurvedic medicine. The BAMS course lasts for 5.5 years with a mandatory one-year internship. The course is divided into four professionals over 5.5 years.
Get Latest Updated Notice, Fee, Cutoff, & Seat (Ayush Courses) Subscribe Now!
BAMS is accepted worldwide. Doctors and Scientists are interested in finding alternative and traditional medicines for curing the diseases and ailments of patients. Ayurveda is one of the ancient and traditional ways of treatment. Therefore, there are several scopes in this field.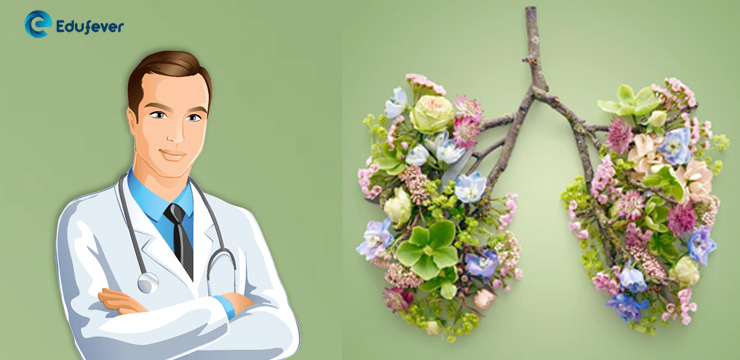 How to get admission to BAMS Course?
To be eligible for the BAMS course, aspiring candidates should have passed from 10+2 with a minimum of 50% aggregate marks in the science stream (PCB).
Candidates should have a NEET scorecard.
After qualifying NEET examination, candidates must participate in Ayush NEET Counselling conducted by AACCC Central Counselling (AACCC) or State Counselling (AYUSH Dept. of respective State).
Eligibility
When you choose a course, you must follow a certain set of criteria. Similarly, BAMS courses have eligibility criteria as well. The following are the eligibility criteria:
| Particulars | Description |
| --- | --- |
| Age Limit | A minimum age limit of 17 years |
| Qualification | 10+2 with science stream with a minimum of 50% aggregate marks |
| Qualifying Entrance Exam | NEET UG |
BAMS Course Structure
BAMS course duration is 5.5 years. Below is the course structure for the BAMS:
| | |
| --- | --- |
| First Professional | 1.5years |
| Second Professional | 1.5years |
| Third Professional | 1.5years |
| Internship | 1 year |
Top Colleges for BAMS in India
The following are the top colleges for BAMS in India:
State-wise Colleges for BAMS in India
The following are the State-wise Colleges for BAMS in India:
BAMS Syllabus
The following is the BAMS syllabus on a professional year basis:
BAMS First Year Syllabus
Padartha Vigyan Evum Ayurveda Itihas (Philosophy and History of Ayurveda)
Sanskrit
Kriya Sharir (Physiology)
Rachana Sharir (Anatomy)
Maulik Siddhant Avum Ashtang Hridya (Basic Principles and Ashtang Hridaya- An ancient text of Ayurveda)
BAMS Second Year Syllabus
Dravyaguna Vigyan (Pharmacology and Materia Medica)
Agadantra, Vyavahar-Ayurved Evum Vidhivaidyak (Toxicology, Forensic Medicine and Medical Jurisprudence)
Rasashatra Evam Bhaishajyakalpana (Iatrochemistry and Ayurvedic Pharmaceutics)
Charak Samhita -Purvardha (Sutrasthana, Nidanasthana, Vimanasthana, Sharirasthana and Indriyasthana)
Importance of Ayurveda in Modern Life
Ayurvedic medicine aims to maintain and restore the body's ability to balance and fight ailments. The following is the importance of Ayurveda in Modern Life:
Ayurveda is a lifestyle choice, and when adopted entirely, it brings a wave of general well-being to your daily life.
Exercising, having an active lifestyle, adequate sun exposure, appropriate treatments and emotional well-being help to purify the mind and spirit. This leaves you with a healthy mind and glowing skin.
Ayurveda works perfectly with alternative medicine, which is practical for everyday use.
Ayurveda helps reclaim health with balanced dietary guidelines, effective sleep patterns, home remedies, daily and seasonal routines, yoga, and exercise patterns.
Heightens concentration levels through yoga, meditation, herbal intake, and adequate sleep helps amend mental and goal-based settings in your daily life.
Ayurvedic treatments improve digestion and increase appetite and immunity.
The basic principles of Ayurveda constitute the following disciplines – don't skip breakfast, eat a light dinner, avoid sleeping and waking up late, drink water, eat organic produce, avoid smoking and drinking, and maintain an active lifestyle.
Career Scope of BAMS
Ayurveda is a traditional Indian medicinal system being practised for thousands of
years. More than 1,200 species of plants, 100 minerals and over 100 animal products
comprise the Ayurvedic Pharmacopoeia Asava, and Arishta is a unique dosage form
discovered by Ayurveda having an indefinite shelf life. It was said that the "older the better it is".
Ayurvedic medicine is an ancient Indian form of healing. It is gaining popularity as part of the growing interest in New Age spirituality and complementary and alternative medicine. Dr Aru Narayanasamy cited in his research paper 'Ayurvedic medicine: an introduction for nurses' that Ayurvedic medicine may complement conventional medical practices as part of a holistic approach to diversity in health care. An awareness of Ayurvedic medicine might help nurses become cognisant of patients who take such remedies. Potential complications arising from modern and traditional treatment combinations may be averted through such awareness.
Increasing awareness about ayurveda also increases job opportunities for BAMS as people's preference is shifting more towards ayurveda. Thus, increasing demand for ayurvedic doctors.
Job Profile for BAMS
The following are the job profiles for the BAMS course:
| | |
| --- | --- |
| Ayurvedic Doctor | Ayurvedic Physician |
| Lecturer | Research Assistant |
| Scientist | Professor |
| Pharmacist | Therapist |
| Sales Representative | Medical Officer |
Average Salary for BAMS
The following is the average salary for BAMS
| Salary | Average Salary |
| --- | --- |
| Lowest Salary | INR 1.6 LPA |
| Highest Salary | INR 10 LPA |
| Average Salary | INR 3.1 LPA |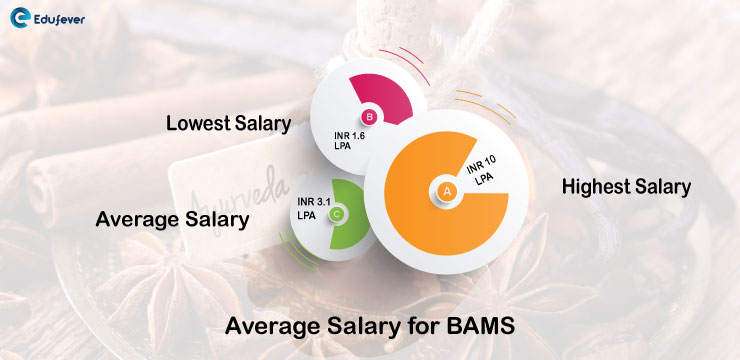 Top Recruiting Companies for BAMS
Frequently Asked Questions (FAQs)
Which field is best for science students with Biology (PCB)?
What are some of the best career options for a Science student?  
Check out our list of the top 7 highest paying science careers for inspiration to guide your science career journey.
>Geoscientists
>Atmospheric Scientists
>Biochemists and biophysicists
>Medical Scientists
>Hydrologist
Is BAMS a good career?
After BAMS, if you get a job in Government Ayurvedic Hospital, you will get the same salary as an MBBS doctor; in private practice in Rural and Semi-urban areas, BAMS doctors sell medicines and get good commissions.
There is an MD (Ayurveda); after that, you can get teachings posts in Ayurvedic Medical Colleges Ayurveda is safe, and medicines will never kill patients. BAMS people prescribe modern medication (not legal )and make money in many places.
Can BAMS doctor do a bridge course?
The bridge course permits bachelor of ayurveda medicine and surgery (BAMS) doctors to practice allopathy to a certain extent at health and wellness centres (HWCs) across the state.
Under the national health mission, a bridge course was designed with Indira Gandhi National Open University (IGNOU). After some time, a common bridge programme for nurses and ayurveda doctors was approved by IGNOU. The bams professionals, after being trained in primary care and public health competencies through the bridge course.
Do BAMS have scope in future?
BAMS graduates can get hired as Ayurvedic doctors, physicians, lecturers and medical officers. The BAMS graduates get an average salary of INR 30,000 in India.
Can a BAMS doctor do surgery?
BAMS graduates can perform abscess draining, minor OT procedures of suturing, haemorrhoids etc. However, they cannot proceed with other major surgeries.
Read Also: