Gono Bishwabidyalay Bangladesh[1] was founded in the year of 1998. It is a recognised university to pursue MBBS in Bangladesh, Situated in Savar, Dhaka. The Faculty of Medicine of Gono Bishwabidyalay Bangladesh is considered one of the leading Medical Colleges in Bangladesh. The university department offers medical courses at the Gonoshasthaya Samaj Vittik Medical College Bangladesh.
Gono University Spans An Area Of Over 30 Acres. It Can Enroll Beyond 7045 Students For Medical Education Each Year. Gono University focuses on providing high-quality education to meet the demands of the modern age. Gono University main objective is to facilitate higher education at the global and national levels to foster society and the nation's development through education & spreading awareness for education. Teachers at the University are highly-qualified and well-trained.
Gono Bishwabidyalay Bangladesh
Gono Bishwabidyalay is spread over an area of 30 acres. It can cover more than 7046 students every year for medical education. Gono Bishwabidyalay is a "not-for-profit" institution. Gono Bishwabidyalay is accredited by the University Grants Commission and approved by the Ministry of Education, Government of Bangladesh.
Wants to Study MBBS Abroad from a top Country with low tution Fees? Subscribe Now!
College Summary
Before we go through the detailed information about Gono University Bangladesh, let's look at the college's essential details.
Name of Institute
Gono Bishwabidyalay Bangladesh
Popular Name
Gono University, Gono Bishwabidyalay
Location
Savar[2], Dhaka, 1344, Bangladesh
Year of Establishment
1998
Institute Type
Private
Affiliated
University Grants Commission[3]
Approved
Ministry of Education, Government of Bangladesh[4]
Courses offered
MBBS
No. of Faculty
05
Hostel Facilities
Yes
Gono University Ranking
Country Rank: 64
World Rank: 7979
MBBS Bangladesh at 10 Lakh
Enquire Now
Official Website
www.gonouniversity.edu.bd
Category
Medical Colleges in Bangladesh
Talk to our Abroad Counsellor

Call Now > +91-9999709233
Affiliation, Recognition and Achievement
Approved by: Ministry of Education, Government of Bangladesh
Aid Status: Private
Affiliation: University Grants Commission
Student Support
| | |
| --- | --- |
| Anti Ragging | Counselling Services |
| Healthcare Services | Hostel |
| Report | Query |
| Local Language Learning Classes | NMC Screening Test Help Centre |
Facilities
Gono Bishwabidyalay Bangladesh provides various facilities, including those listed below.
| | |
| --- | --- |
| Medical | Library |
| Auditorium | Hostel |
| Computer labs | Sports |
| Cafeteria | Laboratory |
Courses Offered
The Gono Bishwabidyalay offers quality medical programs under the supervision of highly qualified faculty and state-of-the-art infrastructure. Gono Bishwabidyalay is famous for its undergraduate medical program MBBS.
UG Courses
| | |
| --- | --- |
| Departments | Course duration |
| MBBS | 6 Years (English Medium) |
Faculty & Staff
Gono University Bangladesh consists of 5 faculties and 32 Departments that train well-educated specialists for most sectors of the Bangladesh national economy. The college provides a good ratio of well-trained and highly educated faculty members equipped with modern technology. It also provides sufficient numbers of non-technical staff to provide an ambience of self-learning to the students. Gono University Bangladesh is committed to uplifting the country's people's health care education and output delivery system.
Admission Procedure
If you want to take Admission to Gono Bishwabidyalay Bangladesh, you must qualify for the NEET. One must remember that you only have to be eligible for the exam. Here are the valuable resources for the NEET Exam that will help boost your NEET exam preparation.
Eligibility Criteria
Bangladesh has been one of the top preferred destinations for international students to pursue their Medical Degree Courses. If you, too, want to study MBBS in Gono Bishwabidyalay Bangladesh, check the eligibility below.
Age
It would help if you were at least 17 years old on or before 31st December of the admission year.
*No Upper Age Limit.
Qualification
Class 12th in Science, with PCB and English subjects from a board recognized by the authorities in India.
Minimum Qualifying (%)
50% in 10+2 (UR)
45% (SC/OBC/ST)
Qualifying Entrance
NEET
Medium of Teaching
6 Years (English Medium)
7 Years (Bangaladesh Medium)
Duration of Course
6 Years
Low Budget Abroad MBBS college
Enquire Now
Documents Required
Before taking admission to Gono Bishwabidyalay Bangladesh, please do not forget to carry all these related documents.
Passport (Minimum 18 months validity).
10th Certificate & Mark sheet.
12th Certificate & Mark sheet.
Birth Certificate.
Ten passport-size Photographs
Official Invitation letter from the Medical University of Bangladesh.
Authorization of all documents from the Ministry of External Affairs, New Delhi.
Legalization of all documents from the Bangladeshi Embassy.
Visa fees.
Bank receipt of University 1st year Tuition fee.
HIV test documents.
Fee Structure
Gono University for the undergraduate medical course Fee Structure is mentioned below.
| | |
| --- | --- |
| Semester | Fee |
| 1st Semester | $ 629,000 |
| 2nd Semester | $ 102,000 |
| 3rd Semester | $ 102,000 |
| 4th Semester | $ 102,000 |
| 5th Semester | $ 251,000 |
| 6th Semester | $ 142,800 |
| 7th Semester | $ 142,800 |
| 8th Semester | $ 142,800 |
| 9th Semester | $ 142,800 |
| 10th Semester | $ 142,800 |
| Total | $ 1,900,000 |
NOTE: 6 Months makes a semester.
Hostel Charge
Hostel Charge (Food and accommodation) at Suchona Building of Gonoshasthaya Kendra, Savar, Dhaka
| | |
| --- | --- |
| Semester | Fee for MBBS (Foreign Student) |
| 1st Semester | $ 700 |
| 2nd Semester | $ 700 |
| 3rd Semester | $ 700 |
| 4th Semester | $ 700 |
| 5th Semester | $ 700 |
| 6th Semester | $ 700 |
| 7th Semester | $ 700 |
| 8th Semester | $ 700 |
| 9th Semester | $ 700 |
| 10th Semester | $ 700 |
| Total | $ 7000 |
NOTE: Mentioned fee is approximate in nature, and it will be subject to change.
MBBS Syllabus in Bangladesh
Before applying for Gono University Bangladesh, please compare the MBBS Syllabus of some of Bangladesh's top-ranked, NMC-approved medical universities. You can see MBBS Syllabus in Bangladesh PDF.
Ranking & Reputation
This section shows Gono Bishwabidyalay Ranking all over the Country & all over the world:-
Name of Institute
Gono Bishwabidyalay Bangladesh
Global Ranking
Country Rank: 64
World Rank: 7979
Reputation
Good
Education
Good
Faculty
Good
Infrastructure
Excellent
Graphical Representation of Gono Bishwabidyalay Bangladesh Ranking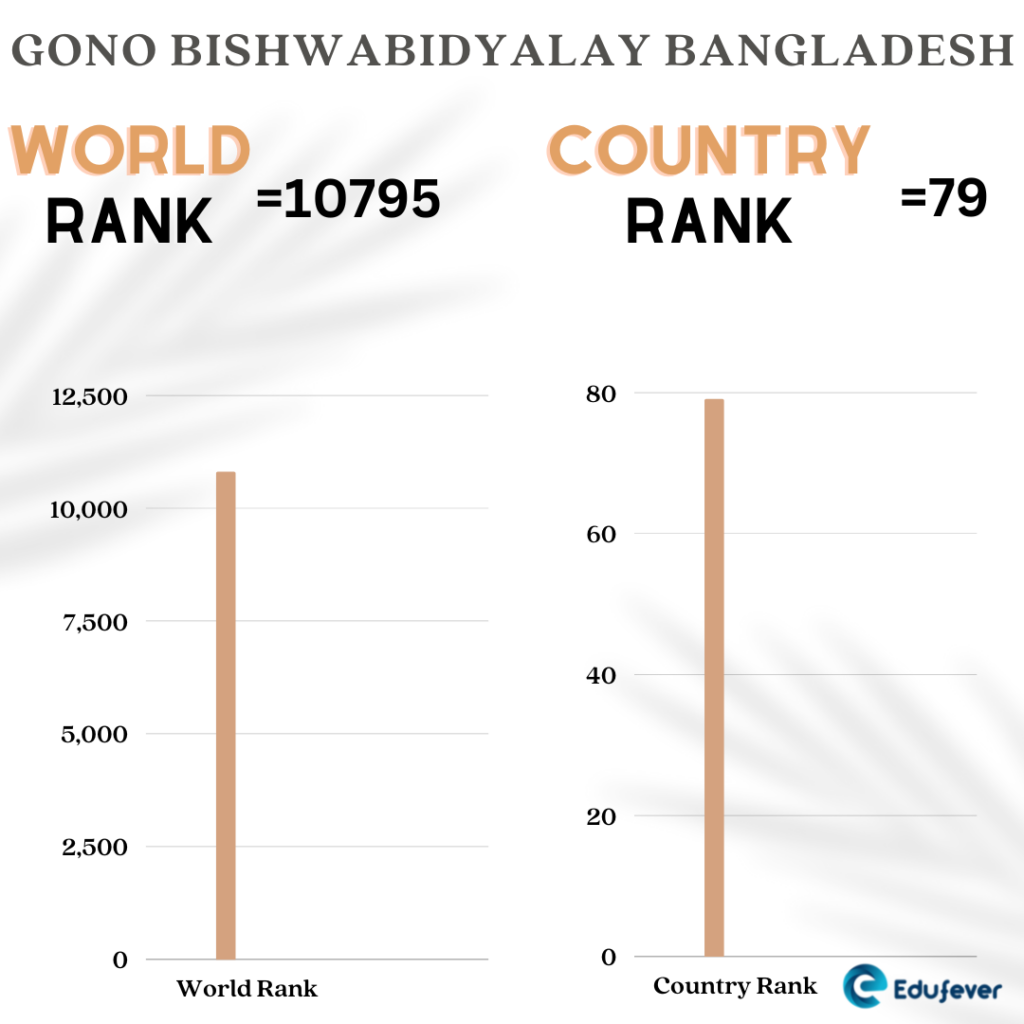 About Bangladesh
Bangladesh is a country in South Asia. It shares borders with India and Myanmar. Bangladesh is the 92nd-largest sovereign state in the world. It is one of the most densely populated countries globally, and its people are predominantly Muslim. Bangladesh forms the most prominent and eastern part of the Bengal region.
Population
16.47 crores
Area
147,570 km2(56,980 sq mi)
Capital City
Dhaka[6]
Other largest cities: Chittagong, Khulna, Sylhet, Rajshahi etc.
Language
Bengali
Other Languages: Hindi, Assamese, Oraon Sadri, and Bihari
Climate
Cool continental climate and Maximum temperatures in July (about 18 °C)
Literacy Rate
75.4% (Estimated)
Time Zone
UTC+6 (BST)
Currency
Bangladeshi Taka[7]
Religion
Islam (Official), Hinduism, Buddhism, Christianity etc.
About Dhaka City
Dhaka is a megacity of about 16 million people, with an area of about 1353 sq. km.
Dhaka is the largest city in Bangladesh, and it is the capital city.
Dhaka is within the monsoon climate zone and has nearly 80% of the annual average rainfall of 1,854 mm between May and September.
Dhaka experiences an annual average temperature of 25 degrees Celsius, and monthly means vary between 18 degrees Celsius in January and 29 degrees Celsius in August.
Temperature

Rainfall

Daylight

Contact Details
Gono Bishwabiddalay Bangladesh
Address: Nolan, P.O. Mirzanagar via Savar Cantonment,
Ashulia, Savar, Dhaka-1344
Phone: +91-9999709233 (For Indian Students)
Frequently Asked Questions (FAQs)
Where is Gono Bishwabidyalay located?
Gono Bishwabidyalay is located along with Nolan, P.O. Mirzanagar via Savar Cantonment, Ashulia, Savar, Dhaka-1344.
What scholarships and grants are available to students?
Various scholarships and service grants are available to deserving students. The Study Now, Pay Later Plan is also available case-to-case.
Does Gono University Bangladesh accept transferees?
Gono University Bangladesh accepts transferees on a case-to-case basis.
Can non-Catholics study and work at Gono Bishwabidyalay Bangladesh?
Yes, Gono Bishwabidyalay Bangladesh does not discriminate against the admission and employment of non-Catholics.
Reference