MBBS in Abroad: Many places are well-known for attracting Indian students interested in MBBS programmes, including Russia, Nepal, Bangladesh, Georgia, Kyrgyzstan, Kazakhstan, and more. However, it takes a lot of preparation and work to study abroad. Students must have compelling reasons to enrol in an MBBS programme abroad. Healthcare has always been regarded by Indian society as the greatest profession. The youth of India have long been drawn to pursue a career in medicine and health sciences, often known as MBBS, because doctors receive the highest distinction.
But today, more students than ever before are enrolling in MBBS programmes abroad. This number is more significant than it was a few years ago. Why this is taking place is the question. One of the factors could be the low cost of MBBS abroad. Many Indian students are choosing to study MBBS abroad due to the limited number of MBBS seats in Indian Universities and the expensive tuition prices charged by private Medical Universities.
Why do Indian students prefer to study MBBS abroad? (Top Reasons)
If you want to study MBBS abroad and want to know the top reason why Indian students choose to study MBBS from abroad, then this informative graph will help you.
Wants to Study MBBS Abroad from a top Country with low tution Fees? Subscribe Now!
Top Reasons to Study MBBS Abroad (Brief Description)
Here are a few explanations of why Indian students choose to study medicine abroad:
Reason 1. Practical Learning
Medical colleges abroad strongly emphasise giving students hands-on learning opportunities. The students can study under experienced physicians and participate in a training programme offered by connected hospitals.
Reason 2. Tuition Fees
Some medical schools outside of India charge lesser, if not identical, tuition than those in India. The Infrastructure of medical colleges in India and the foreign medical university is far better. It has the necessary tools, a lab, and room for experiments and study.
Read also: Do you speak English? It is all it takes to study MBBS abroad.
Reason 3. NMC Approved
NMC Approved: The Medical Council of India has approved degrees earned from medical schools abroad. After passing the Foreign Medical Graduate Examination, doctors can obtain a medical license and work in India (FMGE).
Reason 4. Worldwide Recognized
MBBS graduates get the opportunity to meet with members of other communities. When they return to India, they also receive acclaim on a global scale.
Eligibility Criteria
We know that each nation has its eligibility requirements and regulations governing the admission of international students. Still, we shall discuss the general eligibility requirements for Indian students wanting to study medicine at the top colleges in other countries.
| Particular | Description |
| --- | --- |
| Entrance Exam for MBBS Study Abroad | Students from other countries who want to study MBBS must also sit for the NEET exam. To pursue MBBS in a foreign medical university, Indian candidates must take the NEET test starting in 2019. |
| Qualification | Must qualify for the NEET-UG entrance test conducted by NTA. |
| Minimum percentage | Must receive at least a 50% PCB and English score on the 12th board |
| Age limit | The candidate should be between the ages of 17 and 25. |
Admission Process for Studying MBBS Abroad
The following step, the application process to study MBBS Abroad, can be taken once the applicant has met the eligibility conditions.
Candidates can review the detailed steps for admission to universities abroad below.
Step 1– Choose the MBBS school you want to attend abroad and review its admission requirements.
Step 2– To be eligible to study in a certain country, candidates often must take an eligibility test there. To apply, candidates might also need to take an English proficiency test. To proceed to the next level, applicants must pass their tests.
Step 3– Complete the university's online application form accurately, without making any mistakes, and without misleading about anything.
Step 4– To further boost your profile, applicants would be requested to provide scanned copies of several essential academic documents.
Step 5- Pay the application fee.
Step 6- Candidates will receive an admission letter from the university after submitting their online application successfully, along with their fees.
Step 7- After that, applicants must send their passports, original documents, and letters of admission to the relevant embassy to apply for a student visa.
Step 8- Depending on how quickly the embassy processes the student visa. The candidate would then need to plan his journey to get to his university in time to start his study.
Documents Required
During the admissions process, applicants who intend to study abroad must provide the following documents:
Birth Certificate
Class 10 and 12 mark sheets
School Leaving & School Migration Certificate
NEET Score Card
Statement of Purpose
Letter of Recommendation
Resume (CV)
Personal Financial Statements
Passport Size Photographs
Medical Certificate
Best Country for MBBS Abroad for Indian Students
The cost of an MBBS degree in India is higher than in many other nations. One of the key motives for Indian students travelling abroad to pursue their goals is this. If a student follows MBBS abroad, the cost is only 60 lakh, compared to around 75 lakhs in India. Due to increasing tuition costs in India, students either decide to attend a government university there or move abroad. Therefore, if becoming a doctor is your goal, you need either work hard to pass the National Eligibility Entrance Test (NEET) or search for universities that offer affordable MBBS programmes for Indian students abroad.
Here is the list of Top Countries for MBBS abroad for Indian students at a low cost
NOTE: The fee structure mentioned above can differ depending on the forex exchange rate.
MBBS Abroad Future Career Scope
The following are the best career options for students after completing the MBBS course abroad.
Top Colleges for MBBS Abroad with Fees Structure
Here is the list of top medical colleges abroad for MBBSwith their fees structure for Indian students:
| Top Colleges for MBBS in Abroad | Tuition Fees in INR |
| --- | --- |
| University of Rajshahi | 24,50,000 |
| Kursk state medical university | 30,50,000 |
| Kazan federal university | 23,75,000 |
| Kathmandu Medical College | 8,00,000 |
| Kazakh National Medical University | 1715000 |
| College of Medical Sciences Bharatpur | 23,10,000 |
The fees mentioned above may vary; it provides an approximate of these colleges' fees.
Top Colleges for MBBS Abroad with Fees Structure (Graphical Representation)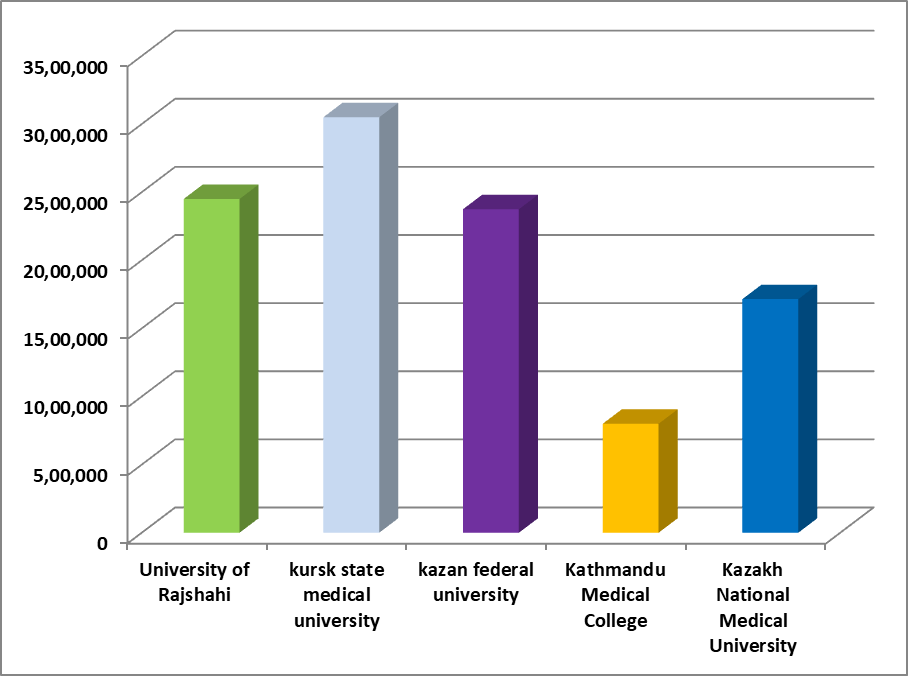 Country Wise List of Best Medical Universities Abroad for Indian Students
Conclusion
Medical students have many options to advance their careers. Medical students with aspirations of becoming doctors have the opportunity to study MBBS abroad, which also helps students develop into better people who can lead successful lives. Students can learn a lot about their medical future and get a unique perspective by studying MBBS abroad. Additionally, it enables them to pursue many employment choices following their MBBS degree.
Frequently Asked Questions (FAQs)
Is it better to study MBBS abroad?
Compared to Indian private universities, other countries like Kyrgyzstan, Kazakhstan, and Georgia have low fees for MBBS. MBBS degree from these countries holds good value in India.
What are the Age Criteria for the NEET exam?
A candidate's age should be a minimum 17yr old during the admission procedure, and the maximum limit of NEET exam age criteria is 25 years.
What are the disadvantages of studying MBBS abroad?
Differences in climate, culture and language can be a disadvantage for Indian students, but these problems can be resolved by taking proper measures.
Which country MBBS degree is most valuable?
Kyrgyzstan, Georgia, has one of the best medical universities on a low budget. And their degree holds a good value in India also.