Studying MBBS in Ukraine's renowned universities is a rewarding investment of time, finance and career dream for many of the Indian students. This heart of Europe is a country well-known for providing quality medical education in affordable fees. Ukraine, the largest European country has achieved the mark of 100% literacy rate and ranks amongst the best place for studying medicine in the world.  
Little known is the fact that Ukraine has some of the best Medical Universities in the world. The all-time number of international students trained as medical experts and doctors in Ukraine runs into hundreds of thousands. Here, the practising medical doctor has more than 25 years of professional experience in their field of specialisation and career. All of these conditions make Ukraine a premier destination for all medical aspirants in India. Throughout the article, we will examine various aspects of MBBS in Ukraine 2020 point by point, along with the pros and cons associated with it.
Ukraine a country in Eastern Europe, is located in the central part of the continent. Ukraine is bordered by Belarus to the north, Russia to the east, the Sea of Azov and the Black Sea to the south, Moldova and Romania to the southwest, and Hungary, Slovakia, and Poland to the west. In the far southeast, Ukraine is separated from Russia by the Kerch Strait, which connects the Sea of Azov to the Black Sea. Ukraine, being a large European economy, has a well-developed industrial base, rich farmlands, highly trained labour and a great education system.
👉 Download Hand Written Notes for the NEET Examination Click Here
College Summary
Population
43,733,762…
Area
It has an area of 603,500 km2
Capital City
Kiev
Other cities: Kharkiv, Odesa, Dnepropetrovsk, Donetsk, Zaporozhe, Lviv.
Language
The official language: Ukrainian
Other Language: Russian
Climate
Dry and continental (0-35 degree)
Literacy Rate
Male literacy rate: 99.99%
Females: 99.96%.
Time Zone
UTC + 3:00
Currency
Ukrainian Hryvnia.
Religion
Orthodox Christianity
Other: Catholicism, Protestantism, Islam, Judaism, Buddhism and Adventism.
Useful Resources
Here we have mentioned some Useful Resources of NEET that will help you defiantly to crack this exam.
MBBS in Ukraine 2020: Fact Check
As a country with a favourable geographical position (situated between Asia and Europe), Ukraine was always viewed by foreign investors as a nation with better economic possibilities, than other republics of the Soviet Union. The country is free of nuclear weapons and is considered as one of the safest places in the world with the second-largest army in Europe and one of the lowest crime rates on Earth. As far as Indian students are concerned, the cost of studying MBBS in Ukraine is low compared to many private medical colleges in India. The medical universities in Ukraine are recognised by WHO, MCI and various other counties. So once the course is completed, the students can work anywhere in the world. Here are some of the facts that neded to be kept in mind about the safety measures of Ukraine for Indian Students.
Things to Follow
The safety standards can be best understood by the fact that you can go out alone at 3 am in any Ukrainian city, although we advise you to always be safe and avoid unnecessary wondering, no matter what time or place you are. 
Ukraine may not be as safe as Switzerland, but it's one of the safest countries to pursue your higher studies.
The cities of Ukraine are much safer than one can consider for a safe medical destination, but it's still a good idea to be aware of your surroundings and avoid bad neighbourhoods in your city.
In recent time, the Ukrainian authorities have taken a hard line against skinhead activities that were once happening in the country.
It is always a wise decision to carry your enrolment credentials and your student visa while leaving out from the campus. A copy of the passport, visa and registration papers is a must.
Why Choose Study in Ukraine
The fee of MBBS in Ukraine is lower when compared to several other study destinations around the globe.
The medical education system in Ukraine is almost equivalent to India and many other developing countries.
Medical students in the country are exposed to several extracurricular activities and international seminars so that they could gain some confidence.
All medical universities in Ukraine have best infrastructure facilities and experienced faculty members.
The Medical Council of India (MCI) recognises MBBS qualification acquired from Ukrainian universities. Indian students can visit their country and work after completed their MBBS in Ukraine.
MBBS in Ukraine is also known for its best FMGE passing percentage.
Eligibility Condition
Ukraine has always been one of the top preferred destinations for Indian and international students to pursue their Medical Degree Courses. If you too want to study MBBS in Bukovinian State Medical University Ukraine, check the eligibility below.
Age
Your age should be at least 17 years old on or before 31st December of the admission year.
No Upper Age Limit.
Qualification
Class 12th in Science, with PCM and English subjects from a board recognized by the authorities in India.
Minimum Qualifying  (%)
50% in 10+2 (UR)
45% (SC/OBC/ST)
Qualifying Entrance
NEET
Medium of Teaching
English, Russian
Duration of Course
5 Years + (1 Year Internship) (English Medium)
Admission Starts 
August-September
Sample Papers
Here have to provide NEET Sample Papers that will definitely help you to crack this examination.
Physics Sample Papers
Chemistry Sample Papers
Biology Sample Papers
Admission Procedure
The Admission procedure for Bukovinian State Medical University Ukraine is based on a round of counselling and academic progress. Students are advised to read the mentioned points to avoid any kind of rejection or refusal.
Fill the Application form of the desired institute with all the right points of interest.
You will get an offer letter. Save it for future use.
Pay the University / College enrollment expense.
After paying the MBBS fees for your desired medical college, apply for the Visa.
Get Visa for studying MBBS in Ukraine.
Now you are all set for Study in Ukraine. All the Best..!!
Documents Required
Before taking admission at Bukovinian State Medical University Ukraine, please do not forget to carry all these related documents.
Passport (Minimum 18 months validity).
Class 10th Certificate & Mark sheet.
Class 12th Certificate & Mark sheet.
Birth Certificate.
10 passport size Photographs
Official Invitation letter from the Medical University of Ukraine.
Authorization of all documents from the Ministry of External Affairs, New Delhi.
Legalization of all documents from the Ukraine Embassy.
Visa fees.
Bank receipt of University 1st year Tuition fee (required for some Universities).
HIV test documents.
MBBS Syllabus in Ukraine
Before you apply for Bukovinian State Medical University Ukraine, make sure to compare the MBBS Syllabus of some of the Top-ranked, MCI-approved medical universities in Ukraine. The structure and the pattern of MBBS in Ukraine are as follow:
Year
Semester
Syllabus
1st
1st Semester:
Anatomy
2nd Semester:
Anatomy and Histology
2nd
3rd  Semester:
Histology, Anatomy, Bio-Chemistry, and Physiology
4th  Semester:
Bio-Chemistry, Physiology, and Micro-Biology
3rd
5th Semester:
Pathology, Micro-Biology, Pharmacology, and Path physiology
6th  Semester:
Path physiology, Pathology, and Pharmacology
4th – 6th
7th – 12th Semester:
Clinical Subjects and Clinical Postings
Oncology, Internal Medicine, Neurology, Psychology, Pediatrics, General Surgery, Gynecology, ENT, Emergency Medicine, and Cardiology are some of the subjects taught during fourth to the sixth year of MBBS in Ukraine.
Recognition of Ukrainian Medical College
Checking the affiliation, recognition and other affiliating parameters are the most important factors that decide good and the best medical college. Medical colleges in Ukraine are affiliated with these authorities.
Ministry of Education, Ukraine.
MCI (Medical Council of India)
WHO (World Health Organization)
ECFMG (Educational Commission for Foreign Medical Graduates)
WFME (World Federation for Medical Education)
FAIMER (The Foundation for Advancement of International Medical Education and Research)
UNESCO
Top MBBS Colleges in Ukraine
Here is the updated list 2020-21 of all Medical or MBBS Colleges in Ukraine officially made by the Medical Council of India. To know the detailed info about Fees Structure, Course offered, Admission Procedure, Placement Stats, Cut-off, Facilities available and complete college review, click the college link or Read more link, it will provide the list of best medical colleges.
Bukovinian State Medical University
Bukovinian State Medical University Ukraine was founded in the year 1944. It is one of the recognized universities to pursue MBBS in Ukraine, situated in the city of Chernivtsi. The University has the capacity to house more than 6,999 students every year for medical education. The University has 46 Departments and the academic classes are organized at 70+ teaching hospitals as well as research and practice centres.
Danylo Halytsky Lviv National Medical University
Dnipropetrovsk State Medical Academy
TNMU is a higher medical institution that supports leadership in medical education and science. It is developing dynamically and aims to become a prestigious and powerful educational research centre for highly educated professionals, competitive in the domestic and international labour market. It has recognized by international professional and scientific communities demand for their professional knowledge from modern society. With the help of highly qualified specialists for the health care system of Ukraine and abroad, it provides educational services of proper quality, compliance with high standards in teaching, research and professional activities.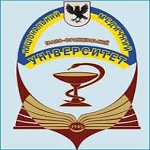 Ivano-Frankivsk National Medical University is an institute of higher medical education in Ivano-Frankivsk, Ukraine. The history of university started in 1945 and is listed in the WHO Directory of Medical Schools and in the US FAIMER International Medical Education Directory (IMED). A number of university's faculties are members of national and international congresses and symposiums.
Kharkiv National Medical University is formerly known as Kharkiv Medical Institute and, it is a medical university in Kharkiv, Ukraine. The University was founded in 1805. More than 300,000 students live in Kharkiv. Among them, over 12,000 are foreign nationals. Kharkiv National Medical University offers graduate and postgraduate programs in medicine, dentistry, pharmacy, and nursing.
Kiev Medical University of UAFM is a Ukrainian higher learning institution. Established in the year 1992 and affiliated with the Ministry of Health and Science of Ukraine. The university has trained over 10,000 health personnel—mainly general practitioners, dentists and pharmacists. As of August 2014, about 1000 foreign students study at KMU.
NPMMU Vinnytsya is one of the oldest and leading medical higher institutions of Ukraine and the former USSR.  It was established in 1805. National Pirogov Memorial Medical, NPMMU Vinnytsya, has all the clinical facilities, teaching laboratories, lecture theaters, and libraries. Quality infrastructure, dedicated team of internationally acknowledged world leaders and of highly trained technical staff, provides the ideal learning environment for medical students. There are foreign students in universities studying from over 86 countries.
Bogomolets National Medical University (NMU) is one of the best medical universities in Ukraine. It offers various courses in both undergraduate and post-graduate levels to students. Established in 1841, Bogomolets National Medical University has around 1500 professors. Included in the numbers are 855 PhD and 205 Doctors of Sciences. Thus, the students are trained by expert professionals and academicians in the field of medicine.
Petro Mohyla Black Sea National University is one of the top medical colleges in Ukraine. The university was established in the year 1996 as an extension of Kyiv-Mohyla Academy. The university is recognized by both WHO and MCI, and in the year 2009, the university became a part of the European Association of universities.
Sumy State University is a powerful higher educational institution of the Sumy region of the IV level of accreditation. It was established in 1993 and currently serves about 14,000 students who are pursuing pre bachelor, bachelor, specialist and master degrees in 51 majors and 22 fields of knowledge. The university is home to nearly 1600 foreign students representing almost 50 countries worldwide etc.
The Taras Shevchenko National University of Kyiv colloquially known in Ukrainian and Russian as KNU is located in Kyiv, the capital of Ukraine. The university is universally recognised as the most prestigious university of Ukraine, being the countries largest national higher education institution. It was founded in 1834 by the Russian Tsar Nikolai and affiliated with IAU, EUA.
The Ukrainian Medical Stomatological Academy is one of the oldest leading higher educational establishments in Ukraine, which traces back its history to the Faculty of Odontology that was established at the Kharkiv Medical Academy in 1921. Officially accredited and/or recognized by the Ministry of Health of Ukraine, Ukrainian Medical Stomatological Academy (UMSA) is a small (uniRank enrollment range: 3,000-3,999 students) coeducational higher education institution.
Uzhhorod National Medical University is established on October 18, 1945. This is the largest university in the Carpathian region of Ukraine. From the past few years, the university has developed its own school of teaching, scientific and educational traditions. It is located in the large town of Uzhhorod and is a non-profit public higher education institution. Uzhhorod National University has the 4th level accreditation and its courses and curriculum are as per the European standards of Education.
Zaporizhzhia State Medical University, one of the oldest medical higher institutions of Ukraine, is a self-governing (autonomous) state higher educational establishment of the IVth (the top) level of accreditation. The University became an international higher institution long ago and it was in the year 1973 the preparatory faculty for foreign citizens was opened. More than 35,000 students have been trained for their further studies on the medical-biological specialities in the other higher educational establishments of Ukraine since then.
MBBS in Ukraine Fee Structure
The country is known for its high-quality medical programs. Indian students can gain the advantage of studying medical programs in Ukraine, as the class size is small you can easily clear your doubts and increase your knowledge on the subjects. The classrooms are practically oriented which increases the interests of the students in the subjects. From general medicine to specialized medical courses and other medical-related courses like Pharmacy, Nursing etc is offered while studying medical from Ukraine. The MBBS fees structure of any of the medical institute in Ukraine is less than number of Indian Medical Colleges. Let's have a look at MBBS fee structure of some of the best Medical Universities of Ukraine.
Success Mantra:
👉🏻😊😊 Never let yourself down…
👉🏻 Keep working Hard✍️
👉🏻 Believe yourself 😇 🙌🙌
Don't worry, we are always with you for any admission related queries you can comment on the box mentioned below. Our top expert will serve with the best possible solution.
Best of Luck…!!! 👍👍👍
Disclaimer:
Our Ad Policies are designed to promote a good experience for end-users. Edufever does not hold responsible for anything inappropriate or wrong information given by the advertiser. If you have found any inappropriate or wrong information/data on the site, inform us by email for rectification/deletion/updating of the same.
UPES Dehradun 2020 Application Closing Soon Apply Now