MBBS in UK: The United Kingdom of Great Britain and Northern Ireland, commonly known as the United Kingdom (UK) or Britain, is a sovereign European country. MBBS in UK is a 5 to 6-year program offered as an MD (Bachelor of Medicine) in BS, ChB, BCh and BAO. All four are equivalent to each other and deal with three major areas of medical study: medicine, surgery and obstetrics.
Students must register at the General Medical Council (GMC) of the UK after completing MBBS from a medical college in the UK to practise as a doctor. MBBS in the USA takes 7 to 9 years to complete, while in the UK, it can be completed in 5 to 6 years. MBBS in UK for Indian students doesn't come cheap. If you are academically sound and can prove that you have what it takes to study this field, then applying to study MBBS in UK is for you.
About the UK
The United Kingdom, comprised of England, Scotland, Wales, and Northern Ireland, is an island nation in northwestern Europe. England – the birthplace of Shakespeare and The Beatles – is home to the capital, London, a globally influential centre of finance and culture. England is also the site of Neolithic Stonehenge, Bath's Roman spa and centuries-old universities at Oxford and Cambridge.
Wants to Study MBBS Abroad from a top Country with low tution Fees? Subscribe Now!
| | |
| --- | --- |
| Population | 6.72 crores |
| Area | 242,495 km² |
| Capital City | London |
| Language | English |
| Climate | temperate climate |
| Literacy Rate | 99% |
| Time Zone | (GMT) Greenwich Mean Time |
| Currency | Pound sterling |
| Religion | 53.6% are Christian, 6.2% other religions, and 40.2% are non-religious (30.3% Agnostics, 9.9% Atheists). |
Quick facts
Before reading the complete information about MBBS in UK, let's look at Quick facts about Study MBBS in the United Kingdom.
| | |
| --- | --- |
| Course Offered | Doctor of Medicine Degree (equivalent to MBBS, India) |
| Course Duration | 5 – 6 Years (Depends on University) |
| Basic Eligibility | 10+2 (Science) with 50% – 70% in PCB (Depending on University) |
| Medium of Teaching | English |
| Universities Recognition | NMC, WHO, FAIMER, UNESCO, Ministry of Education India |
| Entrance Exam | NEET (Qualified only) |
| MBBS Abroad at 10 Lakh | Enquire Now |
| Talk to our Abroad Counsellor | +91-9999709233 (India) |
Recognition of UK Medical College
The most critical factors that decide a good and best medical college are checking the affiliation, recognition and other affiliating parameters. United Kingdom MBBS Colleges are affiliated with these authorities.
Ministry of Education, UK.
ECFMG (Educational Commission for Foreign Medical Graduates)
FAIMER (The Foundation for Advancement of International Medical Education and Research).
Why Study MBBS in UK?
Following are some of the reasons why a medical aspirant should pursue an MBBS in UK:
43 of the UK universities were included in the list of the top 650 medical universities of the world, according to QS News Ranking 2022.
The average salary of a Doctor/Physician in the UK is 67% more than that of other health and medical occupations.
Graduates of MBBS at UK universities are not required to appear for the Foreign Medical Graduate Examination to practice in India.
The salary of a Physician in the UK is 58,778 GBP (54.79 lakhs INR) per annum and ranks among the highest paying in the world, leaving behind countries like Australia and Canada.
MBBS in the USA takes 7 to 9 years to complete, while in the UK, it can be completed in 5 to 6 years.
MBBS in UK for Indian students is all the more beneficial since after completing MBBS in UK students can practice in India without any qualifying exam.
Admission Procedure
If you want to take Admission MBBS in UK for the 2023-24 session, you must qualify for the National Eligibility Entrance Exam (NEET). One must remember that you only have to be eligible for the exam. Here are the valuable resources for the NEET Exam that will help boost your NEET exam preparation.
Eligibility Criteria
The UK has become one of the top preferred destinations for Indian and international students to pursue their Medical Degree Courses. If you too want to study MBBS in UK, check the eligibility below.
| | |
| --- | --- |
| Course Offered | Bachelor of Medicine and Bachelor of Surgery (MBBS) |
| Course Duration | 6 Years |
| Basic Eligibility | Class 12th in Science, with PCB and English subjects from a board recognized by the authorities in India. |
| Medium of Teaching | English language |
| Universities Recognition | NMC & WHO |
| NEET Entrance Exam | NEET Qualified (Only) |
| Want to Study MBBS Abroad? | Enquire Now |
| Talk to our Abroad Counsellor | +91-9999709233 (India) |
| Low Budget Abroad MBBS College | Enquire Now |
Graphical Representation of Eligibility Criteria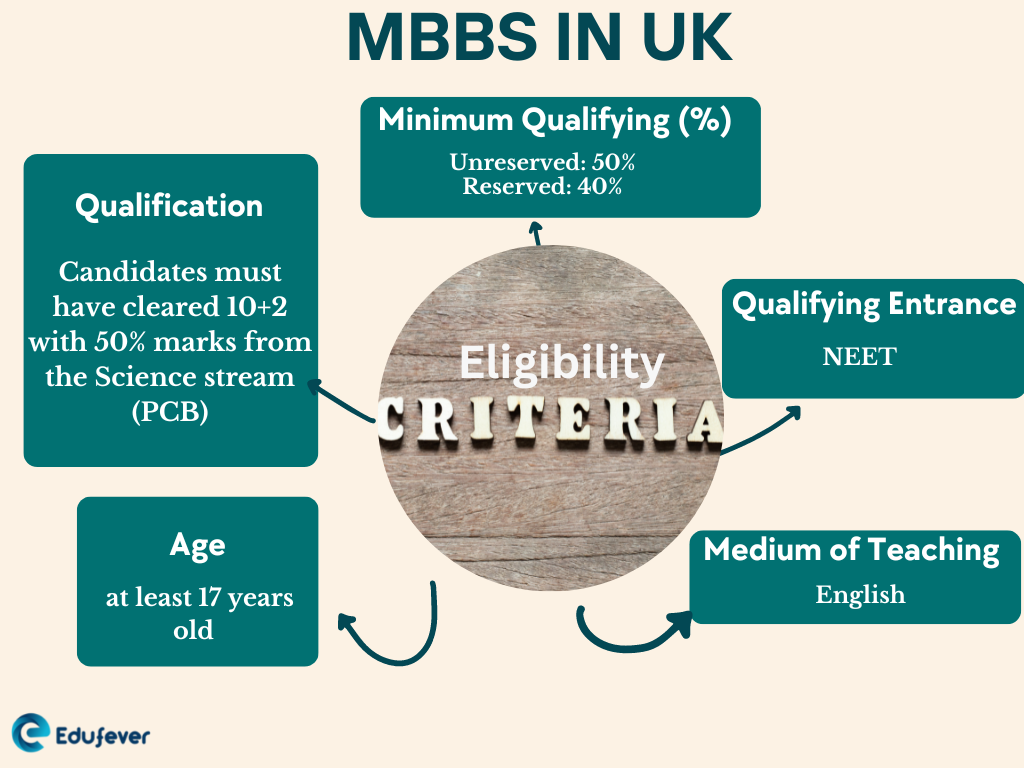 UK Medical Entrance Exam
For MBBS in the UK, you will also have to provide scores of NEET/UKCAT/BMAT/GMSAT. Here are the minimum scores required for MBBS in UK for Indian Students:
| | |
| --- | --- |
| Name of the Test | Minimum Score Required |
| UKCAT | 650 |
| BMAT | 4.5 – 5.0 |
| GAMSAT | 60 – 66 |
| NEET | 50 percentile |
Documents Required
Before admission to Top MBBS Colleges in the United Kingdom, please do not forget to carry all these related documents.
Passport (Minimum 18 months validity).
10th Certificate & Mark sheet.
12th Certificate & Mark sheet.
Birth Certificate.
Ten passport-size Photographs
Official Invitation letter from the UK.
Authorization of all documents from the Ministry of External Affairs, New Delhi.
Legalization of all documents from the Uk Embassy.
Visa fees.
Bank receipt of 1st Year Tuition fees (required for some Universities).
HIV test documents.
Syllabus for MBBS in UK
MBBS covers many subjects essential for students to build expertise. The following are the subjects in which students acquire their detailed academic training and practice: Before applying for MBBS in UK, please compare the MBBS Syllabus of some of the Top-ranked, NMC-approved medical universities. The structure and the pattern of MBBS in UK are as follow:
Pre-Clinical (2 semesters)
– Anatomy
– Biochemistry
– Physiology
Para-Clinical (3 semesters)
– Forensic Medicine & Toxicology
– Microbiology
– Pathology
– Pharmacology
Clinical (4 semesters)
– Anesthesiology
– Community Medicine
– Dermatology and Venereology
– Medicine
– Obstetrics & Gynaecology
– Ophthalmology
– Orthopedics
– Otorhinolaryngology
– Pediatrics
– Psychiatry
– Surgery
Top MBBS Colleges in the UK with Fees Structure
Below-mentioned is the updated list 2023-24 of all Medical or MBBS Colleges in the UK officially made by the NMC. To know detailed info about Fees Structure, Courses offered, Admission Procedure, Placement Stats, Cut-off, and Facilities available and complete the college review, click the college link or Read more. It will provide a list of the best medical colleges.
Note; The mentioned fee is approximate and subject to change.
Top MBBS Colleges in the UK with Fees Structure (Graphical Representation)
Scholarships for MBBS in UK
you can apply for one of the scholarships for MBBS in UK. All the scholarships for MBBS in UK are based on merit, academic record, and other skills. The following are scholarships offered by various universities.
| | |
| --- | --- |
| Chevening Scholarship | £18,000 (INR 17 Lakhs) |
| Global Health Future Leaders Scholarship | £2,500 (INR 2.36 Lakhs) |
| Hulk York Medical School International Scholarship | £8,737 (INR 8.26 Lakhs) |
| Imperial College Faculty of Medicine Scholarship | £1,000 (INR 94,551) |
| Rhodes Scholarship | £15,141 (INR 14.31 Lakhs) |
Advantages and Disadvantages of Studying MBBS in UK
Do you know Education in the UK is overseen by the Ministry of Education? There are a lot of advantages to studying in the UK, here are just a few:
Advantages of Studying MBBS in the UK
Studying in England and especially in the UK region, is good as the study language is English, so international students from different countries have no language changes issue. No need to learn the country's respective language.
Studying in the UK is a very good choice as education is very high level in the UK. Hence, the students who have cleared their master's degree in the UK have more opportunities in the market compared to other country's graduates with a high level of knowledge.
The tuition fee is quite low and affordable.
Some of the best UK universities are also world-recognized universities, so graduates from the UK can develop their careers easily in any country without hurdles.
Most universities are highly ranked in the World University ranking, so graduates can get high-valuation jobs after studying at these universities. The best example is Oxford University.
Disadvantages of Studying MBBS in the UK
In the UK cost of living is very high compared to other countries as tuition fees are less. Still, the living cost is very high, so comparatively, studying in the UK is more costly compared to other countries, but the quality of education is very good per cost.
Courses valid in the UK country need to be checked in your home country or the country you want to settle in.
It is very far from your home country, so in situation of emergency, it may be difficult sometimes to fly immediately and reach your home country and meet your family members and friends is a long time taking.
Frequently Asked Questions (FAQs)
A. Yes, MBBS abroad is a good option for Indian students. It provides a chance to learn from some of the best professors globally and exposure to different people. Also, MBBS abroad gives you the flexibility to practice in India or any foreign country.
Q. Can poor Indian students study abroad?
A. Of course, there is no rich and poor when it comes to education; it is all about knowledge. There are several scholarships open to students, and the government of India also provides a scholarship option for academically brilliant students
Q. Can I continue my education after earning my medical degree in the UK?
A. Of course, an MBBS is a fantastic career decision; however, pursuing an MD/MS or PG will widen your knowledge and improve your competence in the same profession. The MCI in India has approved all of the postgraduate programmes provided by UK institutions. You can practise medicine in the UK and India if you complete an MD-MS programme in the UK. Students are not required to take any admission exams to pursue a PG or MD. The IELTS score of 7 overall bands is the sole criterion. It's not necessary to register for PLAB 1 or GMC either.
Q. What is the cost of MBBS in UK for Indian students?
A. The annual tuition fees of universities offering MBBS in the UK range between 20,00,000 INR and 50,00,000 INR. The average cost of living for an Indian student in UK is approximately 12,00,000 INR per annum.
Q. What is the salary of an MBBS Doctor in UK?
A. After MBBS in UK, you can earn over 500,000 GBP per annum. The salary for surgeons in UK is 4th highest in the world.
Q. How can I study MBBS in UK?
A. To study MBBS at UK universities, you must have a 10+2 certificate and UKCAT or BMAT test scores. Indian students also require NEET test scores.
Q. How can I practice in the UK after MBBS?
A. Once you've passed PLAB Part 1 & 2, you can apply for a GMC license to practice in the UK. Your license application must be approved within two years of passing PLAB 2. Once your application is approved, you can work as a doctor in the UK.
Q.  Does Oxford university offer MBBS?
A. Yes, Oxford University does offer an MBBS program.