Nepalgunj Medical College Nepal (NGMC) proves the recommendation of the Nepal Medical Council, National Medical Commission, Srilanka, and Medical Councils of SAARC and other countries. Nepalgunj Medical College was established in 1996. The college started the MBBS course in 1997, the Nursing program in 2000, and the Postgraduate MD/MS in 2007. If you are an Indian student and want to pursue MBBS in Nepal, then the Nepalgunj Medical College Nepal is the best choice.
Hey, Students; if you are looking forward to admission to Nepalgunj Medical College Nepal, which is one of the top medical colleges in Nepal, then you should know about the college's features such as Facilities, Courses, Admission Guidance, Fee Structure, How to Apply, Eligibility, Cut off, Results, Counselling, Contact Details etc.
College Summary
Before we go through Nepalgunj Medical College Nepal's detailed information, Let's examine the college's essential details.
Wants to Study MBBS Abroad from a top Country with low tution Fees? Subscribe Now!
Name of Institute
Nepalgunj Medical College Nepal[1]
Popular Name
NGMC Nepal
Year of Establishment
1998
Institute Type
Public (Government)
Location
Chisapani[2], Nepal
Language of Teaching
English and Nepali
Academic Staff
375
Universities Recognition
NMC, WHO
Courses offered
MBBS & BDS
Total Enrollment
7,046
Ranking
World Ranking: 18937
Country Ranking: 22
Official Website
https://www.ngmc.edu.np[3]
MBBS Nepal at 10 Lakh
Enquire Now
Talk to our Abroad Counsellor
Call Now > +91-9999-709-233
Category
Medical Colleges in Nepal
Affiliation, Recognition and Achievement
Student Support
| | |
| --- | --- |
| Anti Ragging | Counselling Services |
| Healthcare Services | Hostel |
| Report | Query |
| Local Language Learning Classes | NMC Screening Test Help Centre |
Facilities
| | |
| --- | --- |
| Medical | Library |
| Auditorium | Hostel |
| Computer labs | Sports |
| Cafeteria | Laboratory |
Courses Offered
The Nepalgunj Medical College Nepal offers quality medical programs under highly qualified faculty and state-of-the-art infrastructure. The College is famous for its medical programs (MBBS).
Faculty & Staff
The Nepalgunj Medical College Nepal provides a good ratio of well-trained and highly educated faculty members equipped with modern technology. It also provides sufficient non-technical staff to provide an ambience of self-learning to the students. The college is committed to uplifting the health care education and output delivery system for the country's people.
Admission Procedure
To be admitted to Nepalgunj Medical College Nepal, you must qualify for the National Eligibility Entrance Exam (NEET). One must remember that you only have to be eligible for the exam. Here are the valuable resources for NEET Exam that will help you boost preparing for the NEET exam.
Eligibility Criteria
Nepal has become one of the top preferred destinations for international students to pursue their Medical Degree Courses. If you want to Study MBBS at Nepalgunj Medical College Nepal, check the eligibility criteria for MBBS In Nepal below.
Age
Your age should be at least 17 on or before 31st December of the admission year.
Qualification
Class 12th in Science, with PCB and English subjects from a board recognized by the authorities in India.
Minimum Qualifying (%)
50% in 10+2 (UR)
45% (SC/OBC/ST)
Qualifying Entrance
NEET (Some Medical College offers Direct entry to a valid NEET Card Holder)
Low Budget Abroad MBBS College
Enquire Now
Documents Required
Before admission to Medical Colleges in Nepalgunj Medical College Nepal, do not forget to carry all these related documents with you.
Passport (Minimum 18 months validity).
Class 10th Passing Certificate & Mark sheet.
Class 12th Passing Certificate & Mark sheet.
Birth Certificate.
Ten passport-size Photographs
Official Invitation letter from the Medical University of Nepal.
Authorization of all documents from the Ministry of External Affairs, New Delhi[6].
Legalization of all documents from the Nepal Embassy.
Visa fees.
Bank receipt of University 1st year Tuition fee (required for some Universities).
HIV test documents.
Fee Structure
The Nepalgunj Medical College Nepal for the MBBS & BDS course is mentioned below.
MBBS Syllabus in Nepal
Before going to Nepal for Medical Studies, please compare the MBBS Syllabus of some of the Top-ranked, NMC-approved Nepal MBBS Colleges. You can see the MBBS in Nepal Syllabus in PDF, also downloadable.
Ranking & Reputation
| | |
| --- | --- |
| Name of Institute | Nepalgunj Medical College Nepal |
| Rank | NA |
| Reputation | Good |
| Education | Good |
| Faculty | Good |
| Infrastructure | Excellent |
About Nepal
It is essential to learn about the country before opting for further education. As many people would know, Nepal is a country in Asia, extending along the southern slopes of the Himalayan mountain ranges. Nepal is wedged between two giants, Indian and China, and is situated between India to the east, south and west and the Tibet Autonomous Region of China to the north.
| | |
| --- | --- |
| Population | 30,666,598 |
| Area | 147,516 km² (55,956 sq mi), 2.8 (Water (%)) |
| Capital City | Kathmandu |
| Language | Nepali, English |
| Climate | Warm, Dry summers & Fairly Severe Winters |
| Literacy Rate | 89.88% Percent (males 78.59% & females 67.71%) |
| Time Zone | UTC+05:45 (Nepal Standard Time) |
| Currency | Nepalese rupee (NPR) |
| Religion | 81.3% Hinduism, 9% of Buddhism, 4.4% Muslim, 3.1% Kirat, 1.4% of Christianity, 0.5% Prakriti, 0.3% others |
About Chisapani City
Chisapani is a small hill station located on the northern outskirts of Kathmandu valley, Bagmati Zone, Nepal.
It is a small village which is full of beauty and adventure
The Chisapani purpose of Village Development Committees is to organise village people structurally at a local level and to create a partnership between the community and the public sector for an improved service delivery system.
Temperature
Rainfall
Daylight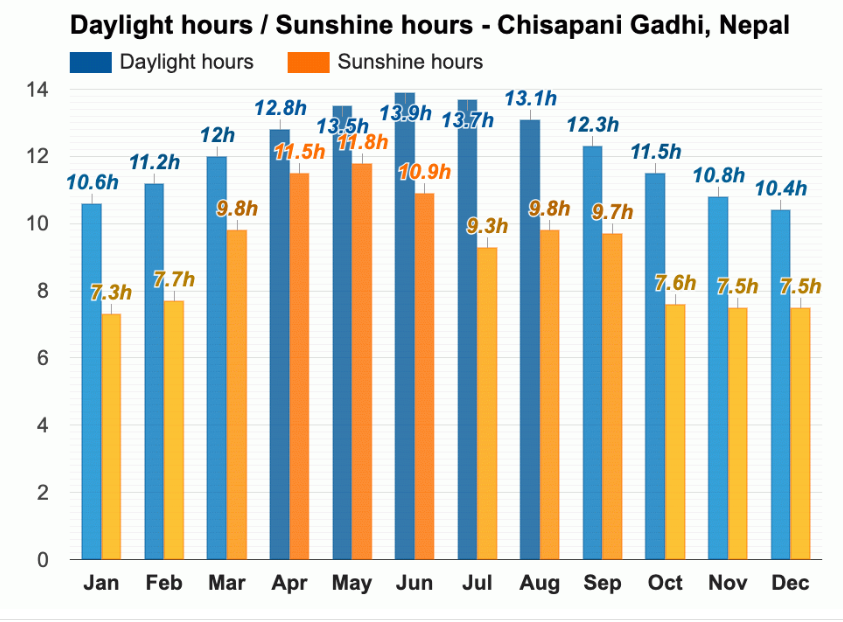 Contact Details
Nepalgunj Medical College Nepal
Address: Chisapani Banke Baijanath 1 Chisapani, 00977, Nepal.
Phone: +91-9999-709-233 (For Indian Students)
Email: info@rmgoe.org
Frequently Asked Questions (FAQ)
Where is Nepalgunj Medical College Nepal located?
What is the MBBS course duration at Nepalgunj Medical College Nepal?
The MBBS course duration at Nepalgunj Medical College Nepal is 5 Years.
Is the Nepalgunj Medical College Nepal NMC Approved?
Yes, it is approved by the NMC.
What is the world ranking of Nepalgunj Medical College Nepal?
The world ranking of Nepalgunj Medical College Nepal is 18937.
Which country is best for Indian students to study abroad?
Of course, there is no rich and poor when it comes to education; it is all about knowledge. Several scholarships are open to students, and the government of India also provides a scholarship option for academically intelligent students.
Advantages: NMC Approved Universities, Affordable Fee
Disadvantages: Language Barrier, Lack of Practical Experience
Reference
https://www.ngmc.edu.np/, Nepalgunj Medical College Nepal Official Website
https://en.wikipedia.org/wiki/Chisapani,_Khotang, Wikipedia
https://www.nmc.org.in/, NMC's official website
https://www.who.int/, WHO's official website
https://www.mea.gov.in/, MEA New Delhi official website