Goa NEET PG Counselling 2022: Goa Medical College and Hospital (GMCH), Goa, is the conducting authority for admission to Goa PG/MDS 2022. Aspirants qualifying NEET PG exam have been allowed to participate in Goa NEET PG Counselling 2022 admission. It is mandatory to fulfil the specified eligibility conditions for Goa PG medical admission 2022. Through Goa NEET PG 2022 Counselling, candidates have been granted access to 118 Master of Surgery (MS), Doctor of Medicine (MD) and PG Diploma seats.
The candidates allotted seats in their choice of courses and colleges have to go for document verification. Furthermore, they also need to pay the seat acceptance Fee. Candidates can go through the article to get more information on the Goa PG Medical 2022 seat allotment.
Quick Facts
Candidates who wish to grab a seat in the desired college via the Goa NEET PG Counselling 2022 procedure should read about the vital information. Here a table is given below for the candidate's reference.
| | |
| --- | --- |
| Features | Specifications |
| Name of Examination | National Eligibility cum Entrance Test (PG) or NEET PG |
| Conducted by | National Board of Examinations (NBE) |
| Goa NEET PG Counselling Authority | Goa Medical College and Hospital (GMCH), Goa |
| Exam Date | 21 May 2022 |
| NEET PG result 2022 | 01 June 2022 (Announced) |
| MCC AIQ NEET PG 2022 Counselling starting date | 15 September 2022 (Tentative) |
| Level of NEET Examination | National-level |
| Category | Postgraduate |
| Medical Institutes Exempted From NEET | DNB PDCET, NEET MDS, FMGE DEC |
| Get NEET PG Counselling Assistance | Enquire Now |
| Call Now | +91-07838437523 |
Goa NEET PG 2022 Counselling Dates
In this section, the candidate will get all the important dates of Goa NEET PG Counselling 2022. The candidates are requested to check the dates regularly for the latest updates.
Get the Latest Update on Admission Notice, Fee, Cutoff, & Seats of PG Medical Colleges in India.
| Events | Dates |
| --- | --- |
| Online registration | 15-Sep-2022 to 23-Sep-2022 till 12 pm |
| Last date for payment of counselling fee | 23-Sep-2022 till 8 pm |
| Choice filling | 20-Sep-2022 to 25-Sep-2022 till 11: 55 pm |
| The seat allotment list will be released | 28-Sep-2022 |
| Reporting to the institute allotted | 29-Sep-2022 to 04-Oct-2022 |
Eligibility Criteria
This section provides detailed information about Goa NEET PG Counselling eligibility criteria, and all candidates must check the eligibility criteria before applying.
| | |
| --- | --- |
| Categories | Eligibility Criteria |
| Origin | Must be of Indian Origin |
| Domicile | Who has taken admission in MBBS Courses based on a Competitive exam conducted on behalf of the Government of Goa or CBSE (under All India Quota) before November 15, 2002, From a medical college situated in Goa will also be eligible for Goa PG medical admission 2022? |
| Degree | MBBS degree From any medical/college/institution of Bihar recognized by NMC. |
| Registration Certificate | Goa state National Medical Commission NMC Issued a permanent or provisional registration certificate. |
| Internship | Completion Certificate of compulsory one-year rotatory internship on or before March 31, 2022. |
| Minimum qualifying percentile | Must secure NEET PG 2022 Cutoff For admissions |
Goa NEET PG Counselling 2022
A candidate can visit the official portal of Goa Medical College and Hospital, Goa, to get themselves registered for NEET PG 2022 Goa State Counselling. Before we speak about the counselling procedure for Goa NEET PG 2022, Let us first look at the Goa NEET PG Counselling schedule 2022.
NEET PG Admission 2022; Get confirmed admission
Call Now: 09711997734
Counselling Procedure
The entire counselling process can be best explained by the following steps mentioned below.
Step-1:- Counselling Registration through Online
Admission Seekers can apply online mode by visiting the website-gmc.goa.gov.in/index.php/en/
For registration, seekers will use/her NEET PG roll no. and email registration in NEET PG (NEET-PG) and follow instructions on the screen.
After that, the candidate's NEET-PG registration details will be displayed.
The exam qualify applicant will make an online payment. An SMS will be sent to their registered mobile no (used for NEET-PG registration) to confirm successful registration. The password you create at the time of registration, kindly note this password for choice filling.
After successful payment, the candidate will get Transaction and Registration no. on their registered mobile number.
Step-2:- Online Security Money Payment
Candidates willing to attend the counselling process to grab their PG Medical seat in the desired Medical College must pay the required Security money fees prescribed by the Goa Medical College and Hospital, Goa.
After paying security money and the state merit list has been declared, the online seat choice filling option will be available as per the earlier schedule.
The applicant would be able to take a printout of their online payment receipt.
Step-3:- Merit Declaration
For Inter-se rank in State merit list, reference shall be NEET-PG 2022
The final merit list will be prepared per the provisions (Displayed on the website).
Step-4:- Online Choice filling
Visit website- gmc.goa.gov.in/index.php/en/
Click on the Choice filling.
Choice Filling Procedure:
– Login for choice filing by using your NEET roll number and password created at registration.
– Choice filing can be done in several sessions but remember to save and continue; otherwise, you'll lose your work.
– The choice filling will not be complete until you finally submit and lock. No changes will be possible after locking the choice.
After the last date of choice, the filling is over, and the seat allotment list will be declared online.
Step-5:- Seat allotment
1. log in to the website. Your seat allotment status will be displayed.
2. If you accept the allotment letter:-
But do not join or resign after joining; even then, you're eligible for second counselling but will forfeit your security deposit.
Join the college you'll remain eligible for second counselling to upgrade your seat without losing your seat. If your seat is elevated, then the previous allotment will be automatic.
The online process will do the seat allotment on a merit cum option basis.
3. Physically disabled category candidates are required to be physically present before a medical board constituted by dates will be available on gmc.goa.gov.in/index.php/en/ website.
4. Candidates eligible for the reserved category will be given admission as per the rules of the state government, applicable on the date of counselling.
5. OBC candidates covered by the provisions of the creamy layer will not be entitled to the benefits of the OBC category.
6. Candidates who fail to produce required original documents at the time of admission or, if any, concealment or falsification of facts comes into the light at the time of admission and after that during the study will not be entitled to any benefit of having appeared in the entrance examination. Any use of acquiring a seat Legal action would be taken against such candidates.
7. Candidates will be checked for their identity at admission. If it does not match, it will be counted as unfair, and their candidature will be cancelled. Additional legal action would be taken against such candidates.
8. If the candidate does not participate in online counselling or does not join the allotted seat by the due date, they shall forfeit any right of admission based on said counselling/allotment.
9. The option, once exercised by the candidate in the online Counselling, cannot be altered under any circumstances.
10. No request for re-allotment of seats allotted in the first and second rounds will be entertained.
PG Counselling Flow Chart
The following flow chart for aspirants applying to PG courses offered by various medical colleges shows the short but essential information about the Goa NEET PG counselling procedure 2022.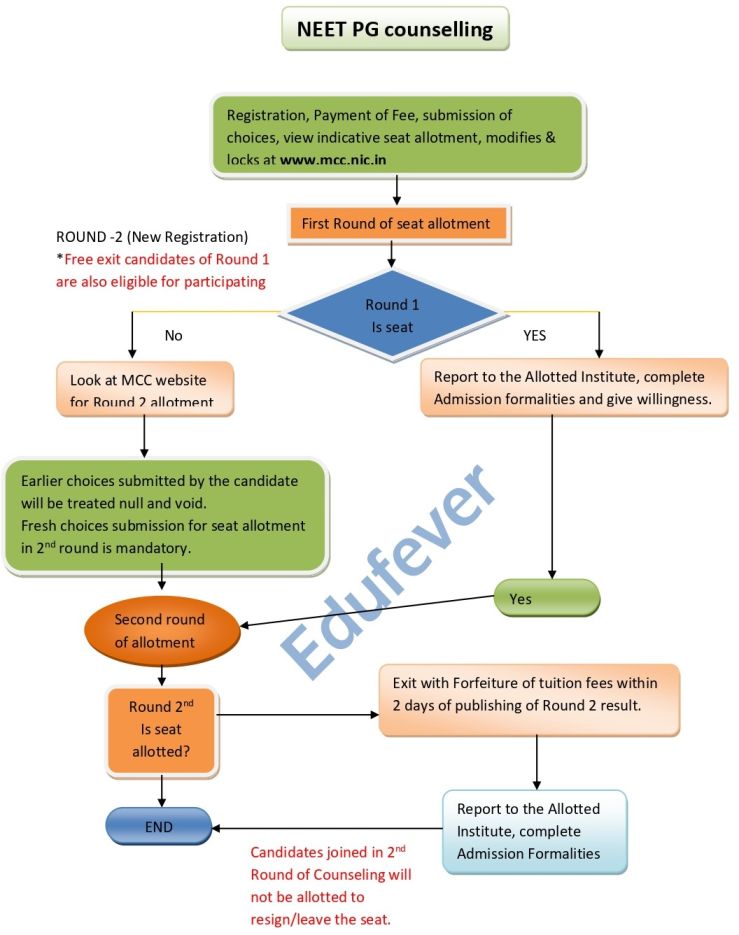 Documents required
Candidates who are qualified for NEET PG 2022 conducted by NBE(National Board of Examination) are eligible and participate in Goa NEET PG Counselling 2022. Here below is the list of documents that are required for counselling every candidate has to provide these documents to the authorities.
MBBS Passing certificate and MBBS Degree certificate
Statement of Marks obtained at First, Second and Third Part I & II MBBS
Examinations.
Certificate of completion of one-year Compulsory Rotatory Internship Training from
Goa Medical College or other Medical colleges (if applicable)
Birth certificate
Certificate of Residence in the State of Goa from District Magistrate / Sub-Divisional
Magistrate/Mamlatdar.
Medical fitness certificate from Medical Board of Goa Medical College.
Certificate of complete Hepatitis-B vaccination.
Bonafide certificate and Character and Conduct certificate at MBBS Course.
Attempt certificate at MBBS Course.
NEET PG 2020 Admit Card, Rank & Score Card.
"NOC" from present employer stating that applicant will be relieved /
deputed immediately if selected for PG Course.
Certificate of Permanent Registration with Medical Council of India /State Medical
Council
Certificate of Provisional Eligibility from Goa University for candidates passing MBBS
course of other Universities and NBE Screening Test Result for Indian National with
Foreign Medical qualification
Disability Certificate from Medical Board, Goa Medical College (if applicable).
Caste certificate, if applicable, issued by the Competent Authority.
EWS certificate issued by the competent authority
Aadhar Card
NEET PG Counselling Norms
Goa Medical College and Hospital, Goa, conduct the counselling below the given Norms.
| | |
| --- | --- |
| S.No. | Factors |
| 1. | 50% All India Quota(AIQ) seats |
| 2. | 50% of State Quota seats |
| 3. | Central Universities (DU, AMU, BHU) |
| 4. | Deemed Universities |
| 5. | ESIC colleges |
| 6. | Armed Forces Medical Services |
Goa NEET- PG 2021 Admission Important Link:
| | |
| --- | --- |
| Particulars | Download Here |
| 1. Final Goa PG medical/dental merit list | Click Here |
| 2. Goa PG/MDS merit list 2020 provisional | Click Here |
Goa NEET PG Merit List 2021
Here we provide you with the Goa NEET PG merit list for the 50% state quota; you can check the merit list by clicking on the link given below.
| | |
| --- | --- |
| Particular | Link Here |
| Goa NEET PG Merit List | Click Here |
Seat Matrix 2021
Speciality
Degree
Seats MCI
Recognized/
Approved
Newly MCI Permitted seats (2015, 2017 &2018)
Diploma
Seats MCI
Recognized/
Approved
Anatomy
MS – 2
2
—–
Physiology
MD – 3
2
—–
Pharmacology
MD – 2
4
—–
Pathology
MD – 3
–
—–
Microbiology
MD – 3
–
—–
Forensic Medicine
MD – 2
3
DFM – 4
Preventive & Social Medicine
MD – 2
3
DPH – 2 *
Biochemistry
MD – 2
2
—–
General Medicine
MD – 5
9(2018)
—–
General Surgery
MS – 6
–
—–
Obstetrics& Gynaecology
MD – 5
–
DGO – 4 *
Anaesthesiology
MD – 4
2(2017)
DA – 4 *
Orthopaedics
MS – 3
–
—–
Ophthalmology
MS – 3
2
—–
Paediatrics
MD – 3
–
DCH – 4 *
Skin & V.D.
MD – 1
2
DVD – 2 *
Radio Diagnosis
MD – 2
DMRD–4 *
Psychological Medicine
MD – 2
4(2018)
DPM – 2 *
T.B. & Chest Diseases
MD – 3
1+2(2018)
—–
E.N.T.
MS – 3
1
—–
59
39
Total
Degrees: 98 – MD 76 MS 22
Diplomas26
Final Total
124
NEET PG 2022 Cutoff (Announced)
By the minimum qualifying/eligibility criteria for admission to MD/MS/PG Diploma course as mentioned in the Information Bulletin for NEET-PG 2022, the cut-off scores for various categories are as follows:-
Categories
NEET PG 2022 minimum qualifying or eligibility criteria
NEET PG 2022 Cutoff score (out of 800)
General / EWS
50th
275
SC / ST/ OBC
(including PWD of SC/ST/OBC)
40th
245
UR PWD
45th
260
NEET PG Cut-off 2021
| | | |
| --- | --- | --- |
| Categories | Cut off percentile | Cutoff marks |
| General | 50th | 302 |
| SC/ST/OBC | 40th | 265 |
| General-PH | 45th | 283 |
| SC/ST/OBC-PH | 40th | 265 |
Top Colleges in Goa accepting NEET PG Scorecard
| | | |
| --- | --- | --- |
| Colleges | Location | Links |
| Goa Medical College | Panaji | Click Here |
Frequently Asked Questions (FAQs)
Question 1: Is Goa conducting the NEET PG Counselling offline mode?
Answer: No, Goa is conducting the NEET PG counselling only online.
Question 2: Who is Conducting the NEET PG Entrance exam body?
Answer: National Board of Examinations (NBE)
Question 3: What is the Counselling FEE of NEET PG AIQ Quota?
Answer: counselling fee- Rs. 1000 (For AIQ /Central University UR candidates) & Rs. 500 (For SC/ST/OBC/PH), and Rs. 5000 (For Deemed University candidates).
Question 4: How many NEET PG seats are there in Goa?
Answer: Around Degree-98 seats are available in Goa NEET PG.
Question 5: how many seats available for AIQ quota students?
Answer: 50% of the seat is reserved for AIQ quota students.
Question 6: Who conducts the Goa NEET PG Counselling 2022?
Answer: Goa Medical College and Hospital, Goa