Meghalaya NEET counselling 2018: Meghalaya NEET Counselling will start from the 23rd June 2018 after the completion of 15% AIQ counselling. The Meghalaya NEET state counselling is Organized by the Department of Higher & Technical Education, Government of Meghalaya. The Admission in MBBS/BDS courses is based on NEET Scorecard and only NEET qualified candidates can apply and participate for NEET Counselling 2018.
The scorecard of NEET UG will be accepted by the various government and private medical and dental institutions of Meghalaya. Throughout the article, you will get to know about Meghalaya NEET 2018 Counselling procedure, Top Medical/Dental Colleges in Meghalaya. Happy Reading.
Get Latest Info. About this Story/Article, via SMS & Email.
---
Meghalaya 

NEET Counselling 2018 (MBBS/BDS)
---
A candidate can visit the official portal of North Eastern Indira Gandhi Regional Institute of Health and Medical Sciences to get themselves registered for NEET 2018 Meghalaya State Counselling. Before we speak the counselling procedure for Meghalaya NEET 2018, Let us first have a look at the Meghalaya NEET 2018 Counselling schedule.
Counselling Schedule
The official schedule of Meghalaya MBBS/BDS counselling 2018 is given here.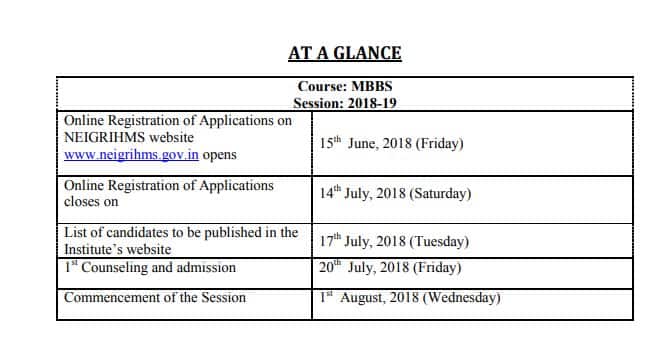 **To Know more about Meghalaya NEET Counselling 2018 Schedule Please Click on the given Link: Click Here.
Counselling Procedure
The entire process of counselling can be best explained by the below-mentioned flowchart.
Counselling Procedure for AIQ Quota.
Candidate applying for Medical/Dental Colleges in Meghalaya must have to register themselves for the NEET counselling 2018. Counselling of NEET 2018 for All India Quota will be conducted in two rounds in online mode. The counselling will consist of these steps.
Candidate Registration: Register to the official website.
Choice Filling and Locking (Round 1): You have to choose the courses and colleges of your preference and finally lock-in the preferences in the online portal.
Seat Allotment Result (Round 1): The seat allotment will be published online on the basis of available vacancies and candidate's choices.
Reporting to college: Those who will be allotted a seat in the first round, will be required to either reject the allotted seat or report to the allotted college and complete the admission formalities.
New Registration (Round 2): For candidates who couldn't register in the first round of counselling.
Fresh Choice Filling and Locking (Round 2): Similar to round 1 mentioned above.
Seat Allotment Result (Round 2): Similar to round 1 mentioned above.
Reporting to college (Round 2): Here it is to be noted that, those who will be allotted a seat in the second round of counselling (15% AIQ Quota) will not be permitted to vacate their seats as per the orders made by the Supreme court of India.
Selection & Admission Procedure
The Exam conducting authority will make the merit list of the selected candidates for the admission after the NEET State counselling.
Admission Seekers will be selected on the basis of their rank obtained and choice filled during counselling.
Admission Seekers will have to report to the allotted college for the admission along with all required documents.
If any student fails to report to the allotted college in any circumstances within the given time, the seat of this candidate will be forfeited.
Documents Required
10th Certificate.
12th Certificate.
12th Mark Sheet.
NEET UG 2018 Admit Card.
NEET UG 2018 Result/Scorecard.
Category Certificate (if applicable).
Domicile Certificate (for Uttarakhand candidate only).
Certificate of Sub Category, If Applicable.
ID Proof (Aadhaar Card/Voter card etc)
---
Meghalaya NEET Participating Medical Colleges
---
Candidate applying for various medical and dental colleges affiliated to the state medical university may find their dream college by knowing every tits and bit about the college. To know details (Fees, Cut-off, Courses, Affiliation, Ranking etc) about the participating colleges, click the link mentioned below.
**Scoring High in Entrance Exam like NEET will help you to choose some of the Best MBBS/BDS Colleges in Meghalaya. Top Rankers may also avail various Scholarship offered by these colleges. In case of any problems regarding the counselling, you may contact the student grievance cell of Meghalaya NEET 2018.
Contact Details
NEIGRIHMS, MawdiangdiangShillong-793018, Meghalaya, India
Phone No.: 0364-2538013, 0364-2538010,0364-2538014
Email Id:- [email protected]
You may leave your comment in the comment box given below.
Best of Luck…!!
Summary
Reviewer
Review Date
Reviewed Item
Meghalaya NEET Counselling State Quota MBBS BDS Schedule 2018
Author Rating
Disclaimer: If you have found any inappropriate or wrong information/data on the site, inform us by emailing us at mail[@]edufever.com for rectification/deletion/updating of the same.