Astana Medical University Kazakhstan was founded in the year 1964. It is one of the recognized universities in Astana, Kazakhstan's capital city. AMU Kazakhstan is known as one of the most prominent and dynamic medical universities with MBBS for Indian Students in Kazakhstan.
This article will discuss things you need to know before pursuing Astana University Kazakhstan. The University provides first-rate medical education with an international curriculum and up-to-date infrastructure. Medical degrees like MBBS/MD acquired from Astana Medical University are authorized by the world's top organizations like WHO, UNESCO, and NCI.
Astana Medical University Kazakhstan
The University consists of 7 faculties that train well-educated specialists for most sectors of the Kazakhstan national economy. When it comes to the staff of this university entails 873 teachers who impart quality medical education to a whopping 5,185 students at the university. There are also 112 doctors of medical science, 280 candidates of medical science, 62 professors and 67 associate professors.
Wants to Study MBBS Abroad from a top Country with low tution Fees? Subscribe Now!
College Summary
Before we go through the detailed information about Astana Medical University Kazakhstan, let's examine the college's essential details.
Name of Institute
Astana Medical University Kazakhstan[1]
Popular Name
AMU Kazakhstan
Location
Astana[2], Kazakhstan
Year of Establishment
1964
Institute Type
Public
Language of Teaching
English / Kazakh
No. Of Faculties
700
Approved By
NMC, World Health Organization (WHO)
Courses offered
MBBS
Total enrollment
3,000+
Ranking
Country Rank: 14
World Rank: 4870
(Source = www.4icu.org)
Official Website
https://www.amu.kz/[3]
MBBS Abroad at 10 Lakh
Enquire Now
Talk to our Abroad Counsellor

Call Now > +91-9999709233

Category
Medical Colleges in Kazakhstan
Affiliation, Recognition and Achievement
Student Support
The overview of the student support services provided by Astana Medical University is mentioned below.
Graphical Representation of Astana Medical University Kazakhstan:-
Facilities
This is the choice. Let's take a look at the Facilities that Astana Medical University has to offer.
| | |
| --- | --- |
| Medical | Library |
| Auditorium | Hostel |
| Computer labs | Sports |
| Cafeteria | Laboratory |
Accommodation and Other Benefits
The university campus has a sports ground
High security in Hostel wings.
Indian Mess – 3 times a day.
Astana medical university has the largest resources of books/libraries in Kazakhstan.
University located in the premium capital city – Astana
Available in English medium
Well-educated faculty for effective teaching.
National level competitions.
Courses Offered
AMU Kazakhstan offers quality medical programs under highly qualified faculty and state-of-the-art infrastructure. The College is famous for its medical programs (MBBS).
| | |
| --- | --- |
| Courses | Duration |
| Bachelor of Medicine and Bachelor of Surgery (MBBS) | Six years |
Why MBBS In Astana, Kazakhstan?
The city has beautiful cuisine very different from Indian cuisine, and Indian restaurants are widely available in Kazakhstan.
The country is perfect for students who like to keep themselves fit.
The country is multilingual and encourages students to learn more languages like Kazakh and Russian.
The country is a fantastic destination for people with architectural interests.
Faculty & Staff
The college provides a good ratio of well-trained and highly educated faculty members equipped with modern technology. It also provides sufficient numbers of non-technical staff to provide an ambience of self-learning to the students. The college is committed to uplifting the country's people's health care education and output delivery system.
Admission Procedure
If you want to be Admission to Astana Medical University Kazakhstan, you must qualify for the National Eligibility Entrance Exam (NEET). One must remember that you only have to be eligible for the exam. Here are the valuable resources for NEET Exam that helps you boost preparing for the NEET exam.
Eligibility Criteria
Kazakhstan has been one of the top preferred destinations for international students to pursue their Medical Degree Courses. If you too want to Study MBBS at Astana Medical University Kazakhstan, check the eligibility below.
Age
Your age should be at least 17 years old on or before 31st December of the admission year.
*No Upper Age Limit.
Qualification
Class 12th in Science, with PCM and English subjects from a board recognized by the authorities in India.
Minimum Qualifying (%)
50% in 10+2 (UR)
45% (SC/OBC/ST)
Qualifying Entrance
NEET
Medium of Teaching
English
Duration of Course
5 Years
Low Budget Abroad MBBS College
Enquire Now
Documents Required
Before admission to Astana Medical University Kazakhstan, please do not forget to carry all these related documents.
Passport (Minimum 18 months validity).
10th Certificate & Mark sheet.
12th Certificate & Mark sheet.
Birth Certificate.
10 passport-size Photographs
Official Invitation letter from the Medical University of Kazakhstan.
Authorization of all documents from the Ministry of External Affairs, New Delhi[6].
Legalization of all documents from the Kazakhstan Embassy.
Visa fees.
Bank receipt of University 1st year Tuition fee (required for some Universities).
HIV test documents.
Fee Structure
The Astana Medical University Fee Structure for the undergraduate medical course is mentioned below.
| | | | | |
| --- | --- | --- | --- | --- |
| Particulars | 1st Year | 2nd Year | 3rd Year | 4th Year |
| College Fee | 4200 $ | 4200 $ | 4200 $ | 4200 $ |
| Hostel Fee | 650 $ | 650 $ | 650 $ | 650 $ |
| Mess Fee | 1000 $ | 1000 $ | 1000 $ | 1000 $ |
Other Fees
Astana Medical University MBBS Other Fees Structure for all five of the courses. mentioned in the table given below.
For 1st Year students:
• Hostel & Mess is not Compulsory
From 2nd Year onward, Hostel /Mess = optional
• Mess -100 $/Month Grand Total including tuition fee, hostel fee, admission fee, processing fee, registration fee, application fee, invitation fee, university student visa fee, interview fee, medical test fee, documentation fee, and document translation fee. Airport pickup fee.
Application Fee- Registration Fee- Processing Fee –

250 $
450 $
500 $
–
Total
6000 $
MBBS Syllabus in Kazakhstan
Before applying for Astana Medical University Kazakhstan, please compare the MBBS Syllabus of some of Kazakhstan's Top-ranked, NMC-approved medical universities. You can see the MBBS in Kazakhstan Syllabus in PDF, also downloadable.
Ranking and Reputation
This Section will provide you with the Astana Medical University Kazakhstan. Ranking Country Rank/World Rank. Let's check the released Ranking.
Name of Institute
Astana Medical University Kazakhstan
Ranking
Country Rank: 14
World Rank: 4870
(Source = www.4icu.org)
Reputation
Good
Education
Good
Faculty
Good
Infrastructure
Excellent
Astana Medical University Kazakhstan – Ranking 2022
According to 4icu.org, the following is the country and world ranking for Astana Medical University Kazakhstan:-
| | |
| --- | --- |
| Country Rank | World Rank |
| 14 | 4870 |
About Kazakhstan
Kazakhstan, a Central Asian country and former Soviet republic, extends from the Caspian Sea in the west to the Altai Mountains at its eastern border with China and Russia. Its largest metropolis, Almaty, is a long-standing trading hub whose landmarks include Ascension Cathedral, a tsarist-era Russian Orthodox church, and the Central State Museum of Kazakhstan, displaying thousands of Kazakh artefacts.
| | |
| --- | --- |
| Population | 19,240,385 |
| Area | 2,724,900 km2 (1,052,100 sq mi) |
| Capital City | Nur-Sultan |
| Language | Kazakh |
| Climate | Kazakhstan is continental, maybe a little arid. In summer, the temperatures average more than 30 °C (86 °F) and in winter average −20 °C (−4.0 °F). |
| Literacy Rate | 99.1% |
| Time Zone | UTC+5 / +6 (West / East) |
| Currency | KZT – Kazakhstani Tenge |
| Religion | Christianity, Islam etc. |
About Astana City
Astana Medical University is situated in Astana city, the capital of Kazakhstan and is located on the bank of the Ishim River.
Astana is well-known for its futuristic buildings, hotels and skyscrapers, and the city is the second coldest city in the world.
The city's climate is continental, with warm summers and cold winters.
Astana offers a wide range of travelling options, including railways, air and road.
The total population of Astana city is 1,029,556.
Temperature

Rainfall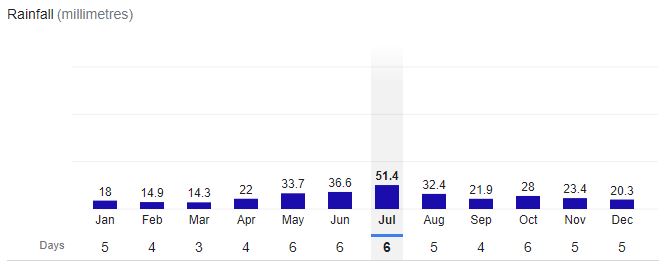 Daylight

Advantages of Studying in Kazakhstan
Astana Medical University Kazakhstan, you need to know before pursuing MBBS in Kazakhstan is a good option for Indian students in medical universities various Advantages of Studying in Kazakhstan Points are mentioned below.
An education system focused on imparting both theoretical and practical skills.
Affordable tuition fees and living expenses
The organization works with great professionals, doctors, and researchers, that's why Indian students will be admission to Kazakhstan.
Excellent weather conditions for students
MBBS Kazakhstan Fees are relatively not expensive as other medical institutes.
medical universities in Kazakhstan have low tuition fees
Disadvantages of Studying in Kazakhstan
The Astana Medical University of Kazakhstan's various Disadvantages of Studying in Kazakhstan Points are mentioned below.
As Kazakh is the local language in Kazakhstan, students might feel the tongue is a barrier (outside the university campus).
One might have to put extra effort into learning the Kazakh Language after the class hour.
Those who wish to study and work together to cover their expenses may face difficulties because it requires a lot of self-study and concentration.
Contact Details
Astana Medical University Kazakhstan
Address: 010000, Nur-Sultan, Beibitshilik St., 49a
Phone: +91-9999709233 (For Indian Students)
Email: info@rmgoe.org
Frequently Asked Questions (FAQs)
Q. Is an MBBS degree from Astana Medical University valid in India?
A. Yes, it is valid in India, provided the degree is from a university recognized by the National Medical Commission.
Q. Is Veg food available at the university campus?
A. Yes, there are many Indian restaurants available in the city and campus that serve traditional Indian food, including veg food.
Q. Can we go for MBBS studies at Astana Medical University without the NEET Exam?
A. No, the National Medical Commission has made NEET exam compulsory for MBBS abroad from 2018. One must have a valid score in the NEET examination to pursue MBBS in India and abroad.
Reference