Ingush State University Russia1 is a public higher education institution in Russia that was established in 1994. Russia town – Magas is the home of this University. Ingush State University's development of university science is one of the urgent problems in modern higher education in Russia. Almost every Indian candidate is ambitious to do an MBBS in Russia. The University is one of the leading of Russia's best leading medical universities.
Ingush State University can cover more than various students yearly for medical education. It is functioned by more than lots of departments and has Ten faculties. 12 Full English Medium Medical universities in Russia offer complete medicine courses in English.
College Summary
Before we complete the college Summary, let us look at the essential details of Ingush State University.
Wants to Study MBBS Abroad from a top Country with low tution Fees? Subscribe Now!
Name of Institute
Federal State Budgetary Educational Institution of Higher Education "Ingush State University
Ingush State University Location
Magas, Russia
Ingush State University Year of Establishment
1994
Ingush State University Ranking
Country – 367
World – 11187
(Sources: 4icu.org)
Approved by
NMC (National Medical Commission)2, WHO
Language of Teaching
English/Russian
Affiliated with
Ministry of Education and Science Russia
Ingush State University Courses offered
MBBS
Official Website
http://inggu.ru/
MBBS Russia at 10 Lakh
Enquire Now
Admission Starts
February, September
Talk to our Abroad Counsellor
Call Now > +91 88596 37232
Category
Medical Colleges in Russia
Affiliation, Recognition and Achievement
Student Support
The Ingush State University Student Support are:-
| | |
| --- | --- |
| Anti Ragging | Counselling Services |
| Healthcare Services | Hostel |
| Report | Query |
| Local Language Learning Classes | NMC Screening Test Help Centre |
Read also: Benefits of studying MBBS in Russia.
Facilities
The Ingush State University Facilities are mentioned in this section that is provided to the students that have already confirmed Ingush State University Admission:-
| | |
| --- | --- |
| Medical | Library |
| Auditorium | Hostel |
| Computer labs | Sports |
| Cafeteria | Laboratory |
Ingush State University Courses Offered
Ingush State University Courses offer quality medical programs under highly qualified faculty and state-of-the-art infrastructure. The College is famous for its undergraduate medical programs (MBBS).
Course offered
Duration
MBBS
6 Years (English Medium)
7 Years (Russian Medium)
Why Study MBBS At Ingush State University? See some important points?
Ingush State University also offers practical training using the most recent technology and well-equipped labs.
The Ingush State University offers the whole medical course in the English language for foreign students as well as Indian students.
In this university, apart from studying, students can enjoy many things on campus.
There is a student-teacher ratio that is favourable for students. Candidates get one-to-one attention from faculty. These things make a good relationship between students and teachers.
Ingush State University is a good thing for international students as well as Indian students. This language makes to learn to MBBS program abroad.
Read also: Points to Remember about the Admission for MBBS in Russia
Admission Procedure
If you want to take Ingush State University Admission, you must qualify for the National Eligibility Entrance Exam (NEET). One must keep in mind that you only have to be eligible for the exam. Here are the valuable resources for NEET Exam that will help you to boost your NEET exam preparation. How to do an MBBS from Russia? See the Complete Admission Procedure Here!
Eligibility Criteria
Russia has been one of the top preferred destinations for international students to pursue their Medical Degree Courses. If you want to study MBBS at Ingush State University, check the Ingush State University eligibility below.
Age
Your age should be at least 17 years old on or before 31st December of the admission year.
*No Upper Age Limit.
Qualification
Class 12th in Science, with PCB and English subjects from a board recognized by the authorities in India.
Minimum Qualifying (%)
50% in 10+2 (UR)
45% (SC/OBC/ST)
Qualifying Entrance
NEET
Medium of Teaching
English/Russian
Duration of Course
6 Years
Low Budget MBBS Abroad College
Enquire Now
Read also: Do you speak English? It is all it takes to study MBBS abroad.
Documents Required
Before taking admission to Ingush State University, please carry all these related documents.
Passport (Minimum 18 months validity).
10th Certificate & Mark sheet.
12th Certificate & Mark sheet.
Birth Certificate.
10 passport-size Photographs
Official Invitation letter from the Medical University of Russia.
Authorization of all documents from the Ministry of External Affairs, New Delhi.
Legalization of all documents from the Russian Embassy.
Visa fees.
Bank receipt of 1st Year of Ingush State University fees (required for some Universities).
HIV test documents.
Ingush State University Fees Structure
Ingush State University fees Structure & Ingush State University MBBS fees are mentioned in this section.
Particular
1st Year
2nd Year
Tuition Fees
2,40,000 RUB
(2,40,000 INR)
2,40,000 RUB
(2,40,000 INR)
Hostel Fees
50,000 RUB
(50,000) INR
50,000 RUB
(50,000) INR
Application, Invitation, Visa Stamping, Document Translation, Documentation Apostle by MEA & MHRD
30,000 RUB (30,000 INR)
30,000 RUB( 30,000 INR)
Yearly Total
3,20,000 RUB (3,20,000 INR)
3,20,000 RUB (3,20,000 INR)
Grand Total
18,20,000 RUB
(18,20,000 INR)
NOTE: The mentioned fee is approximate, and it will be subject to change. The fees for Ingush State University Indian Students are mentioned above.
Read Also: Low Fees MBBS Colleges in Russia
Ingush State University Ranking
According to 4icu.org, the Ingush State University ranking in Russia and all over the world:
| | |
| --- | --- |
| Country Rank | World Rank |
| 361 | 10723 |
MBBS Syllabus in Russia
Before applying for Ingush State University, please compare the MBBS Syllabus of some of Russia's top-ranked, NMC-approved medical universities Abroad. The structure and the pattern of MBBS in Russia are as follows.
Year
Semester
Subjects
1st year
1st semester
Anatomy
2nd semester
Anatomy and Histology
2nd year
3rd semester
Histology, Biochemistry, Physiology, Cell Biology, Microbiology, General Pathology
4th semester
Biochemistry, Micro-Biology, Physiology
3rd year
5th semester
Pathology, Pharmacology, Micro-Biology, Path physiology
6th semester
Pathology, Path Physiology, and Pharmacology, Genetics
4th-6th year
7th-12th semester
General Surgery, Neurology, Primary Care Medicine, Obstetrics and Gynecology, Oncology, Internal Medicine, Pediatrics, Internal Medicine, Neurology and Psychiatry, Psychology, ENT, Emergency Medicine, and Cardiology
Read Also: Career Scope after MBBS in Russia for Indian Students: See the Top Job Opportunities here.
Ranking and Reputation
The Ingush State University Ranking all over Russia and Ingush State University World Ranking all over the world are mentioned in this section:-
| | |
| --- | --- |
| Name of Institute | Ingush State University Russia |
| Reputation | Good |
| Education | Good |
| Faculty | Good |
| Infrastructure | Excellent |
About Russia
The Russian Federation is the largest of the 21 republic that makes up the Commonwealth of Independent States. It occupies most of Eastern Europe and North Asia, stretching from the Baltic Sea in the west to the Pacific Ocean in the east and from the Arctic Ocean in the north to the Black Sea and the Caucasus in the South.
Population
147,182,123 (Source-Wikipedia)
Area
17,098,246 km2 (6,601,670 sq mi) (Source-Wikipedia)
Capital City
Moscow
Other largest cities: Saint Petersburg, Novosibirsk, Yekaterinburg, Novgorod, Samara, Kazan etc.
Language
Russian
Other Languages: Tatar, Ukrainian and Bashkir
Climate
Continental is influenced by hot, dry summers and (very) cold winters (-30°C).
Literacy Rate
Male- 99.7%, Female- 99.6% (Source-Wikipedia)
Time Zone
UTC + 2:30
Currency
Russian Ruble (RUB)4
Religion
Christianity, Islam, Judaism, Buddhism etc.
About Magas City
Magas is the capital town of the Republic of Ingushetia, Russia.
It was founded in 1995 and replaced Nazran as the capital of the republic in 2002. Due to this distinction, Magas is Russia's smallest capital of a federal subject.
Magas is located in the western area of Ingushetia, at the borders of Prigorodny Raion of North Ossetia-Alania. Nazranovsky Raion surrounds it, and the nearest settlements are Ekazhevo, the city of Nazran, and Ali-Yurt. The town is also 30 km from the North Ossetian-Alanian capital, Vladikavkaz.
Temperature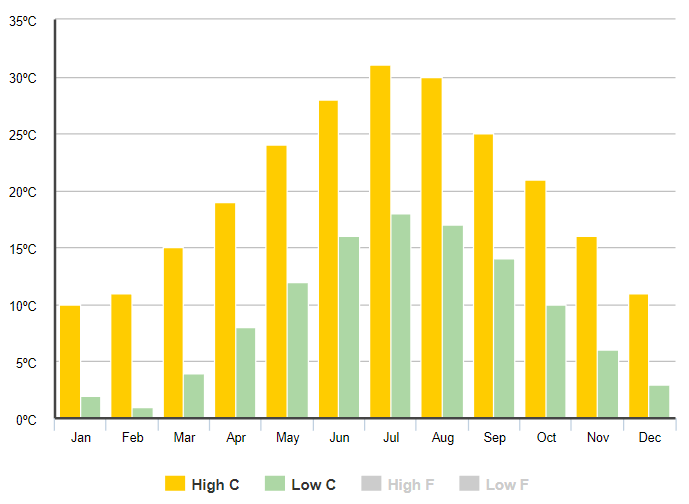 Rainfall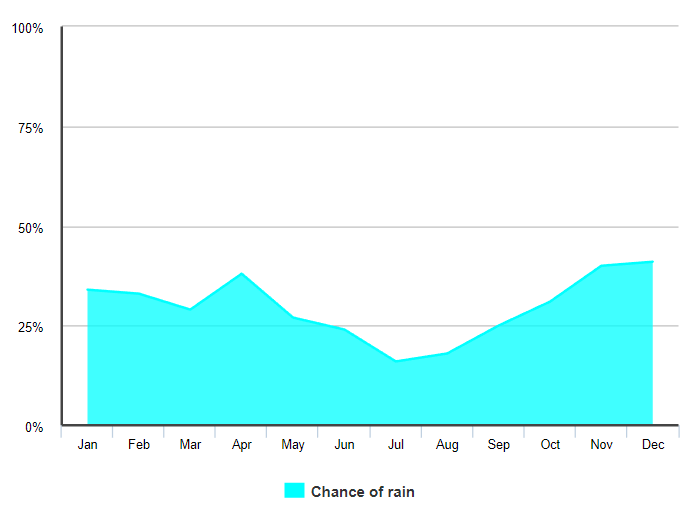 Daylight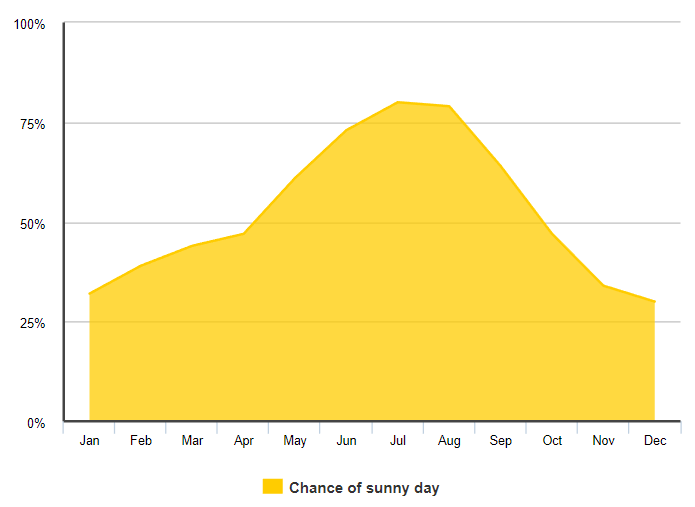 Advantages of Studying in Russia
Ingush State University has become a famous MBBS study-abroad Location for Indian students. Russia is the Country with the second-highest number of Indian students studying medicine. There is a whole range of reasons why MBBS is in Russian. Advantages and Disadvantages of studying in Russia:-
The tuition Fee is very affordable compared to Indian Medical Colleges.
Russian Universities have the best and Easy Admission Procedure.
They are Providing world-class infrastructure with modern facilities in colleges.
International Exposure for those who are also from Different country backgrounds.
V.I. Vernadsky Crimean Federal University works with great professionals, doctors and researchers. That's why Indian students will be admitted to Russia.
Disadvantages of Studying in Russia
Ingush State University also has some of the disadvantages. These points are mentioned below.
Local language going to any foreign country will mean that you have to adjust yourself according to the new country.
Some students find it hard to adjust to the cold climate or weather of Russia. The temperature will be below 0 degrees for about 3 to 4 months.
Cultural Hindrance is understandable that the student may find it difficult to adjust and adapt to the new country and culture.
Contact Details
Ingush State University, Russia
Address: 386001 Republic of Ingushetia, Magas-kt I.B. Zyazikova, 7
Phone: Call Now > +91 88596 37232 (For Indian Students)
Frequently Asked Questions (FAQ)
Where is Ingush State University Russia located?
Ingush State University is located at 386001 Republic of Ingushetia, Magas pr -kt I.B. Zyazikova, 7.
What scholarships and grants are available to students?
Various scholarships and service grants are available to deserving students. The Study Now, Pay Later Plan is also available on a case-to-case basis.
Does Ingush State University accept transferees?
Ingush State University accepts transferees on a case-to-case basis.
Carrier scope for Indian students after studying MBBS in Russia?
Is Russia Safe for Indian Students?
http://inggu.ru/, University Official Website ↩︎
https://www.nmc.org.in/, NMC Official Website ↩︎
https://www.who.int/, WHO Official Website ↩︎
https://en.wikipedia.org/wiki/Russian_ruble, Official Website ↩︎