Pskov State University Russia[1]: The university was Established in 2010 by the merger of two higher educational institutions (Pskov State Pedagogical University named after Sergei Mironovich Kirov, Pskov State Polytechnic Institute) and three secondary vocational educational institutions (Pskov Industrial College, Pskov College of Construction and Economics and Velikie Luki Construction College). Pskov State University is one of the Best Medical Colleges in Russia. The University is also known as PSU Russia.
In 2019, Pskov State University completed creating the first five scientific laboratories of a new type, researching nanotechnology, ecology, bioengineering, archaeology and economic security.
Pskov State University Russia
The Pskov State Medical University is to train highly qualified, competitive specialists with fundamental knowledge in the field of professional activity and general cultural competence in the interests of the economic, political, social, historical and cultural development of the Pskov region as a border region included in the partnership system of the Baltic Sea countries, taking into account the action of science-intensive and high-tech sectors of the economy, as well as the needs of the labour market of the North-West region.
Wants to Study MBBS Abroad from a top Country with low tution Fees? Subscribe Now!
College Summary
Before we go to complete the college Summary, let us have a look at the essential details of Pskov State University Russia.
Name of Institute
Pskov State University Russia
Popular Name
PSU Russia, Pskov State Medical University
Pskov State Medical University Location
Pskov Oblast, Russia[2]
Year of Establishment
2010
Institute Type
State
Language of Teaching
English/Russian
No. Of Faculties
200+
Approved by
NMC (National Medical Commission[3]), WHO[4]
Pskov State Medical University Courses offered
MBBS
Total enrollment
2000+
Pskov State Medical University Ranking
Country Rank: 174
World Rank: 5234
(Sources: UniRank)
Pskov State Medical University Official Website
www.pskgu.ru/
MBBS Russia at 10 Lakh
Enquire Now
Talk to our Abroad Counsellor
Call Now > +91-9999709233
Category
Medical Colleges in Russia
Affiliation, Recognition and Achievement
Student Support
The Pskov State Medical University Facilities are:-
| | |
| --- | --- |
| Anti Ragging | Counselling Services |
| Healthcare Services | Hostel |
| Report | Query |
| Local Language Learning Classes | NMC Screening Test Help Centre |
Facilities
The Pskov State Medical University Facilities are shown in the data mentioned below to the students who ensure their Pskov State Medical University Admission 2022:-
| | |
| --- | --- |
| Medical | Library |
| Auditorium | Hostel |
| Computer labs | Sports |
| Cafeteria | Laboratory |
NOTE: Pskov State Medical University Hostel provides students with well-furnished hostel rooms & with healthy, tasteful food. Pskov State University Application form can be provided to you through Pskov State Medical University Official Website if you are looking forward to admission to this university.
Courses Offered
Pskov State Medical University Courses offer quality medical programs under highly qualified faculty and state-of-the-art infrastructure. The College is famous for its undergraduate medical programs (MBBS).
Course offered
Duration
MBBS
6 Years (English Medium)
7 Years (Russian Medium)
Why Study MBBS At Pskov State University Russia?
Excellent and well-experienced faculty make learning a very guided and well-informed adventure.
Pskov State Medical University participates in various international events that are based on education and help students gain much more confidence in the outside world
The university has 56 various departments and 179 educational programs.
The cost of MBBS education at the Pskov State university is low & relatively affordable to each medical student. MBBS degree from the university is accepted globally.
It gives international students a chance to experience a whole new country and a varied learning experience.
No donation charges or any additional fee.
The university offers fundamental education with a broad outlook with an adequate research approach by providing highly qualified teaching staff.
It is recognized as one of Russia's oldest universities.
It helps students gain a creative edge by hosting a series of research projects.
The university has 22 training and laboratory buildings.
Faculty & Staff
The presence of a robust infrastructure distinguishes the Pskov State University: 22 educational and laboratory buildings, 11 student dormitories, the Student House, which includes a hostel and a medical rehabilitation centre with a university polyclinic, the Universal Swimming Pool, the Center for Student Initiatives, and the Student Engineering Center.
Admission Procedure
Russia has been one of the top preferred destinations for international students to pursue their Medical Degree Courses. If you too want to study MBBS at Pskov State University, check the eligibility below.
Eligibility Criteria
Age
Your age should be at least 17 years old on or before 31st December of the admission year.
*No Upper Age Limit.
Qualification
Class 12th in Science, with PCB and English subjects from a board recognized by the authorities in India.
Minimum Qualifying (%)
50% in 10+2 (UR)
45% (SC/OBC/ST)
Qualifying Entrance
NEET (Some Medical College offers Direct entry to a valid NEET Card Holder)
Medium of Teaching
English, Russian
Duration of Course
6 Years (English Medium)
7 Years (Russian Medium)
Low Budget Abroad In MBBS College
Enquire Now
Documents Required
Before taking admission at Pskov State Medical University, please do not forget to carry all these related documents.
Passport (Minimum 18 months validity).
10th Certificate & Mark sheet.
12th Certificate & Mark sheet.
Birth Certificate.
10 passport-size Photographs
Official Invitation letter from the Medical University of Russia.
Authorization of all documents from the Ministry of External Affairs, New Delhi[7].
Legalization of all documents from the Russian Embassy.
Visa fees.
Bank receipt of Pskov State Medical University Tuition fees (required for some Universities).
HIV test documents.
Fee Structure
The Pskov State Medical University fees 2022 or Pskov State University MBBS fees for the undergraduate medical course are stated in the section. Hence, for the Pskov State Medical University fee Structure, the data as mentioned below:-
| | |
| --- | --- |
| Particular | Annual Fee |
| Fee in USD (approx) | $ 4,400 |
| Fee in Indian Rupees (approx) | Rs.3,08,000 |
| Hostel in Rupees (approx) | Rs.31,500 |
| Total Fees | Rs.3,39,500 |
NOTE: Mentioned fee is approximate in nature, and it will be subject to change.
MBBS Syllabus in Russia
Before applying for Pskov State Medical University Russia, please compare the MBBS Syllabus of some of Russia's top-ranked, NMC-approved medical universities. The structure and the pattern of MBBS in Russia are as follows: You can see MBBS Syllabus in Russia PDF
Ranking and Reputation
The Pskov State University Ranking, as well as Pskov State University World Ranking, is mentioned below:-
| | |
| --- | --- |
| Name of Institute | Pskov State University Russia |
| Reputation | Good |
| Education | Good |
| Faculty | Good |
| Infrastructure | Excellent |
Pskov State University – Ranking 2022
According to 4icu.org, the following is the country and world ranking for Pskov State University :
| | |
| --- | --- |
| Country Rank | World Rank |
| 174 | 5234 |
About Russia
The Russian Federation is the largest of the 21 republic that makes up the Commonwealth of Independent States. It occupies most of Eastern Europe and North Asia, stretching from the Baltic Sea in the west to the Pacific Ocean in the east and from the Arctic Ocean in the north to the Black Sea and the Caucasus in the South.
Population
145,478,097
Area
16,376,870 Km² (6,323,142 mi²)
Capital City
Moscow
Other largest cities: Saint Petersburg, Novosibirsk, Yekaterinburg, Novgorod, Samara, Kazan etc.
Language
Russian[8]
Other Languages: Tatar, Ukrainian and Bashkir
Climate
Continental influenced by hot, dry summers and (very) cold winters (-30°C).
Literacy Rate
95% (Estimated)
Time Zone
UTC + 2:30
Currency
Russian Ruble (RUB)[9]
Religion
Christianity, Islam, Judaism, Buddhism etc.
About Pskov City
Pskov is a city in western Russia, near Estonia. It's known for the Pskov Krom, a citadel whose fortress and Holy Trinity Cathedral date from medieval times.
The estimates of the population of Pskov land in the middle of the 16th-century range from 150 to 300 thousand.
The climate of Pskov is humid continental (Köppen climate classification Dfb) with maritime influences due to the city's relative proximity to the Baltic Sea and the Gulf of Finland, with relatively mild (for Russia) but still quite a long winter and warm summer.
Temperature

Rainfall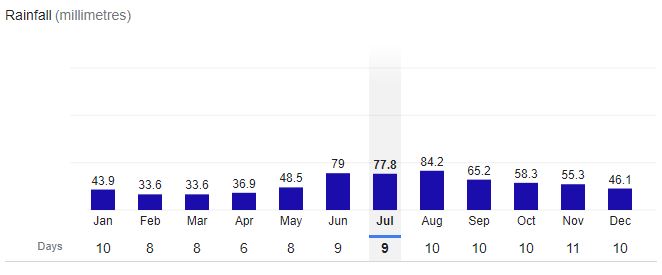 Daylight

Advantages of Studying in Russia
Pskov State University Has become a famous MBBS study-abroad Location for Indian students. Russia is the Country with the second-highest number of Indian students studying medical from There are a whole range of reasons why MBBS in Russian. Advantages and Disadvantages of studying in Russia:-
The tuition Fee is very affordable as compared to Indian Medical Colleges
Russian Universities have the best and Easy Admission Procedure
They are Providing world-class infrastructure with modern facilities in colleges
International Exposure for those who are also from Different country backgrounds
V.I. Vernadsky Crimean Federal University work with great professionals, doctors and researchers, that's why Indian students will take admission to Russia
Disadvantages of Studying in Russia
The Pskov State University also has some of the disadvantages these points are mentioned below.
Local language going to any foreign country will mean that you have to adjust yourself according to the new country
Some students find it hard to adjust to the cold climate or weather of Russia. The temperature will be below 0 degrees for about 3 to 4 months
Cultural Hindrance is understandable that the student may find it difficult to adjust and adapt to the new country and culture
Contact Details
Pskov State University, Russia
Address: Pskov, st. L. Tolstoy, building 4
Phone: +91-9999709233 (Indian Students)
E-mail: info@rmgoe.org
Frequently Asked Question(FAQ)
Where is Pskov State University Russia located?
Pskov State University Russia is located along Pskov, st. L. Tolstoy, building 4.
What scholarships and grants are available to students?
Various scholarships and service grants are available to deserving students. The Study Now, Pay Later Plan is also available on a case-to-case basis.
Q. Do PSU Russia transferees?
PSU Russia accepts transferees on a case-to-case basis.
Q. Can non-Catholics study and work at PSU Russia?
Yes, Pskov State Medical University Russia does not discriminate against the admission and employment of non-Catholics.
Q. Carrier scope for Indian students after studying MBBS in Russia?

Q. Is Russia safe for Indian Students?