Career in Physiotherapy: Physiotherapy is also known as Physical Treatment, one of the allied professions. It is a therapy provided by a physical therapist who promotes, maintains or restores health through physical examination, diagnosis, management, prognosis, patient education, physical intervention, rehabilitation, disease prevention, and health promotion. Physiotherapy is highly regarded as an advantageous and satisfying career option in medical sciences. Candidates who wish to skip the MBBS course may opt for something other than this course. Moreover, the duration of this course is less than that of the MBBS course.
Physiotherapists have thorough knowledge about the working of the human body and specialised firsthand clinical skills to assess symptoms, diagnose, and treat symptoms of illness, injury and disability. Physical therapy includes rehabilitation, injury prevention, and health and fitness promotion. They often work in teams with other health professionals to meet the needs of health care professionals. Through this article, the readers will learn about various aspects of a career in physiotherapy in India.
Quick Facts
Below is the short summary about the physiotherapy course, take look before reading the article to get a gist:
Particulars
Description
Course Name
BPT, BSc, BOT, BVSc, MPT, MSc, Master of Physiotherapy in Sports Therapy, DPT
Course Duration
2-5.5 years
Eligibility
UG: 10+2
PG: Bachelor's degree
Course Fee
34.27K – 6.96L
Average Salary
2.5L-7L
Career Options
Physiotherapists, Defence Medical Establishments, Sports Physiotherapists, Osteopaths
Recruiting Sector
Private and Government Sectors, Health Institutions, Sports Training Facilities, Sports Clubs, Defence Medical Organisations
What is Physiotherapy?
Physiotherapy is a healthcare profession where physiotherapists improve a range of conditions associated with a different system of the body, like back pain, sports injury, and arthritis injury. They work in a variety of specialism in social care as well as healthcare. Therefore it is defined as a treatment method which focuses on the science of movement and assists people in restoring, maintaining and maximising their physical strength, motion, function and overall well-being by addressing the underlying physical issues.
Subscribe Us to get Latest Updates from India's Top Universities.
Who is a Physiotherapist?
Physiotherapists are experts in movement and function who work in partnership with their patients. A physiotherapist can also help prevent further injuries by listening to patients' needs and expectations and working together to plan the most appropriate treatment for any individual condition, including setting goals and treatment outcomes.

Physiotherapists provide services that develop, maintain and restore people's maximum movement and functional ability. They can help people when movement and function are threatened by ageing, injury, diseases, disorders, conditions or environmental factors.
Various Physiotherapy Course in India
There are many courses which fall under the Physiotherapy category. Candidates can opt for the following courses as per their eligibility.
| Course Name | Duration |
| --- | --- |
| BPT (Bachelor of Physical Therapy) | 4 years |
| BSc (Bachelor of Science)in Physiotherapy | 3 years |
| BOT (Bachelor of Occupational Therapy) | 4.5 years |
| BVSc (Bachelor of Veterinary Medicine) | 5.5 years |
| MPT (Master of Physical Therapy) | 2 years |
| MSc (Master of Science) in Physiotherapy | 2 years |
| Master of Physiotherapy in Sports Therapy | 2 years |
| DPT (Diploma in Physiotherapy) | 3 years |
Admission Procedure
A student can apply for the physiotherapy course after 10+2/ 12th with a science major by appearing in an entrance exam of the chosen college as some universities conduct entrance exam for the course. The following is the admission for physiotherapy course
| Course Level | Description |
| --- | --- |
| UG | CET (Common Entrance Test), AIMEE (All India Medical Entrance Examination), NEET (in states like Maharashtra, Andhra Pradesh) |
| PG | NEET PG, DSAT and IPU CET. |
Eligibility Criteria
There are certain eligibility criteria that candidates have to follow while pursuing a Physiotherapy course:
Eligibility Criteria for UG
The following are the eligibility criteria for undergraduation in physiotherapy course:
| Particulars | Description |
| --- | --- |
| Age Limit | The minimum age limit is 17 years |
| Qualification | 10+2 with at least 50% aggregate marks with Physics, Chemistry, Biology and english as core subjects |
| Qualifying Entrance Exam | Entrance-based courses like IPU CET BPT, AIMEE and LPUNEST. |
Eligibility Criteria for PG
The following are the eligibility criteria for postgraduation in physiotherapy course:
| Particulars | Description |
| --- | --- |
| Qualification | Bachelor's degree from a recognized college |
| Qualifying Marks | A minimum of 50% aggregate marks in bachelor's degree |
Top Colleges for Physiotherapy Courses in India
Many institutions offer Physiotherapy courses, given below are the top colleges offering the course:
| College Name | State | Fees |
| --- | --- | --- |
| Christian Medical College (CMC) | Vellore | 34.27K |
| Jamia Hamdard University | New Delhi | 1.65L |
| Sri Ramachandra Institute of Higher Education and Research | Chennai | 1.25L |
| Saveetha University | Chennai | 3L |
| LPU | Punjab | 6.40L |
| D.Y. Patil Vidyapeeth | Maharashtra | 3.24L |
| Chandigarh University | Punjab | 5.49L |
| SRM IST Chennai | Tamil Nadu | 7L |
| Amity University | Noida | 6.96L |
| Jamia Millia Islamia University | New Delhi | 86.5K |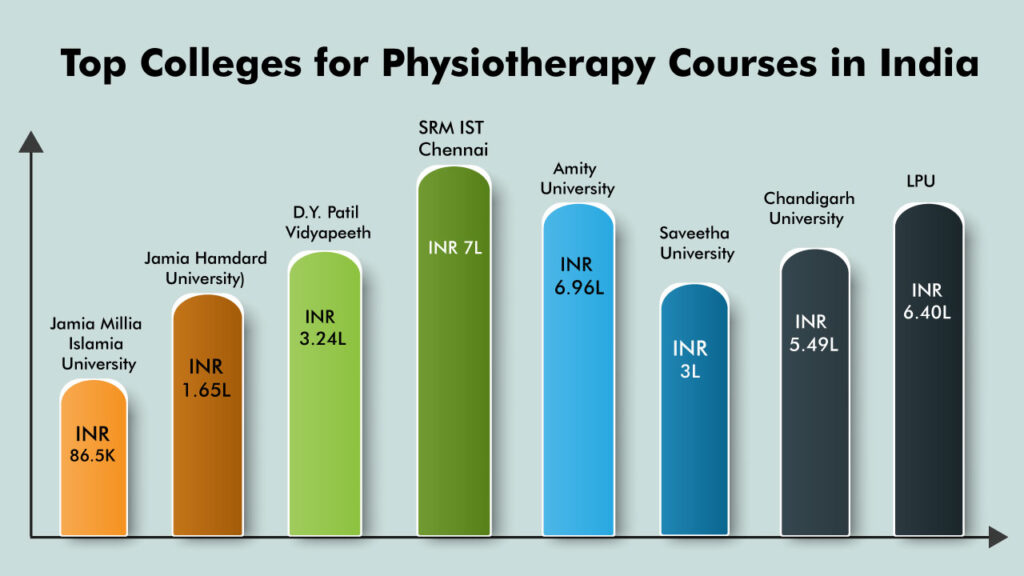 Career Opportunities for Physiotherapy Course
As the fastest growing industry in India, there are many job opportunities for medical students as Physiotherapy plays a considerable role in the Hospital scenario. Physiotherapy offers various job opportunities in the healthcare industry prescribing remedial exercises, physical treatment by electrotherapy modalities and muscle strength evaluation. The physiotherapy course provides many possibilities to start a career. A physiotherapist can practice in Government and Private Hospitals as consultants in sports academies or healthcare facilities.
Types of Physiotherapists
The following are types of physiotherapists:
| | |
| --- | --- |
| Physiotherapist | Defence Medical Establishments |
| Sports Physiotherapist | Osteopath |
| Neurological Physiotherapist | Researcher |
Job Profile
After completing one's studies, aspiring candidates can choose from the following options to take up as a job:
| Job Profile | Description |
| --- | --- |
| Sports Physiotherapist | Sports Physiotherapists perform all standard duties of a Sports Physiotherapist for outpatient care as per current ethical and industry standards. They design and deliver tailored treatments as well as programs, including return-to-play preparation, exercise testing and more. They soundly communicate and collaborate with the rest of the team to ensure complete and quality treatment for each patient. They are required to bring in new clients to the centre and cultivate relationships with partner doctors, coaches, sports clubs and federations as well as responsible for professionally representing the centre at sporting, arts, and other networking events. |
| Paediatrics Physiotherapist | Paediatrics Physiotherapist are accountable of rehabilitating children after illness or injury. They are required They are required to assess and treat infants, children and adolescents with developmental, congenital and neuromuscular disorders and those recovering from trauma using special instruments. Furthermore, qualitative and quantitative assessment methods, including standardised tests, to analyse and diagnose the nature and extent of the defect. They are responsible for treating children with poor coordination, developmental delays, cerebral palsy, down syndrome, autism and many other diagnoses, working with family members to identify and change disruptive behaviours. |
| Geriatric physiotherapist | Geriatric physiotherapist focuses on the complex movement needs of elderly patients and helps them achieve or maintain a high level of physical health as they age by focusing on problems such as arthritis, osteoporosis, Alzheimer's disease, and joint soreness. |
| Women's health specialist | Women's health specialists are physiotherapists whose primary focus is treating conditions related to the female reproductive system, childbirth, and prenatal and postnatal care. Women's Health Specialists are responsible for the expert handling of complex medical diagnostic tests and services for medical professionals and various laboratory customers. |
Role of a Physiotherapist
The following are the roles of a physiotherapists:
Devising treatment plans to tackle the conditions and needs of patients.
Administering complex mobilisation techniques.
Aiding trauma patients.
Educating the community, patients and family members on how to prevent injuries and live a healthy lifestyle.
Plan and organise physiotherapy and fitness program.
Using specialist techniques such as electrotherapy and ultrasound.
Collecting statistics.
Writing reports.
Liaising with professionals such as doctors and nurses.
Providing education and advice about exercise and movement.
Keeping up to date with the latest advancements in the profession.
Skills of a Physiotherapist
Aspiring candidates should possess the following skills to be a physiotherapist:
Communication skills
Good time management
Interpersonal skills
Tolerance
Patience
Good physical health and fitness
Interpersonal skills
Teamworking skills
Average Salary for Physiotherapy
Following are some essential profiles with an average salaries in the Physiotherapy field:
| Job Profile | Average Salary |
| --- | --- |
| Lecturer | INR 6L |
| Physiotherapist | INR 7L |
| Therapy Manager | INR 2.5L |
| Sports Physio Rehabilitator | INR 5L |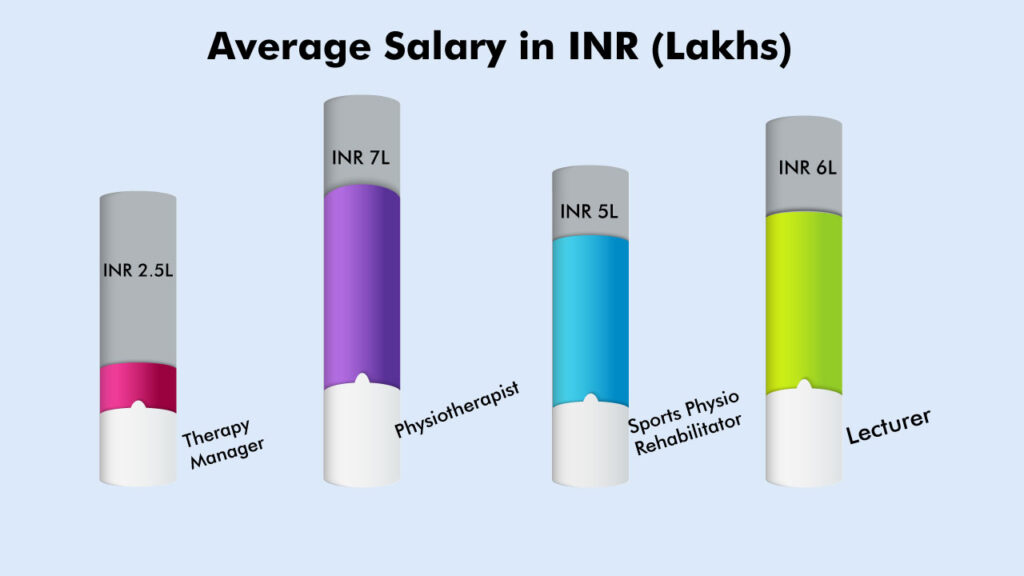 Recruiting Sector
The following are some of the recruiting sectors where physiotherapists can work:
| | |
| --- | --- |
| Private and Government Sectors | Health Institutions |
| Sports Training Facilities | Sports Clubs |
| Defence Medical Organisations | Colleges and Universities |
| Orthopaedic Department | Gyms and Fitness Centres |
Frequently Asked Questions (FAQs)
Which field is best for science students with Biology (PCB)?
What are some of the best career options for a Science student?
 Check out our list of the top 7 highest paying science careers for inspiration to guide your science career journey.
>Geoscientists
>Atmospheric Scientists
>Biochemists and biophysicists
>Medical Scientists
>Hydrologist
Which job is best for Physiotherapy?
There are various job profiles from which aspiring candidates can choose from, some of them are given below:
>Lecturer
>Researcher
>Sports Physiotherapist
>Physiotherapist
Is Physiotherapy a high-paying job?
The average salary of a physiotherapist is Rs 7 Lakhs.
Is a physiotherapist called a doctor?
No, a physiotherapist is not called a doctor and cannot use the prefix "Dr".
Is BPT better than MBBS?
An MBBS course has better scope in a career than physiotherapy
Which type of Physiotherapy is best for girls?
BPT is best for girls due to its working pattern and vast career opportunities.
Which kind of Physiotherapist earns the most?
The following are the types of Physiotherapist that earns the most:
>Sports medicine
>Paediatrics
>Geriatrics
>Neurology
What are the skills required by a Physiotherapist?
The following are the skills requires by a Physiotherapist:
>Time Management
>Patience
>Tolerance
>Good physical health and fitness
>Teamwork
>Communication skills
>Multi-tasking skills
Read Also: