Career in Ayurveda Courses: We have so many treatment methods available in India, and still, people are unaware of most of them. Ayurveda Courses in India are the most popular among them and are coming under light at a faster pace. Nowadays, people are finding Ayurveda medicine more reliable and trustworthy. The main ideology behind Ayurveda derived from the ancient accounts of medical knowledge, which were transformed from gods to sages and human physicians.
The Ayurveda book has specified how a person gets affected by a disease and how medicines work in their body. Now, let's look at what it is like to be in ayurvedic medicine courses and have a degree in Ayurveda.
Quick Facts
The following is a quick summary of the Ayurveda course:
Particulars
Description
Course Name
Bachelor of Ayurvedic Medicine and Surgery (BAMS)
B. Pharm (Ayurveda)
BSc Nursing (Ayurveda)
MS/MD in Ayurveda
PhD in Ayurveda
Course Duration
UG: 5.5 Years
PG: 3 Years
PhD: 3-5 Years
Eligibility
UG: 10+2 with 50% marks
PG: BAMS degree
Average Fees
INR 22.37K
Career Opportunities
Medical Representative, Product Manager, Pharmacist, Resident Medical Officer
Recruiting Sectors
Education industry, Medical industry, Tourism industry, Pharmaceutical industry, Healthcare industry and Insurance industry.
Recruiting Companies
Patanjali Ayurved Limited
Dabur
The Himalaya Drug Company
Zandu Pharmaceuticals Works Limited
Surya Herbal Limited
What is an Ayurveda?
Ayurveda is an alternative medicine system with historical roots in the Indian subcontinent. It's based on the belief that health and wellness depend on a delicate balance between the mind, body and spirit. Its main goal is to promote good health, not fight disease. But treatments may be geared toward specific health problems.
Subscribe Us to get Latest Updates from India's Top Universities.
Ayurveda therapies have varied and evolved over more than two millennia. Therapies include herbal medicines, special diets, meditation, yoga, massage, laxatives, enemas, and medical oils. Ayurvedic preparations are typically based on complex herbal compounds, minerals, and metal substances.
Why Ayurveda?
Ayurveda combines the words Ayu and Veda, meaning the knowledge of life. It includes all aspects of life and the environment through mind consciousness. It works by tridosha (Vata, Pitta, Kapha), which has been validated with 90% certainty in a biostatistical study. To learn more about Ayurveda, click here.
Who is an Ayurvedic Doctor?
An Ayurvedic doctor is a medic who specialises in providing medical care and ayurvedic surgical support to people using herbal remedies and tinctures as per the recommendations of the traditional Hindu system of medicine – Ayurveda.
Ayurvedic doctors will use herbal medicines and dietary practices, touch, colour, aromatherapy, and sound therapy to heal your patients. There are medical subspecialty areas in which Ayurveda is actively used, such as internal medicine, surgery, psychiatry, ENT, gynaecology, sexual vitality, toxicology, obstetrics and paediatrics etc.
Various Ayurveda Courses in India
The following are the Ayurveda courses in India along with it's duration:
| Course Name | Duration |
| --- | --- |
| Bachelor of Ayurvedic Medicine and Surgery (BAMS) | 5.5 years |
| B. Pharm (Ayurveda) | 4 years |
| BSc Nursing (Ayurveda) | 4 years |
| MS/MD in Ayurveda | 3 years |
| PhD in Ayurveda | 3-5 years |
How to get admission to Ayurveda Course?
Aspiring candidates should have passed from 10+2 with a minimum of 50% aggregate marks in the science stream (PCB) to be eligible for the Ayurveda course.
Candidates should have a NEET scorecard required for undergraduate courses. After qualifying NEET examination, candidates must participate in Ayush NEET Counselling conducted by AACCC Central Counselling (AACCC) or State Counselling (AYUSH Dept. of respective State).
For postgraduation, candidates should have an AIAPGET scorecard.
Eligibility Criteria
While taking admission to any course, there are certain eligibility criteria that the candidates have to follow. Similarly, there are various criteria for the Ayurveda course as well.
Eligibility Criteria for UG
The following are the eligibility criteria for undergraduate Ayurveda courses:
| Particulars | Description |
| --- | --- |
| Age Limit | The minimum age limit is 17 years. |
| Qualification | 10+2 with a minimum of 50% aggregate marks in the science stream |
| Qualifying Entrance Exam | NEET |
Eligibility Criteria for PG
The following are the eligibility criteria for postgraduate Ayurveda courses:
| Particulars | Description |
| --- | --- |
| Qualification | BAMS degree |
| Qualifying Entrance Exam | AIAPGET |
Top Colleges for Ayurveda Courses
The following are the top colleges for Ayurveda courses:
State-Wise Ayurveda Colleges in India
Here's a list of state-wise colleges for BAMS courses:
Career Opportunities of Ayurveda
The demands for Ayurvedic doctors are nowadays heavy, and thus the scope is vast. The main thing that differentiates Ayurveda from all other medical branches is the lack of side effects after treatment. This has resulted in a massive rise in the demand for Ayurvedic doctors in India and foreign countries.
One can quickly get a high-paid job after doing courses in ayurvedic medicine. Nowadays, Ayurveda has expanded to surgical fields, too, thus giving rise to Ayurveda job vacancies. There are a huge demand and jobs for BAMS doctors abroad.
Job Profile
The following are the job profile for ayurveda courses:
| | |
| --- | --- |
| Sales representatives | Therapist |
| Scientist | Sales Executive |
| Medical Representative | Product Manager |
| Pharmacist | Resident Medical Officer |
| Business development officer | Category manager |
| Ayurvedic doctor | Lecturer |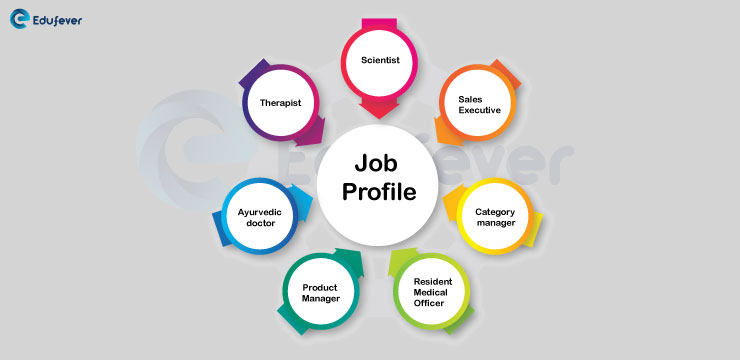 Roles of an Ayurvedic Doctor
The following are the roles of an Ayurvedic doctor:
Consulting visiting patients
Obtaining consent from the patient
Avoiding negligence and experimentation
Providing adequate guidance to patients
Keeping track and record of the health of patients
Skills to be an Ayurvedic Doctor
The following are skills to be an Ayurvedic doctor:
Phenomenal management skills.
Good counselling skills.
Communication Skills
Decision-making skills
Research Skills
Life of an Ayurvedic Doctor
After graduating, students usually go for further studies like post-graduation or research to train themselves well. Great job opportunities are available for Ayurvedic doctors in the government and private sectors. Some well-trained doctors may develop their clinics for research and treatments.
According to the person's skills and interests, the job may vary. Some people may prefer teaching at Ayurveda colleges after doing post-graduation in Ayurveda. Having a degree in Ayurveda, it is legal to work anywhere in India.
Average Salary
Since pursuing an MD or MS in Ayurveda is required, candidates who pass the neet entrance exam typically choose the BAMS undergraduate programme. Graduates can expand their skills in a particular field by enrolling in 1-2 year-long diploma programmes.
Degree-Wise
The following is the degree-wise average salary:
| Degrees | Average Salary (INR) |
| --- | --- |
| Diploma Degree | INR 2-6 Lakh per annum. |
| Undergraduate Degree | INR 2- 15 Lakh per annum. |
| Postgraduate Degree | INR 4 – 20 Lakh per annum |
Experience-wise
As the experience increases in the field of Ayurveda practice, salary also increases. The following is the experience-wise average salary:
| Years of Experience | Average Salary (INR) |
| --- | --- |
| 0 – 5 years | INR 3.3 – 3.7 Lakh per annum. |
| 5 – 10 years | INR 4.3 – 12.8 Lakh per annum |
| 10 – 15 years | INR 4.5 – 13.4 Lakh per annum |
| 20 years & above | INR 5.1 – 16.4 Lakh per annum |
Recruiting Sectors
The following are the recruiting sectors for Ayurveda courses:
| | |
| --- | --- |
| Education industry. | Medical Tourism industry. |
| Pharmaceutical industry. | Healthcare industry. |
| Insurance industry. | Nursing |
| Life Science industry. | Research Centre |
Recruiting Companies
The following are the recruiting companies for Ayurveda courses:
| | |
| --- | --- |
| Patanjali Ayurved Limited | Dabur |
| The Himalaya Drug Company | Zandu Pharmaceuticals Works Limited |
| Surya Herbal Limited | Vicco Laboratories |
| Charak Pharma Private Limited | Emami Limited |
Frequently Asked Questions (FAQs)
Which field is best for science students with Biology (PCB)?
What are some of the best career options for a Science student?
Check out our list of the top 7 highest paying science careers for inspiration to guide your science career journey.
>Geoscientists
>Atmospheric Scientists
>Biochemists and biophysicists
>Medical Scientists
>Hydrologist
Is Ayurveda a good career option?
After BAMS, if you get a job in Government Ayurvedic Hospital, you will get the same salary as an MBBS doctor; in private practice in Rural and Semi-urban areas, BAMS doctors sell medicines and get good commissions.
There is an MD (Ayurveda); after that, you can get teachings posts in Ayurvedic Medical Colleges Ayurveda is safe, and medicines will never kill patients. BAMS people prescribe modern medication (not legal )and make money in many places.
Is it compulsory to take the PCMB if I want to study Ayurveda, or is it possible to take commerce?
Yes, taking PCMB or PCB is necessary because Ayurveda is a science, and BAMS is a professional degree. Hence, you need a science background in Ayurveda, especially biology.
What are the best study tips for BAMS (Ayurveda students)?
The Best Study Tips for BAMS (Ayurveda students) are listed below:
Decide to practice pure Ayurveda.
1. Regularly Attend the clinic of a pure Ayurveda practitioner as an observer after college hours. Start learning practice skills there in the first year. Ask questions. Follow his/her instructions for study.
2. Gain basic knowledge of the Sanskrit language and start reading original Sanskrit texts (Bruhatrayi) with available Sanskrit tikas. Gradually your understanding of Sanskrit will go on improving. Please continue until you start understanding.
3. Mug up Important shlokas first. Then learn a technique of drawing meaning out of a shloka. Get help from your Sanskrit teacher. Once you learn a method, you can do it on your own. For difficult words, refer to several paragraphs from original Sanskrit commentaries.
4. It is essential to understand original Samhitas as they are to understand Ayurveda.
As for extracurricular activities, you may start preparing some formulations, visit herbal gardens regularly, assist in health check-up camps etc.
Can I do an MD in Ayurveda after an MBBS?
Nope!! The Basic Requirement for MD/MS in Ayurveda is a BAMS UG course. After BAMS with a Mandatory Internship, You Have To Appear For an AIAPGET to Pursue MD/MS Courses. But some MBBS Doctors prescribe Ayurvedic medicine like LIV 52, Shatavri, & many more.
How do I integrate Ayurveda into modern medicine?
You can integrate anything into anything. But integrating Ayurveda into "modern medicine" is a crazy idea. Because every treatment system is based on some principles and follows its methodology, it is unique in itself. So the best thing you can do is to master your system well. Practice it with pride.
And in case you are not happy with practising Ayurveda, join MBBS and become an Allopathic doctor. Integrating two systems is never a good idea. The product, after integrating two systems, will be like eunuchs.
What are the benefits of Ayurveda?
The benefits of Ayurveda are listed below:
>Ayurveda achieves rejuvenation through various body purification processes (shodhana), which the ancient hermits/ascetics adopted. These are known as detoxification in modern science. After detoxification, Rasayana (rejuvenation) therapy was initiated to revive the ageing body further.
>The precise selection of Divya herbs and then the action of each plant was determined by the doctrine of Rasa, Virya, Vipaca, Guna, and Karma of the plant.
>Rasayanas were; thus, specific remedies for rejuvenation, especially for the aged and were so powerful that they could also treat incurable diseases.
>With this therapy, however inactive, all tissues, glands, and organs started to function harmoniously.
Read Also: