Why is MBBS Study in Bangladesh Better than Russia: Choosing the ideal nation, for this reason, is a crucial next step if you have opted to pursue an MBBS degree abroad. Bangladesh is the finest option if you seek MBBS programmes with inexpensive tuition fees. Bangladesh boasts one of the greatest MBBS programmes in the world, despite the cost being significantly lower than other universities in other nations.
Most Indians who want to obtain an MBBS degree go to Russia. However, you don't need to travel so far to attend a top medical school because Bangladesh is a good option. In this nation, there are 83 prominent medical schools, including 29 public and 54 private institutions. You'll have a lot of leeway in selecting the college that best meets your needs. Studying medicine in Bangladesh may be the greatest choice for your future for the following reasons.
The goal of the MBBS programme in Bangladesh is to provide students with high-quality education and training so they may contribute to expanding the health and medical industries. The curriculum promotes teamwork, medical, scientific inquiry, and lifelong learning among the students. The instruction used includes various pedagogy/learning techniques that cater to the different learning styles of a multicultural student body, such as lectures, small group instruction, computer workshops, laboratory classes, and more.
Wants to Study MBBS Abroad from a top Country with low tution Fees? Subscribe Now!
Because of Bangladesh's high standard of education, MBBS is a comparatively good option. Students from worldwide enjoy studying in  Bangladesh. According to reports, MBBS in Bangladesh is ranked second to MBBS in India. Studying in Bangladesh offers the extra benefit of being culturally like India, including food. The affordable tuition fees at Bangladesh's medical colleges are the main pros for MBBS students.
Why MBBS in Bangladesh is Benefits for International Students (Top Reasons)
Here are the reasons why an MBBS degree in Bangladesh is the Best choice for international students:
Reason 1
Educational standards are excellent and comparable to other developed countries. The cost of an entire MBBS course in Bangladesh is quite affordable compared to other countries worldwide.
Reason 2
Graduates of medical colleges in Bangladesh are allowed to attend various international seminars and conferences. This will help them grow as successful doctors.
Reason 3
Bangladesh has world-class medical colleges offering world-class education, high-quality standards, and experienced staff.
Reason 4
NMC recognises MBBS degrees and other medical degrees from medical colleges in Bangladesh.
Reason 5
Students from India can come back and work in India. Accommodation is very affordable with quality standards and facilities.
Advantages of studying MBBS in Bangladesh
Advantages can differ for every individual, so here is the list of general advantages of studying MBBS in Bangladesh :
1. Practical Clinical Knowledge
The medical institutions' abundance of hospital beds allows the students to gain practical clinical knowledge about a greater variety of patients. Some government colleges have hospitals with close to 1000 beds. Thus, a large number of patients are presented to the pupils. They gain valuable, applicable knowledge from this. Students can also learn a lot about various patients, thanks to this.
2. Hostel Accommodations
International students can stay in hostels at almost all government and private medical colleges in Bangladesh. Internationally recognised hostels are available at some colleges. The majority of hostels serve students hygienic food. A few colleges provide housing options that are both on and off-campus. For boys and girls, several colleges offer separate dorms. For boys and girls, several colleges offer separate dorms. Additionally, private colleges offer dorms with all current amenities.
3. Better Chance to Pass NMC Screening Test
To practice medicine in India, foreign MBBS graduates must pass the NMC screening test to practice medicine in India. The curriculum you study in Bangladesh is very similar to that of India, so you are more likely to pass the exam. A textbook by the same Indian author, followed by a medical student. Also, medical cases are about the same in both countries. This means that once you pass the tests and get your medical license in India, you will have a greater understanding and experience of the cases you can work on as a doctor. The same MBBS syllabus, book, NMC syllabus, study pattern, and exam pattern make it easy to pass FMGE (NMCScreening Test).
4. Teaching in English
Teaching is done in English in medical schools. Therefore, language instruction is not required for international students. Asian students have little trouble understanding English. They have no difficulty understanding lecturers or interacting with peers.
5. Cheaper living cost
MBBS rates in Bangladesh are among the cheapest in the world. Even cheaper than MBBS rates in India. Also, the cost of living is about the same as in India. It is a good option for those who want to practice medicine but cannot afford the high tuition fees.
6. Similar Culture and Languages
One of the biggest challenges of studying abroad is the cultural shock and language barrier. Focusing on the medical school can become even more difficult as you adjust to a new environment and learn a new language. You do not have to experience all these difficulties when studying MBBS in Bangladesh. Bangladesh has the same culture and climate as India, so you will not experience culture shock. Yes, classes are also taught in English in Russia and China, but the accents can be very different and challenging to understand. For the above reasons, joining MBBS in Bangladesh is a good decision for your future. You can get a quality medical degree with a meagre tuition fee.
MBBS in Bangladesh Seat Reservation Criteria
Reservation of seats for International students in medical universities of Bangladesh for MBBS; let's look.
| Reservation of Seats for International students | No. of Seats |
| --- | --- |
| Government Medical Universities | 75% seats |
| Private Medical Universities | 25% seats |
Seat Reservation Criteria (Graphical Representation)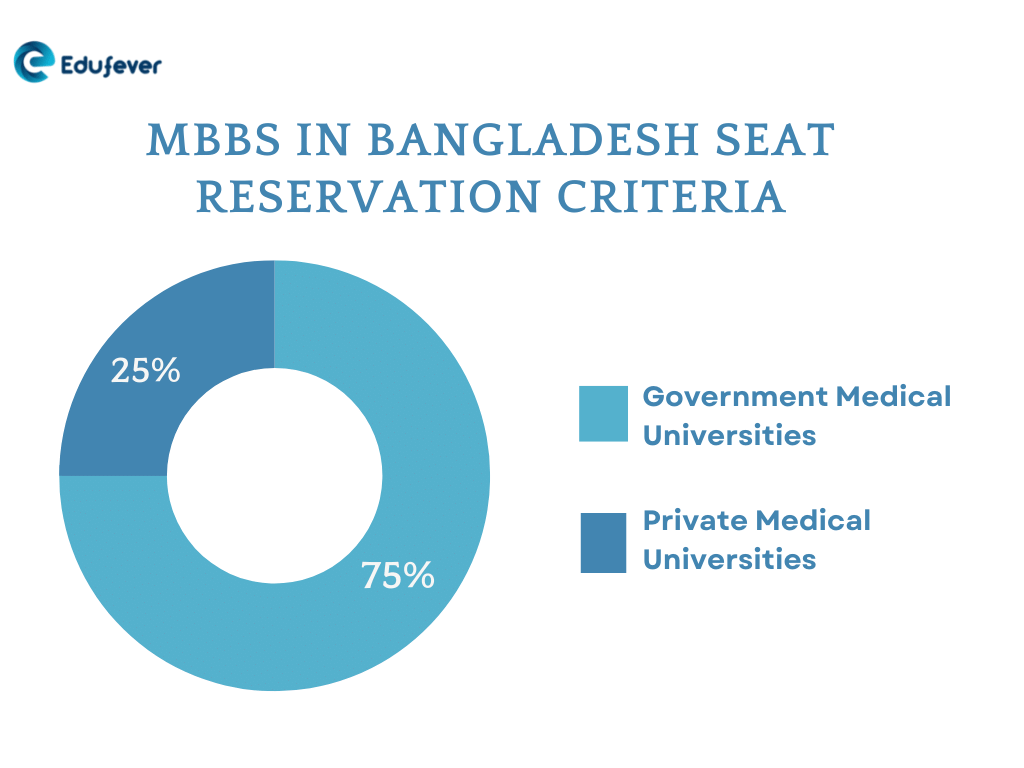 Russia and Bangladesh's Top Universities Fee Comparison
An essential reason international students choose Bangladesh for MBBS is the affordable fee structure of medical universities. Here is the fee structure comparison between top medical universities in Russia and Bangladesh.
| Top MBBS Universities in Bangladesh | Total MBBS Fees in INR | Top MBBS Universities in Russia | Total MBBS Fees in INR |
| --- | --- | --- | --- |
| University of Chittagong | Rs.25,20,000 | Kursk State Medical University | 26,40,000 |
| Shahjalal University of Science & Technology | Rs.26,60,000 | Volgograd State Medical University | 28,80,000 |
| Bangladesh University of Professionals | Rs.30,17,000 | Kazan State Medical University | 3,360,000 |
| University of Science and Technology | Rs.25,20,000 | First Moscow State Medical University | 48,00,000 |
| Gono Bishwabiddyalay (Gono University) | Rs.22,40,000 | Northern State Medical University | 26,40,000 |
MBBS Fee Structure Comparison of Russia and Bangladesh (Graphical Representation)
Conclusion
Apart from that, Russia is also the best option for studying MBBS; there are various career scopes after MBBS in Russia for Indian Students, and you can choose MBBS in Russia to pursue your medical degree at a low cost.
Frequently Asked Questions (FAQs)
Which Country is best for MBBS? RUSSIA OR Bangladesh?
If we compare Bangladesh and Russia, Bangladesh will be the better option for studying MBBS as it has low tuition fees as compared to Russia and other countries, and it provides high-quality education on a budget.
Top universities of Bangladesh for MBBS on a low budget?
Why do Indian students prefer to study MBBS in Bangladesh?
Indian students prefer to study MBBS in Bangladesh because of these reasons :
1. Affordable Tuition fee
2. Similar climate to India
3. No Language Barrier
Is MBBS in Bangladesh Good Choice for Indian students?
Definitely, Bangladesh is the best choice for Indian students to study MBBS because of its low tuition fees, No language barrier and high-quality education.
Can you study MBBS in Bangladesh without qualifying NEET exam?
No, Candidates have to qualify NEET exam to study for MBBS in Bangladesh.