Nalanda Medical College Patna is one of the oldest Government Medical Colleges in Patna Bihar, which is most popularly known as NMCH Patna, located at Patna Bihar. It was established in the year 1970. Nalanda Medical College aims to provide high-quality education for Medical and Science. NMCH Patna is one of the premier and leading colleges of Bihar. The College is affiliated with the Aryabhatta Knowledge University, Patna and approved by the Medical Council of India.
Throughout this article, we are going to share all the essential details about Nalanda Medical College Patna like Affiliations, Admission Process, Courses, Cutoff Details, Eligibility Criteria, Fee Structure, Review, Ranking, etc.
Download Hand Written Notes for NEET-UG 2020 Examination Click Here
NEET UG 2020 Resources
Nalanda Medical College Patna
College Summary
Before we go to complete college review, let us have a look at the major details of Nalanda Medical College Patna (NMCH Patna)
Affiliation, Recognition, and Achievement
Affiliated with:- Aryabhatta Knowledge University, Patna
Approved by:- Medical Council Of India (MCI)
Aid Status:- Government
Read Also: 7 Courses To Pursue After Class 12th If You Love Medicine.
Facilities
Medical Centers
Seminar Hall
Students Placement
College Student's Council
library
shuttle
A/c Classrooms
sports
Auditorium
Laboratory
Computer lab
NEET UG 2020 Registration Statistics
Preparing for NEET 2020-21-22? Try these NEET Topper's Notes & Study Materials
Courses Offered
Nalanda Medical College Patna (NMCH Patna) offers quality medical programs under the supervision of highly qualified faculty and state of the art infrastructure. The College is famous for its undergraduate medical programs (MBBS).
Under-Graduate Course
NMCH Patna provides quality of education and offers the following UG course.
Post Graduate Courses
NMCH Patna provides quality of education and offers the following PG courses duration of 3 Years.
NEET PG 2020 Resources
Faculty & Staff
Nalanda Medical College Patna (NMCH Patna) provides a good ratio of well trained and highly educated faculty members equipped with all the modern technology. It also provides sufficient numbers of non-technical staff to provide an ambience of self-learning to the students. The college is committed to uplift the health care education and output delivery system for the people of the country.
Admission Process
Below mentioned the Admission procedure for the important courses which come under Nalanda Medical College Patna (NMCH Patna). The candidate requested to go through with the given instructions.
For Admission in UG, courses Candidate can apply to the college through their NEET UG Medical Scorecard.
For Admission in PG, courses Candidate can apply to the college through their NEET PG Medical Scorecard.
Admission Seekers must full fill all the required eligibility criteria made under the admission Guidelines.
Age Criteria
Aspirants should have completed the minimum age of 17 years at the time of admission or will complete that age on or before 31st December of the year of his/her admission to the 1st year MBBS/ BDS Course.
Preparing for admission at Nalanda Medical College Patna? Ask your admission related queries here: Click Here
Read Also: MBBS in Armenia. Is it the most economical destination for Indian students to study MBBS abroad in 2020?
Sample Papers
Here have to provide NEET-UG 2020 Sample Papers that will help you to crack NEET-UG 2020 examination.
Physics Sample Papers
Read Also: MBBS Vs BDS Vs BAMS Vs BHMS: Which Medical Course Is Right For You In 2020?
Chemistry Sample Papers
Read Also: MBBS From Abroad-Is It The Best Options For Indian Students in 2020?
Biology Sample Papers
NOTE:- To see more sample papers follow this link.
Want to score's 600+marks in NEET 2020? Try these Topper's Notes & Study Material-
Eligibility Criteria
Here, below we provide the Eligibility criteria of the mentioned program for NMCH Patna. It would be great to meet this criterion to get into this college.
Fee Structure
Here, we have mentioned the fee structure along with the respective courses for only NMCH Patna, to go through with this information before filling the application form.
Note: The fee structure may subject to change.
Wants to Study in Top Medical Colleges in India/Abroad?
(Call Now):- +91-9873056333
Scholarship
The scholarships recognize merit and talent of students. Students may apply for the Scholarships at the beginning of the academic year. College may offer a scholarship to a deserving candidate under the following categories.
College / University Merit Scholarships.
Students belonging to the economically weaker sections may ask for fee concession (*depends on the college administrations).
Merit cum means based scholarships are also awarded by the college to deserving students.
Merit & National Scholarships for brilliant students under Central & State Govt.
NOTE:- Check the various Top scholarship scheme in India
Apart from these scholarship schemes, one can also apply for various educational loan offered by banks in India. You may also check these popular educational loans.
Cutoff
NEET UG 2020 Cutoff
Aspirants are required to obtain minimum qualifying percentile marks in NEET 2020 entrance examination in order to qualify for further admission process
Candidates who belong to SC/ ST/ OBC are required to obtain marks equivalent to at least 40thpercentile to be considered for AIQ and state counseling process.
Aspirants who belong to UR category are required to score equivalent to at least 50thpercentile
Read Also: 10 Best Tips On How To Select The Best Medical College For MBBS Abroad Programme.
NEET 2020 Cutoff Aakash (
Released

)

Here in this section, you can get the NEET UG 2020 Cutoff score which will be released by Aakash Institute, let's have a look

Read Also: The Best Oversea Country To Study MBBS Abroad After 10+2.
NMCH Patna Cutoff 2019
Read also: Top 7 Best European Country To Study MBBS For Indian Students Without Any Entrance Exam.
NEET PG Cutoff
To take admission in all India medical colleges for PG courses you have to meet the cutoff score with following given NEET cutoff score and percentile.
PG Cutoff 2020 (Expected)
Minimum Qualifying Percentile
NEET PG 2019 Cutoff
Read Also: Looking for Reasons Why Choose Ukraine To Study MBBS? We, Will, Give You 10.
I want to know Category wise Cutoff of Nalanda Medical College Patna, Please help me! (Click Here to know more…)
Bihar NEET 2020 Counselling
UG Counselling
A candidate can visit the official portal of Bihar Combined Entrance Competitive Examination Board to get themselves registered for NEET 2020 Bihar State Counselling.
Counselling Procedure
Before we speak the counselling procedure for Bihar NEET 2020, Let us first have a look at the Type of NEET Counselling 2020 for state and AIQ quota.
Counselling Process (AIQ Quota)
Candidate applying for Medical/Dental Colleges in Bihar must have to register themselves for the NEET counselling 2020. Counselling of NEET 2020 for All India Quota will be conducted in two rounds in online mode. The counselling will consist of these steps.
Candidate Registration: Register to the official website.
Choice Filling and Locking (Round 1): You have to choose the courses and colleges of your preference and finally lock-in the preferences in the online portal.
Seat Allotment Result (Round 1): The seat allotment will be published online on the basis of available vacancies and candidate's choices.
Reporting to college: Those who will be allotted a seat in the first round, will be required to either reject the allotted seat or report to the allotted college and complete the admission formalities.
New Registration (Round 2): For candidates who couldn't register in the first round of counselling.
Fresh Choice Filling and Locking (Round 2): Similar to round 1 mentioned above.
Seat Allotment Result (Round 2): Similar to round 1 mentioned above.
Reporting to college (Round 2): Here it is to be noted that, those who will be allotted a seat in the second round of counselling (15% AIQ Quota) will not be permitted to vacate their seats as per the orders made by the Supreme court of India.
NOTE– To know more about Bihar NEET 2020 Counselling Click here
Other Nearest States Counselling Procedure
PG Counselling
Aspirants who are applying to PG courses offered by NMCH Patna the following flow chart shows the short but important information about the counseling procedure.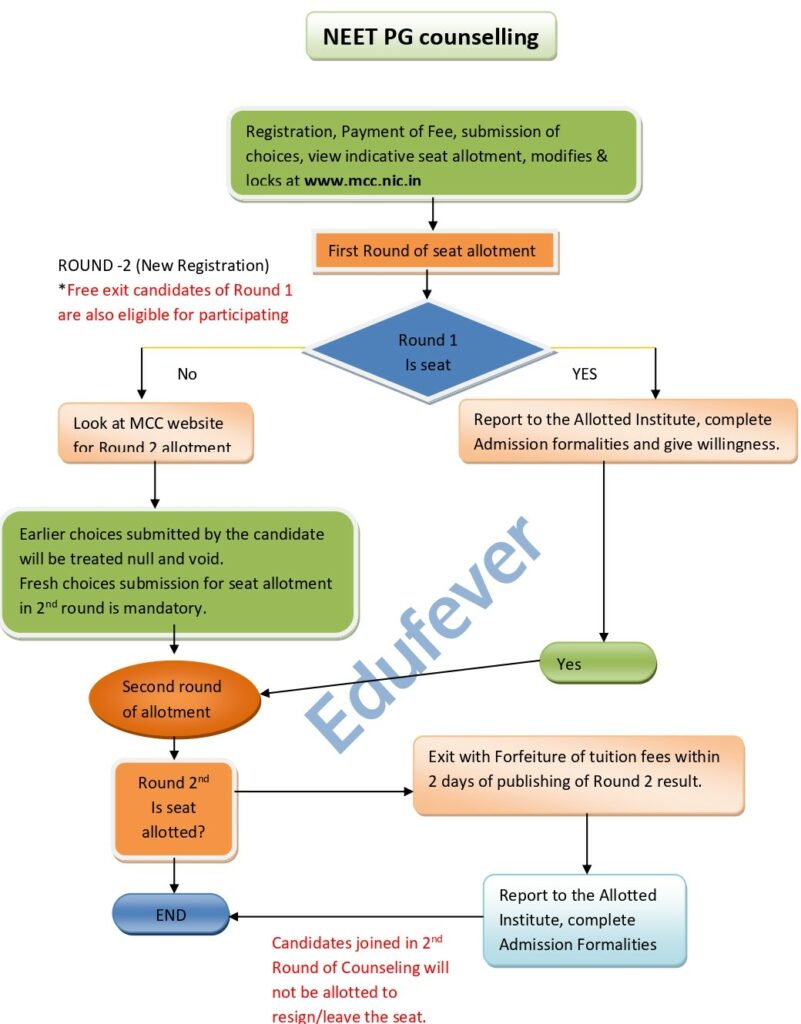 NOTE: To know more about Bihar NEET PG Counselling Procedure Click here
Other Nearest States Counselling Procedure
Documents Required
For UG Candidates
Candidates who will be allotted a seat to this college will be asked to report with following documents to complete the admission formalities.
Admit Card
Scorecard or Rank Letter
Class 10 certificate and mark sheet (for date of birth)
Class 12 certificate and mark sheet
ID proof (Aadhar/PAN Card/Driving License/Passport)
Eight passport size photographs
Provisional Allotment Letter
Caste Certificate (if applicable)
PwD Certificate (if applicable)
For PG Candidates
Original Copies Of:
MBBS Certificate.
MBBS 3rd Part II mark sheet.
Medical Registration Certificate.
Internship Completion Certificate.
Photo identity proof in the form of Certificate with an attested photo from Head of Institution last studied/Copy of Passport/Aadhar Card/PAN Card/Driving License (Self-attested photocopy after verifying with the original documents).
Copy of: Birth Certificate for proof of age (if the date of birth not given in the HSC mark sheet/ certificate).
NEET Score Card.
Copy of Online Counselling Registration Certificate.
Sponsorship Certificate from State Govt. If applicable.
Passport size Photographs 8 copies.
Read Also: Why MBBS From Russia In 2020 Is Becoming Top Choice For Indian Students To Study MBBS Abroad?
Popular Medical Entrance in India
Ranking and Reputation
Vardhman Institute of Medical Sciences College is one of the BEST MBBS Institute in Bihar
Contact Details
Nalanda Medical College And Hospital
Address: Kankarbagh Main Road, Patna – 800026
Fax No: 0612-2354871
Phone No: 0612-2354871/2354828
Email: nmcpatna@gmail.com
Official Website:- http://nmchpatna.org/
Study in Top Medical Colleges in India/Abroad? (Call Now): +91-9873056333
NEET-UG 2020 Bulletin
Here we are providing the information's about NEET 2020 Counseling process, Sate Counselling Process, Particular state seat matrix, fee structure, Cutoff and more. You can check the complete details below:
Looking for Studying Medical Colleges in Abroad? (Call Now): +91-98730-56333
Popular MBBS Abroad Destination
NEET 2020 Admission Support
Frequently Asked Questions (FAQs)
NEET UG FAQ
NEET PG FAQ
Top Career Options for PCB Students
Success Mantra:
Never let yourself down…
Keep working Hard
Believe yourself
Ask your MBBS related Query? Ask Here for Quick Answer
Best of Luck…!!!